Medicaid Incentives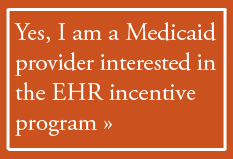 The Gulf Coast Regional Extension Center is a recipient of the Medicaid Specialist Meaningful Use Program. This program allows the GCREC to provide no-cost services to certain qualified specialty providers.
Eligible Professionals and Hospitals are encouraged to enroll in the GCREC Medicaid Incentive Program. By participating in this program, you can be confident that you are working with professionals who have years of experience in Health IT and Meaningful Use, who can get you on the road to receiving your incentives from Medicaid.
You can refer to the Payout Calculator for more details.
We are proud to announce the Medicaid EHR Incentive Program for Specialists. For more information please click here.
Medicaid EPs include:
Physicians
Nurse Practitioners
Certified Nurse Midwife
Dentists
Physicians Assistants who practice in a Federally Qualified Health Center (FQHC) or Rural Health Center (RHC) that is led by a Physician Assistant
Further, Medicaid EPs must also:
Have a minimum of 30% Medicaid patient volume (20% minimum for pediatricians), OR
Practice predominantly in a FQHC or RHC and have at least 30% patient volume to needy individuals
NOTE: EPs may NOT be hospital-based. This is defined as any provider who furnishes 90% or more of their services in a hospital setting (inpatient or emergency room).
Medicaid Eligible Hospitals include:
Acute Care Hospitals with at least 10% Medicaid patient volume -may include CAHs and cancer hospitals
Children's Hospitals