Doctoral candidate wins student paper competition at international medical informatics conference
Published September 23, 2013 by Sarah Kelly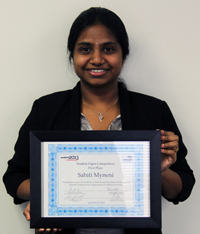 Sahiti Myneni, MSE, a student in the doctoral program at UTHealth School of Biomedical Informatics, placed first in the student paper competition at the International Medical Informatics Association's 2013 World Congress on Medical and Health Informatics–commonly known as Medinfo.
"The award is well deserved," said Trevor Cohen, MBChB, PhD, an associate professor at SBMI who is a co-author of the paper and chair of Myneni's doctoral advisory committee. "In this paper, Sahiti has applied her creativity, enthusiasm and constantly expanding methodological skill set to develop a novel approach to understanding human behavior change."
Biomedical informatics students from around the globe submitted 86 papers to the Medinfo 2013 student paper competition. Thirty-five papers were accepted for evaluation, and 11 students were selected as finalists to present for the judging committee. Myneni was selected as the frontrunner for her paper titled, "Finding Meaning in Social Media: Content-based Social Network Analysis of QuitNet to Identify New Opportunities for Health Promotion."
Other collaborators include Nathan Cobb, currently the chief medical officer at MeYou Health, an assistant professor at Georgetown University Medical Center and formerly—when the paper was submitted—a research investigator at the Schroeder Institute for Tobacco Research and Policy Studies. In this paper, Myneni, Cobb and Cohen apply a new methodology to analyze data from online social networks.
"We applied this novel research method to understand the communication events generated by members of an online social network for smoking cessation called QuitNet," said Myneni. "By applying this new method, we attempted to understand human behavior change at a granular level as well as at a comprehensive level."
Current approaches that are used to analyze online social network data focus solely on the frequency of communication between the users of a network. The method used in Myneni's paper takes the content of the messages exchanged into account in addition to the frequency of communication.
"While it is widely acknowledged that social influence is an important factor when it comes to improving health-related behaviors, current research tends to focus on the connections that exist between members of online communities without addressing the meaning of the messages they exchange," said Cohen. "In the work described in this paper, Sahiti does both by combining qualitative coding, automated text analysis and social network analysis to identify sub-communities discussing key themes that relate to socio-cognitive theories of behavior change."
Using a semi-automated approach, the content of the messages in QuitNet are analyzed and grouped into themes such as advice, support and reinforcement. These assigned themes are used to understand the unique interactions between users and to identify opinion leaders in large groups and sub groups. Previous studies that have excluded the content of communication between members are unable to identify theme-based relationships and are unable to identify opinion leaders based on specific themes.
"Content is the essence of communication. It embeds everything," said Myneni. "By using a content-inclusive approach, we can better understand human behavior and explore the impact of social connections on human behavior change.
"I see this as a methodological contribution that provides a new way to look at networks, which people from other domains can use as well—not just researchers in biomedical informatics."
Myneni's winning paper serves as a foundation for her doctoral research, which is funded through the UTHealth Innovation for Cancer Prevention Research Pre-doctoral Fellowship. The paper provides a proof of concept for her dissertation, which will use the content-inclusive method to further explore social interactions in online networks; additional analysis will be done to develop socio-behavioral interventions that can be implemented in real-time at the individual and population levels.
"The way that human beings communicate with each other has radically changed because of online social media," said Myneni. "Every communication we have with another person is being digitally recorded. The influx of recorded communication events provides us with a unique opportunity to understand human behavior, which allows us to make positive changes in health care like promoting healthy behaviors, promoting better screening programs and getting positive health-related changes adopted by the public."
Myneni said that her passion for studying human behavior stemmed from her previous work as an electrical engineer designing cell phone chips.
"At one point, I asked myself: 'how is the technology that I develop perceived by the consumer?'" said Myneni. "That's when my passion for studying consumer behavior started. I began working in end-user evaluation to have more interaction with the customer base, and then, I worked in biomedical research to learn methods that help me understand end-user acceptance and behavior."
Myneni graduates with the doctoral degree in health informatics this December. After graduation, she plans to transition to a research career in academia specializing in digital health technologies, online social media analysis, and behavioral and personal health informatics.
"(Sahiti's) research expands our understanding of the mechanisms underlying behavior change in online communities and points toward the development of behavioral health interventions that harness the power of social influence," said Cohen.
Read the abstract and download the full paper
About Sahiti Myneni
Sahiti Myneni's research interests include health systems engineering, behavioral science, user-needs analysis and translational innovation. Her focus is on applying computational, automated text analysis techniques and network-based methods to analyze factors affecting the microstructure of human behavior in real-time environments. Myneni received her Master of Science in electrical engineering degree from Arizona State University and graduated from Osmania University in India with a bachelor's degree in electronics and communication engineering. Her research has been published in biomedical informatics and information management journals and conferences such as AMIA Annual Symposium, Medinfo 2013, Persuasive 2013, Annals of Information Systems and International Journal of Information Management.
About the Student Paper Competition of Medinfo 2013
The Medinfo student paper competition identifies and recognizes the work of students in the field of biomedical informatics. The procedure of selecting the nominated papers, finalists and winners consists of three steps: (1) a set of papers (35 in 2013) is selected for evaluation from all submitted students papers (86 in 2013) to Medinfo; (2) after the selected papers are evaluated, a group of first authors are selected as finalists (11 in 2013) to present their work to the student paper competition committee; (3) three students are chosen from the finalists as the winners (first, second and third place).
About Medinfo
The International Medical Informatics Association organizes the World Congress on Medical and Health Informatics–commonly known as Medinfo. The event provides both a scientific exchange of current research and thinking in health and biomedical informatics as well as an opportunity for formal meetings and informal networking among IMIA members. Medinfo is regarded by biomedical informaticians as the premier international conference in the field. Medinfo2013–the 14th World Congress on Medical and Health Informatics–was held in Copenhagen, Denmark on August 20-23 with the Danish Society of Medical Informatics acting as hosts and providing local organization of the event.