School of Biomedical Informatics receives its first planned gift from founding faculty member
Published December 19, 2013 by Sarah Kelly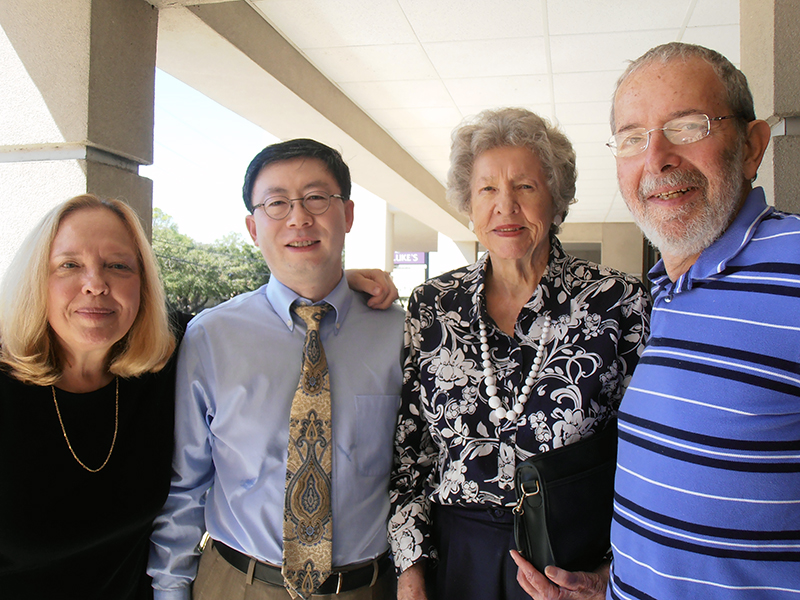 James P. Turley, PhD, RN, retired associate professor at UTHealth School of Biomedical Informatics, recently formalized a planned gift of $1 million to establish The James Turley Memorial Endowed Scholarship for Global Health at the School of Biomedical Informatics.
"We are so grateful to Dr. Turley for his visionary philanthropy and longtime dedication to the school," said Jiajie Zhang, PhD, SBMI dean and Dr. Doris L. Ross Professor. "The generous support of such individuals makes it possible for our school to achieve its long-term goals."
The James Turley Memorial Endowed Scholarship for Global Health is a permanent endowment that will be established to benefit SBMI. The funds distributed from the endowment will be used to provide scholarships to students in good academic standing with a preference for international students who intend to practice in their home country and U.S. citizens and permanent residents who intend to practice outside the U.S.
"I can't think of a more important area of support within higher education," said Turley. "Informatics is increasingly pivotal to quality and performance in health care, and our students are the leaders who are driving transformation in health care throughout the globe. I am very proud of the school and want my gift to SBMI to constitute a large part of my legacy—so that the school and its students will grow and thrive in the coming decades."
A faculty member at SBMI for 14 years, Turley was instrumental in the creation of the school and the creation of the applied master's program. He was also an associate professor at UTHealth School of Nursing for nine years. His research was focused on the visual display of complex clinical data and its impact on clinical decision making.
Turley received a Bachelor of Arts in philosophy and a Bachelor of Science in Nursing. His graduate degrees include a Master of Science in Nursing from Case Western Reserve University and a Doctor of Philosophy in community health education from the University of Oregon. From 1991-1993, Turley was a National Library of Medicine post-doctoral fellow at the University of Minnesota.
"Central to Dr. Turley's planned gift is assisting SBMI's student population in reaching their true potential in the field of informatics," said Zhang. "Estate planning has never been more important to our school's future, and it is our hope that others who are committed to SBMI will follow Dr. Turley's lead."