Lex Frieden's ADA collection to be housed in Presidential Library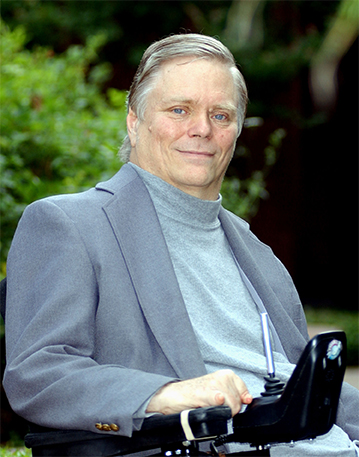 Congratulations to SBMI faculty member Lex Frieden, whose historic disability rights and the Americans with Disabilities Act memorabilia and archives collection has been chosen to be housed at the George H.W. Bush Presidential Library at Texas A&M University!

One of the largest private collections related to the history of the disability rights and independent living movement in the United States, Frieden's gift includes rare photographs and videotapes as well as previously obscure legislative drafts, briefing papers and original manuscripts that reveal the making of the ADA, which Frieden played a pivotal role in developing and passing.

Former President Bush, who signed the ADA on July 26, 1990, said "Lex's lifelong contributions to improving the quality of life for people with disabilities and his work conceiving and implementing the ADA are historic. Barbara and I are delighted that his papers, photographs and videotapes will be a part of the Bush Library."

Documenting significant disability policy initiatives over the past five decades, Frieden's collection includes papers, manuscripts, reports, photos, videotapes and artifacts. Among the unique items in the collection are heretofore unreleased photographs capturing then-Vice President Bush's initial consideration of the ADA, and a torch that was carried across the country by people with disabilities to commemorate the ADA's 10th anniversary. The materials will be cataloged and stored in the library archives where they will serve as a resource for current and future generations of activists, scholars and policymakers interested in the history of the ADA and disability rights.

Frieden, who has used a wheelchair since his neck was broken in a 1967 car crash, said "George Bush will forever be remembered as the president who delivered America's promise of equal rights and equal opportunity to millions of people with disabilities. He empowered us and leveled the playing field so that we can participate fully in society. I am honored to have my papers, historic documents and memorabilia included with those of President Bush."

Materials from the collection will be available in the library archives by appointment for reading, review and reference purposes. For more information about the signing of the ADA into law, please click here. Presidential libraries are administered by the U.S. National Archives and Records Administration. Texas is home to three Presidential libraries – those of George H.W. Bush. George W. Bush, and Lyndon B. Johnson.
published 07/17/2014 at 11:01 a.m.
– Shannon Rasp