Volume 4, Issue 9 April 30, 2014
SBMI Will Begin Online Proctoring Summer 2014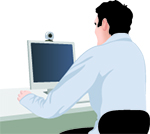 Online proctoring is a key component of ensuring academic integrity and quality distance education. The SBMI has introduced the Exam and Written Paper Monitoring Policy to meet the proctoring requirement for Southern Association of Colleges and Schools (SACS) accreditation. All S

BMI online course quizzes and exams contributing to the final grade will be proctored beginning with the summer 2014 semester.

The SBMI has selected an on-demand online proctoring technology integrated with Moodle that utilizes a webcam but requires no advance scheduling. Students will need to meet the newly updated hardware and software requirements for online proctoring. The Office of Academic Affairs will provide training and support to faculty and students to ensure a smooth transition. For any questions related to online proctoring, please contact de@uth.tmc.edu.

SBMI Career Day Recap



The first SBMI Career Day took place Thursday, April 10, in the atrium of the Institute for Molecular Medicine (IMM). Guest speaker Sheryl Dawson, CEO of Dawson Consulting Group, offered tips on resume writing and shared interviewing best practices. Speaker Susan Kubiak presented ideas on how to use LinkedIn and other social media. After the presentations, attendees broke into small groups, led by the guest speakers, to practice their interviewing skills. The day was capped off with an opportunity for students to meet and greet prospective employers.


New Partnership for SBMI and UT-Brownsville


The SBMI is partnering with UT-Brownsville to begin a new bachelor of art or science degree with a master of science in health informatics for the fall 2014 semester. This "4 + 1" program will provide undergraduate students with the opportunity to begin working on their master's degree in health informatics while completing the last year of their undergraduate curriculum. Upon graduation, they can complete their master's degree in either the applied or general health informatics tracks.


SBMI Connect 2014 & Poster Session


The Office of Academic Affairs will host SBMI CONNECT 2014, an open house for prospective students, from 4-6:30 p.m. Monday, May 5, in the IMM atrium. Students, faculty, staff and alumni are encouraged to share SBMI CONNECT 2014 details with anyone considering enrolling in SBMI's programs. During the event, faculty, alumni, staff and current students are encouraged to interact with the prospective students so that they are exposed to the full SBMI experience.

SBMI CONNECT 2014 also includes the SBMI Career Panel and Spring Poster Session. The Student Government Organization will provide food and refreshments for the event. We encourage all members of the SBMI community, including graduates, current students, alumni, faculty, staff and guests to attend this event. Come learn about research conducted by SBMI students, hear from panelist about their career paths in health informatics, and embrace the opportunity to network and enjoy tasty treats!

Poster session details
Poster session template

SBMI Students Awarded CPRIT Fellowships

SBMI doctoral students Jose Franck Diaz Vasquez and Stanley Yu recently received CPRIT fellowships. Diaz Vasquez will develop data visualization tools that will help physicians improve their understanding of the data and the chances of discovering novel cancer-related risk factors. Yu will develop an interactive visualization tool that utilizes topic modeling techniques on biomedical literature or clinical trial documents. This will help physicians better identify the potential therapies for individual cancer patients.

Informatics Journal Club Enjoys Large Turnout


The Informatics Journal Club at SBMI enjoyed its largest turnout yet for the April 9 meeting, which featured a spirited discussion of a journal article about the importance of vital signs and the clinical outcomes of patients with sepsis. The attendees asked questions about study design and limitations, and discussed lessons from the published study.

The journal club fosters the sharing of information and knowledge in a relaxed and engaging environment with peers and faculty sponsors, promotes better interaction between students on campus and students learning at a distance, and promotes a better understanding of the field of biomedical informatics among students at SBMI. The club meets on the second Wednesday of every month from 11 a.m.-noon in UCT 1410.

New Staff Members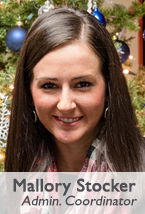 Mallory Stocker (Office of Academic Affairs), Administrative Coordinator
Mallory joined SBMI on April 17 from the Department of Human Resources at UTHealth. Mallory graduated from Texas A&M University with a degree in agricultural leadership and development. She provides administrative support to faculty and staff, including preparing and coordinating travel itineraries, utilizing FMS PeopleSoft and preparing documentation for expenditures.
Shannon Rasp (Office of the Dean), Communication Specialist
Shannon joined SBMI on April 28. She has worked at UTHealth for more than 10 years, in both the media relations department and at the School of Public Health's Institute for Health Policy. She graduated with a journalism degree from Sam Houston State University and has over 20 years of experience in communications. At the SBMI, Shannon focuses on raising awareness of the school and instituting a cohesive, strategic and effective communications program.
Prominent Magazine Touts Informatic Careers
U.S. News & World Report featured an article about careers in informatics in a recent edition. Specialists in health informatics are in such high demand that new graduates can expect a short job search, and Simply Hired puts the average salary at $69,000.

Read More

SBMI Alumnus John Riggs, M.D., Named OB/GYN Chief


Riggs, a fellow of the American College of Obstetricians and Gynecologists who is also board-certified in clinical informatics, was named chief of OB/GYN services at LBJ General Hospital. He has been with UTHealth since 1990. He graduated from the UTHealth Medical School and received a master's degree from UTHealth's SBMI. He is also chief medical informatics officer for Harris Health System.

Read more about John Riggs, M.D.

Dean Sittig, Ph.D., Appointed to Advisory Panel for ECRI Institute


Sittig was appointed to an ECRI Institute advisory panel focused on generating new knowledge on safe health information technology practices. The announcement has been published on more than two dozen news sites.


Upcoming events
Save the date
Poster Session and SBMI Connect 2014
4-6:30 p.m., May 5 in the IMM atrium
SBMI 2014 Commencement

4 p.m., May 8 in the Beth Robertson Auditorium at the IMM.
Important dates
| | |
| --- | --- |
| Apr 14 - May 14 | Orientation online through Moodle |
| Apr 14 - May 16 | Summer registration open for all summer sessions |
| May 2 | Signed cover sheet and final copy of state of the science paper due for M.S. students |
| May 2 | Last class day |
| May 5-9 | Final exams |
| May 5 | SBMI poster session |
| May 9 | Faculty grade changes to registrar for fall incompletes |
| May 13 | Spring grades due |
| May 16 | Tuition and fee payment due to avoid late fee (12-week session) |
| May 17 | Assessment of late tuition payment fee (12-week session) |
| May 19 | Summer classes begin (12-week session) |
| May 19-21 | Late MyUTH registration (late registration fee assessed) (12-week session) |
| May 19-21 | Class add/drop for students already registered (12-week session) |
| May 26 | Memorial Day holiday - university closed |