Volume 8, Issue 5
December 20, 2017
Happy Holidays from SBMI
Happy holidays to everyone in the SBMI Community. We hope each of you spends this special time of year with loved ones and enjoy a happy and healthy holiday season.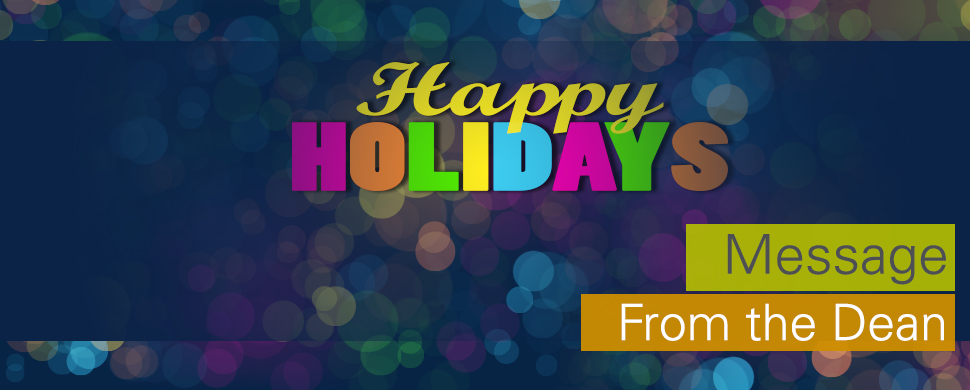 The university will be closed Dec. 25 and 26 and Jan. 1. SBMI will be open on Dec. 22 and Dec. 27 through 29 with limited hours and limited staff so please call 713.500.3900 if you need any assistance during those days. Regular business hours will resume on Jan. 2, 2018.
Click here to read the Dean's holiday message.
Fall 2017 Poster Session Winner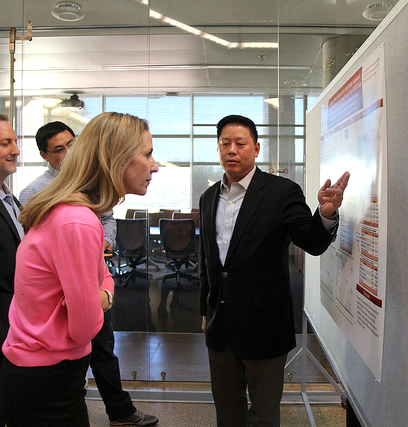 SBMI hosted its fall 2017 poster session on Dec. 11 in the Fayez S. Sarofim Research (IMM) Building. Over twenty-five SBMI student posters, including the posters of our CHI St. Luke's Cohort, were presented. We want to thank those students for their work and all others in attendance.
Please join us in congratulating the fall 2017 poster session winners: Jingcheng Du (SBMI Ph.D. Student), Daniel Fu (SPH Ph.D. student), Lingyi Tang (SBMI Ph.D. Student) and Jingqi Wang (SBMI M.S. Student).
The team's poster titled "Safety of Influenza Vaccine in the United States: Analysis of Different Manufacturers for Adverse Events in the VAERS Data" is the winner of the Paul C. Boyle Award for Excellence in Research for this semester.
Click here to view event photos.
SBMI Bragging Points
Members of the SBMI Community have recently achieved noteworthy accomplishments and we want to recognize them and applaud their accomplishments.
Yang Gong, M.D., Ph.D., SBMI professor, has been selected as a HIMSS178 speaker. Gong will give an one-hour lecture titled "Learning from Patient Safety Events: A Shift from Quantity to Quality" on Mar. 7, 2018.


Professor Dean Sittig, Ph.D. had two co-authored articles recently published:
SBMI Accepting Competitive Scholarship Applications
SBMI has scholarship funds available is currently accepting applications for several scholarships to be awarded for the spring 2018 semester.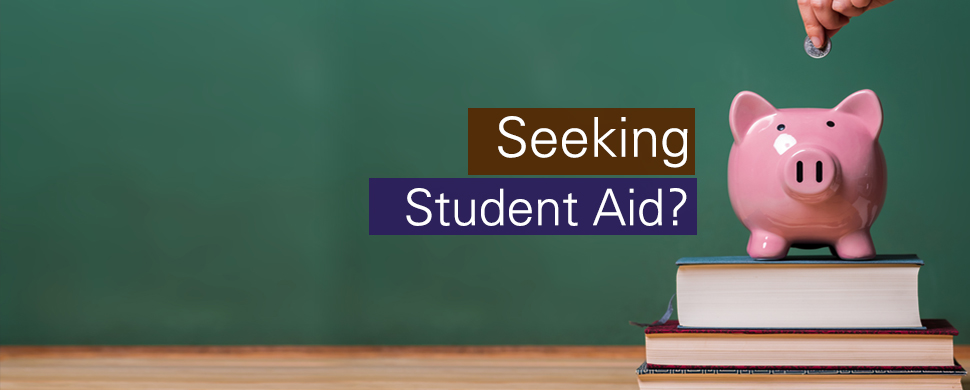 All SBMI students who are in good academic standing & enrolled for spring 2018 courses in a certificate, masters or Ph.D. program are eligible to apply.
Considerations for earning a scholarship include:
Pattern of academic achievement
Teaching and mentoring experience
Leadership experience
Community service
Success in overcoming adversity
Previous and recent publications in the discipline (if any)
Click here to submit the SBMI Scholarship Application. Please note that all submissions are being accepted in Qualtrics and no email submissions will be accepted.
The application deadline is Monday, January 8, 2018 at close of business (5 p.m. CDT). If you have questions, please send an email to SBMIAcademics@uth.tmc.edu or call 713.500.3591.
Upcoming SBMI Recruiting Events

Several SBMI faculty and staff members will be traveling in the coming months to visit universities and attend conventions to promote our degree programs. We invite any prospective students or alumni in the area to visit us during these events.

Mar. 5 – Mar. 8 - HIMSS18 in Las Vegas, NV
May 10 – May 12 - ANIA 2018 Conference in Orlando, FL
Assistant Professor Luca Giancardo, Ph.D. was profiled in a TMC News story on his research focused on "passive monitoring" of keystrokes to detect early signs of Parkinson's disease.
Assaf Gottlieb, Ph.D., assistant professor, was recently interviewed for an Endocrine Today story focused on his co-authored research article titled "Estimating the effects of second-line therapy for type 2 diabetes mellitus: retrospective cohort study."
Important Dates

| | |
| --- | --- |
| Dec. 25 & 26 | December holiday - university is closed |
| Jan. 1 | New Year's Day holiday - university is closed |
| Jan. 5 | Spring 2018 regular course registration closes in MyUTH |
| Jan. 8 | First class day for spring 2018 semester |
| Jan. 8 - 12 | Late course registration is open in MyUTH (fees apply) |
| Jan. 15 | Dr. Martin Luther King Jr. Day - university is closed |