Volume 8, Issue 4
November 16, 2017
SBMI Bragging Points
Members of the SBMI Community have recently achieved noteworthy achievements and we want to recognize those accomplishments.
A co-authored JAMIA article written by Professor Dean Sittig, Ph.D. and his research group was published in late Oct. David W. Bates, M.D., M.Sc., the 2017 John P. Glaser Health Informatics Innovator Award winner, participated in the research as well.

Jianbo Lei, Ph.D. is an alumnus of SBMI and co-authored a Journal of Healthcare Engineering article with Professor Dean Sittig, Ph.D. The article is titled "Enabling Health Reform through Regional Health Information Exchange: A Model Study from China."

Professor Hua Xu, Ph.D. was recently awarded a data mining grant from the American Heart Association Institute for Precision Cardiovascular Medicine and Amazon Web Services. Dr. Xu's project is titled "Developing a data discovery index to facilitate precision medicine research in cardiovascular diseases."

Assistant Professor Deevakar Rogith, MBBS, Ph.D. co-authored an article on diagnostic errors that was recently published in the Joint Commission Journal on Quality and Patient Safety. The article explores the ways in which fault tree analysis (FTA) can help identify common contributing factors and pathways leading to diagnostic error.
SBMI Hosts Fall 2017 Poster Session on Dec. 11
Join us on Dec. 11 for the fall 2017 SBMI poster session & celebrate the end of the semester. Students will present their research findings for the semester and all are invited to socialize and enjoy refreshments during the session. It will take place in the Fayez S. Sarofim Research (IMM) Building from 4 to 6 p.m.
We hope all SBMI students, faculty, staff and alumni will attend.
HIMSS18 Program Assistant Opportunity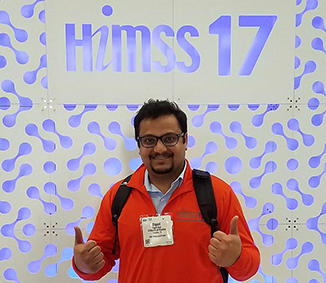 SBMI is an Academic Organizational Affiliate (AOA) with HIMSS. As such, our students have the opportunity to serve as Program Assistants at the Annual HIMSS Conference.
Program Assistants will get to network, attend HIMSS18 sessions and explore the conference exhibit hall. In addition, here are other perks provided to Program Assistants:
Two HIMSS pullover jackets
All scheduled daily meals throughout the conference, including a breakfast briefing, lunch, student/staff dinner and social functions
Complimentary shared housing
Complimentary conference registration (depending on assignment)
Daily transportation to/from the convention center
Post-conference cash incentive based on performance
In order to be a Program Assistant, you must meet these criteria:

A student member of HIMSS
Currently a full-time graduate student at SBMI
Available to be onsite in Las Vegas, NV full time from Sunday, March 4 - Friday, March 9, 2018
Age 21 years or older
If you are new to HIMSS and would like to join as a Student Member for the first time, please use this link: marketplace.himss.org/membership/oa-sign-up. Nov. 17, 2017 is the Program Assistant application deadline. Please visit the HIMSS18 website for more information.
Professor Lex Frieden, M.A. recently received the 2017 Fries Prize for Improving Health for being an architect of the Americans with Disabilities Act of 1990 (ADA). His award was recognized in a recent TMC News article.
Save the Date

Nov. 29
Peter Killoran, M.D.
Implementation of an Anesthesia Information Management System – Lessons Learned
SBMI Research Seminar in UCT 1414, 12 p.m.
Dec. 6
Carl Vartian, M.D.
Risks, Benefits and Safety of Hospital EHRs
SBMI Research Seminar in UCT 1414, 12 p.m.
Dec. 11
Fall 2017 Poster Session
Fayez S. Sarofim Research Building (IMM) Lobby (1825 Pressler St.)
4 p.m. to 6 p.m.
Important Dates

| | |
| --- | --- |
| Nov 23-24 | Thanksgiving holiday – University is closed |
| Nov. 27 | M.S. - State of science/capstone drafts to Advising Committee for review |
| Dec. 8 | Last class day for fall 2017 |
| Dec. 11-15 | Final exams/evaluations |
| Dec. 11 | Fall poster session |
| Dec. 15 | All final documents due (state of the science, capstone report etc.) by 5 p.m. |
| Dec. 19 | Grades due in MyUTH |