Volume 8, Issue 2
September 22, 2017
Congratulations Scholarship Awardees
SBMI recently awarded scholarships and our school wants to thank all students who submitted applications. These are the scholarship recipients for fall 2017:
Willerson Endowed Scholarship
Muhammad "Tuan" Amith – Doctoral Student
SBMI Scholarship Excellence Fund
Scott Malec – Doctoral Student
Kang Lin Hsieh – Doctoral Student
Ross Scholarship Fund
Marina Alcoff – Master's Student
Sridatri Chakraborty – Master's Student
Flordeliz Cheatham – Master's Student
Sean Koon, M.D. – Master's Student
Sreedevi Nair – Master's Student
Laila Rasmy Gindy Bekhet – Master's Student
Xiao Dong – Doctoral Student
Lingyi Tang – Doctoral Student
Neuosoft Certificate Scholarship Fund
Kimberley D'Souza – Certificate Student
Lei Wang – Certificate Student
Upcoming MyUTH/Campus Solutions Outage
A myUTH/Campus Solutions system upgrade is scheduled to take place from Oct. 6 to 11. This upgrade will result in the system going offline. The outage will begin on Fri., Oct. 6 at 5 p.m. (CDT) and will end on Wed., Oct. 11 at 8 a.m. (CDT). During this time students, faculty and staff will not have any access to myUTH, ApplyUTH, and Campus Solutions.
If any students have scheduled advising appointments with their faculty members during the outage, please access and print relevant information in myUTH beforehand. Please contact the Office of Academic Affairs (713-500-3591, SBMIAcademics@uth.tmc.edu) before the scheduled outage, if you have any questions.
SBMI Bragging Points
Members of the SBMI Community have recently achieved noteworthy accomplishments and we want to recognize them.
Xiaobo Zhou, Ph.D. had one national Cancer Institute grant transferred to SBMI for the final year of his work on cancer causes and prevention research. Zhou was also recently awarded a grant from the National Institute of General Medical Sciences (NIGMS) that focuses on long non-coding RNAs (lncRNAs) and their functions. The grant is worth over $1.2 million and it began Sept. 15 and concludes in July of 2021.

---

The National Center for Advancing Translational Sciences (NCATS), part of the National Institutes of Health (NIH), awarded SBMI Professor Hua Xu a subcontractor grant recently that totals more than $1.2 million. The project goal is to extend existing collaboration among multiple Clinical and Translational Science Awards hubs on open health natural language processing (OHNLP) to share distributional information of NLP artifacts (i.e. words, n-grams, phrases, sentences etc.) acquired from real EHRs across multiple institutions.

---

SBMI Professor, Zhongming Zhao, Ph.D. recently earned a NLM grant award to predict phenotype using transcriptomic alteration with DNA variation. The project is titled "Predicting Phenotype by Using Transcriptomic Alteration as Endophenotype" and it began Sept. 14 and concludes in Aug. of 2021.



---

Luca Giancardo, Ph.D., SBMI Assistant Professor, recently attended the 20th International Conference on Medical Image Computing and Computer Assisted Intervention (MICCAI) in Quebec City, Canada. Giancardo was awarded the prize for the best oral paper at the MICCAI workshop on Ophthalmic Medical Imaging Analysis.



---

Dean Sittig, Ph.D., SBMI Professor, wrote an article with his research team which was recently published in Clinical Gastroenterology and Hepatology Journal. Sittig also co-authored an article with SBMI Adjunct Professor Hardeep Singh, M.D., MPH that was recently published in the Agency for Healthcare Research and Quality's (AHRQ) Patient Safety Network Perspectives section.
SIC Hosts Salutation 2017
UTHealth's Student InterCouncil (SIC) invites all students to attend Salutation 2017 on Oct. 3 from 5:30 to 7:30 p.m. The 19th annual Salutation will be in the Cooley Life Center (adjacent to the School of Dentistry) at 7440 Cambridge Street, Houston, TX 77054. Students must bring their ID to attend.
Members of UTHealth and SIC want to welcome back returning students and get to know our new students with food, beverages, fun and a free gift. This annual event gives students the chance to mix and mingle while getting to know UTHealth leadership, student services, and student government leaders.
Visit the SIC website at https://www.uth.edu/sic/events/salutation.htm for more information.
HIMSS18 Program Assistant Opportunity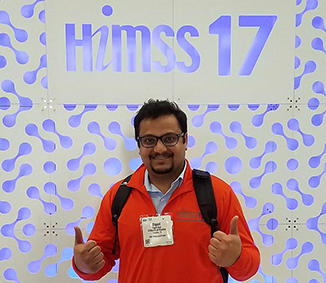 SBMI is an Academic Organizational Affiliate (AOA) with HIMSS. As such, our students have the opportunity to serve as Program Assistants at the Annual HIMSS Conference.
Program Assistants will get to network, attend HIMSS18 sessions and explore the conference exhibit hall. In addition, here are other perks provided to Program Assistants:
Two HIMSS pullover jackets
All scheduled daily meals throughout the conference, including a breakfast briefing, lunch, student/staff dinner and social functions
Complimentary shared housing
Complimentary conference registration (depending on assignment)
Daily transportation to/from the convention center
Post-conference cash incentive based on performance
In order to be a Program Assistant, you must meet these criteria:


A student member of HIMSS
Currently a full-time graduate student at SBMI
Available to be onsite in Las Vegas, NV full time from Sunday, March 4 - Friday, March 9, 2018
Age 21 years or older
If you are new to HIMSS and would like to join as a Student Member for the first time, please use this link: marketplace.himss.org/membership/oa-sign-up. Nov. 17, 2017 is the Program Assistant application deadline. Please visit the HIMSS18 website for more information and to apply: http://www.himssconference.org/register/registration/program-assistants.
UCT Office Hours for Liaison Librarians from TMC Library

Amy Taylor and Travis Holder are the liaison librarians for SBMI at the TMC Library. Beginning Tuesday Sept. 26, they will hold office hours every Tuesday from 1 to 5 p.m. at UCT Room 1410.
Students and faculty are welcome to set up an appointment or just meet with them on a walk-in basis. Amy and Travis can also meet with SBMI users online via GoToMeeting.
Students and faculty will find Amy and Travis's expertise handy when conducting library research. Whether you are just looking for a full text journal article or trying to scour research databases for a systematic review, our librarians are here to help. Below are their brief bios:
Amy Taylor is the UTHealth liaison librarian for the Texas Medical Center library. She has previously been the reference and instruction librarian for the UT School of Public Health, and has also worked in public libraries, large academic libraries, community college libraries, and an archival special collection. Amy enjoys creating searches and helping others to meet their research goals. Contact Amy at 713.799.7184 or taylor@library.tmc.edu.
Travis has been working in libraries since 2010. He enjoys research and helping others to find the information they need. His areas of interest are database searching, ethics and scholarly communications. You can reach Travis at 713-799-7166 or holder@library.tmc.edu.
AHRQ Releases First Public Database on Nation's Health Systems
The Agency for Healthcare Research and Quality (AHRQ) created the nation's first publicly available database that gives researchers, policymakers and health care administrators a snapshot of the nation's health systems. Information about the size, structure and other characteristics of 626 health care organizations is included in AHRQ's new Compendium of U.S. Health Systems, 2016.
The compendium identifies system characteristics such as the number of hospitals, acute care beds and physicians, as well as whether a system serves children. AHRQ also posted a blog about the compendium and the opportunities it offers to researchers and policymakers.
Healthier Texas Summit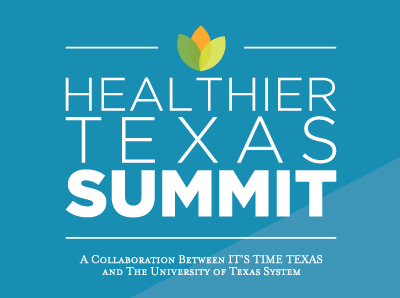 UT System and IT'S TIME TEXAS have collaborated to host the two-day Healthier Texas Summit in Austin on Nov. 6 and 7. Please note that those days coincide with the AMIA 2017 Annual Symposium.
The summit offers informative sessions, town hall conversations, and interactive workshops focused on empowering leaders from diverse sectors across the state with the latest science and proven approaches to improve health where Texans live, learn, and work. Visit the summit website at https://healthiertexassummit.com for more information on the event.
HIMSS Virtual Career Fair
HIMSS will host a Virtual Career Fair for Health IT Professionals on Oct. 18 from 12 to 3 p.m. (EDT). The fair is an ideal way to explore exciting career opportunities, connect with potential employers and broaden your network.
This annual event allows those searching for health IT careers to connect directly with employers from across the nation who are looking for health IT. Click here for more information.
Upcoming SBMI Recruiting Events
Several SBMI faculty and staff members will be traveling in the coming months to attend conferences and promote our degree programs. We invite any prospective students or alumni in the area to visit us during these events.



Oct. 4 – UT El Paso Graduate and Professional Schools Fair in El Paso, TX
Oct. 5 – Baylor University Graduate and Professional School Fair in Waco, TX
Oct. 10 – UT Austin Graduate School Fair in Austin, TX
Oct. 7 - 11 – AHIMA17 Convention & Exhibit in Los Angeles, CA
Oct. 12 – Texas A&M University Graduate and Professional School Day in College Station, TX
Oct. 20 – U of H Downtown Graduate School and Internship Fair in Houston
Oct. 26 – UT San Antonio Graduate & Professional School Fair in San Antonio, TX
Nov. 1 – UT Rio Grande Valley Graduate Professional School Fair in Brownsville, TX
Nov. 2 – UT Rio Grande Valley Graduate Professional School Fair in Edinburg, TX
Nov. 2-4 – Annual Biomedical Research Conference for Minority Students in Phoenix, AZ
Nov. 5-8 – AMIA 2017 Annual Symposium in Washington, DC
Save the Date

Sept 27
Toward portable NLP solutions for healthcare – the journey of CLAMP
Hua Xu, Ph.D.
SBMI Research Seminar in UCT 1414, 12 p.m.
Oct 3
Student InterCouncil (SIC) Salutation 2017
Cooley Center (7440 Cambridge St, 77054)
5:30 to 7:30 p.m.
Oct 4
Delineating Tumor Evolution with Single Cell Genomics
Nick Navin, Ph.D.
SBMI Research Seminar in UCT 1414, 12 p.m.
Oct 11
Using administrative data to profile paramedic airway management performance
Henry Wang, M.D., M.S.
SBMI Research Seminar in UCT 1414, 12 p.m.
Oct 18
Relational vs. Attributional Similarity as a Basis for the Identification of Drug-Gene Relationships
Safa Fathiamini, M.S.
SBMI Research Seminar in UCT 1414, 12 p.m.
Important Dates

Oct 2
Course drop date for students with financial accounts that are not in good standing
If you have Harvey-related issues and cannot pay tuition, please contact the Financial Aid Office for possible assistance and notify the Registrar's Office.
Oct 20
Last day to drop courses & receive grade of 'WP' or 'WF' (may impact GPA)
Nov 10
Ph.D. - Last day to defend dissertation
Nov 13
Spring 2018 registration opens in MyUTH
Nov 23-24
Thanksgiving holiday – University is closed
Nov 27
M.S. - State of science/capstone drafts to Advising Committee for review