Volume 4, Issue 5 December 19, 2013
UTHealth School of Biomedical Informatics at AMIA 2013
The American Medical Informatics Association Annual Symposium is the world's premier scientific meeting for biomedical and health informatics with members traveling from around the world to attend. AMIA 2013 was held in the nation's capital at the Washington Hilton, and SBMI's presence was felt throughout the symposium.
SBMI happenings at AMIA 2013
• A team from SBMI along with collaborators from other organizations—was one of five groups to win an AMIA distinguished paper award.
• A team of SBMI students was one of the eight finalists for the AMIA 2013 Student Design Challenge.
• This was the first year that SBMI professor Dean Sittig, PhD, served on the AMIA Board of Directors at the annual symposium.
• Jiajie Zhang, PhD, SBMI dean and Dr. Doris L. Ross Professor, led the in-person AMIA 10X10 course in health care interface design.
• SBMI had 27 employees, faculty, adjunct faculty and students presenting at sessions this year.
• AMIA 2013 hosted two poster sessions, and SBMI students, faculty and staff had 23 posters at the annual symposium.
• SBMI academic affairs staff and faculty hosted a booth in the academic section of the AMIA 2013 exhibition hall to recruit new students and faculty.
• On Sunday, Nov. 17 from 6:30 to 8:30 p.m. the school hosted a mixer for SBMI students, alumni, faculty, staff and honored guests, totaling 60 attendees.
• Alumna Rachel Richesson, PhD, MPH, was listed in the AMIA 2013 program as the clinical research informatics program committee chair for the 2014 AMIA Joint Summits on Translational Science, a distinction that SBMI professor and associate dean for research Elmer Bernstam, MD, MSE, held last year.
• SBMI staff member Marcos Hernandez captured SBMI happenings at the annual symposium through short video clips and microblogging on Twitter, where SBMI ranked as the #7 tweeter for AMIA 2013 and the #1 tweeter among academic institutions!
SBMI fall 2013 poster session

The SBMI Office of Academic Affairs held the Fall 2013 poster session on Monday, Dec. 9 in the atrium of the Sarofim Research Building. Twenty-six student posters were presented and judged by students, alumni and faculty to determine the winners of the Paul C. Boyle Award for Excellence in Research, which is given to the student or team with the highest-scored poster.
This semester marked the first time that SBMI students were required to print large-format posters—at no cost to them using the school's plotter—to be considered for the award. This new stipulation reflects professional expectations in biomedical informatics, preparing students for their future careers. Craig Harrington, CPHIMS, LMSW, MS, Rodney Howell, CDIA, and Taiwo Akinwande, RN, were awarded the Paul C. Boyle Award for Excellence in Research for their poster titled, "Online Quiz taking: Content-Mastery Versus Guessing Strategies." Students enrolled in online courses presented posters the following day in Avaya Live to close out the fall semester.
TMC Library orientation offered at University Center Tower
SBMI students, faculty and researchers are invited to attend an orientation for the Texas Medical Center Library from 9 to 10:30 a.m. on Jan. 22, 2014 in room 1414 of the University Center Tower. At the orientation, TMC library staff will give an overview of library services offered and show examples of PubMed and Scopus searches.
Additionally, they will explain the layout of the website, where to find crucial resources, how to utilize the Bioinformatics Research Guide and how to retrieve full-text versions of journals. Attendees of the orientation are encouraged to ask questions about specific topics that they would like to search in the databases. The orientation will be streaming live at webcast.sbmi.uth.tmc.edu; the recording will be available on the webcast server afterward.
Marshfield Clinic Research Foundation internship opportunity
The Marshfield Clinic Research Foundation is the largest private medical research institute in Wisconsin and has offered internship opportunities to qualified students since 1974. SBMI students are encouraged to apply to the 12-week biomedical informatics summer research internship program, which lasts from May 27, 2014 to Aug. 15, 2014. The internship provides a mentored, hands-on research experience for students with a background and interest in patient-centered research, computer programming, human computer interaction, computer science, health informatics, cognitive science, human factors and psychology. The biomedical informatics research center has opportunities in patient-centered clinical and consumer informatics and interactive clinical design. Applications will be accepted from November 1, 2013 to January 15, 2014. Student interns are provided housing and an hourly wage of $10. Students are expected to work full-time—about 40 hours per week—for the duration of the program.
Unofficial transcripts now available on myUTH

The Office of the Registrar announced on Dec. 4 that students can now view an unofficial transcript in their myUTH student portal. Students can access their unofficial transcript by logging into their myUTH portal, navigating to "Student Center", selecting "other academic..." in the menu list and choosing "Transcript: View Unofficial". Students will benefit from this new feature in myUTH by seeing a snapshot of classes they've completed, credits earned, grades by semester, transfer credits and their cumulative GPA. The unofficial transcript is only for students to use as a reference. The unofficial transcript should not be used for submission when transcripts are requested. For advising and degree plan inquiries, contact the Office of Academic Affairs at SBMIAcademics@uth.tmc.edu.
SBMI students now offered free HIMSS student memberships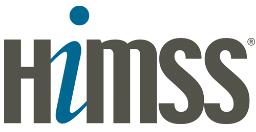 The University of Texas School of Biomedical Informatics at Houston (SBMI) has joined the Healthcare Information and Management Systems Society (HIMSS) Academic Organizational Affiliate program. HIMSS is the health care industry's membership organization focused on bettering health through information technology and leads efforts to optimize health engagements and care outcomes using information technology. As an academic organizational affiliate, SBMI has the opportunity to extend HIMSS individual membership to students.
SBMI students who would like to join HIMSS for the first time or students who already have a HIMSS student membership and would like to convert it to the free program (to avoid a membership renewal invoice), can register using the HIMSS member sign-up tool.
Students: If you encounter any issues or have questions regarding HIMSS membership or the Academic Organizational Affiliate program, contact Bobby Maslowski the relationship manager for healthcare organizational services at HIMSS.
The billion dollar question: Is investing in health IT paying off?
SBMI dean featured in TMC News article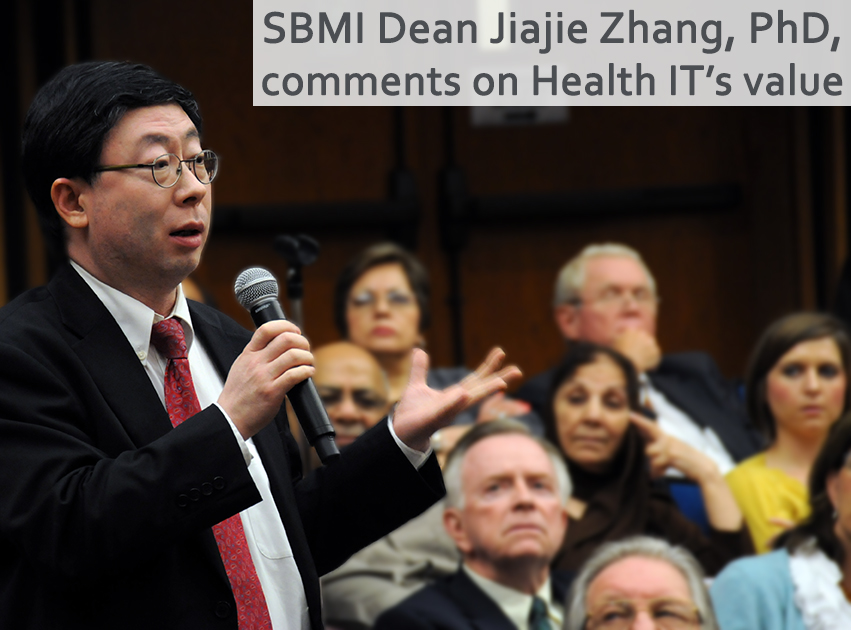 More than $7 billion is spent on health information technology in the United States each year, but is this investment really paying off? Leaders in the field of health information technology say "yes," but creating a uniform system will be long and complex. To explore the challenges of integrating technology into health care, The University of Texas Health Science Center at Houston along with Greater Houston Healthconnect hosted an Oct. 28 panel of experts at UT School of Public Health.
Attendee Jiajie Zhang, PhD, dean of UTHealth School of Biomedical Informatics, agrees that health IT is important for many reasons.
"The electronic health data made possible by electronic health records have tremendous values for scientific discovery, performance measures, comparative effectiveness research, quality improvement, population health, health policy making, and, of course, new clinical decision support tools that will benefit the frontline users – clinicians and patients," said Zhang. "(The investment in health IT) is worth every penny. It is an investment in infrastructure that will generate returns for many years to come."
Researchers awarded grant to expand personalized cancer care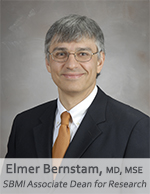 Researchers at two University of Texas health institutions in Houston have been awarded a $979,120 grant from the National Institutes of Health to make it easier for physicians to personalize their patients' cancer care. While there is a flood of new information on how to attack malignant growths at the molecular level, it can be difficult for doctors to incorporate this ever-changing material in their treatment plans.
"The challenge is to gather and organize this information and present it to physicians in a way that is actionable," said Elmer Bernstam, MD, MSE, the study's co-principal investigator and professor and associate dean of research at UTHealth School of Biomedical Informatics.
With that in mind, Bernstam and his collaborators at The University of Texas MD Anderson Cancer Center are working to put this molecular information in an easy-to-access information system. For example, doctors would be able to use these data to determine how a patient might respond to different treatments, which could increase the efficacy of treatments and reduce side effects.
Protecting your health: Medical identity theft could cost you
SBMI assistant professor quoted in HealthLeader story

The waiting room is almost empty, and you expect to be seen by your doctor shortly. The receptionist calls your name, and you promptly hand over your insurance card. But after staring at her computer screen for what seems like an unusually long period of time, she says your benefits have been exhausted.
"How can that be?" you respond, dumbfounded. "I haven't been here since my last physical!"
This is when you realize you've become a victim of medical identity theft. Someone has stolen your name, insurance information and Social Security number to obtain medical services, prescription drugs or medical equipment. Medical identity theft is one of the fastest growing areas of criminal fraud, with scammers and organized criminal gangs bilking the U.S. health care system of an estimated $100 billion dollars each year, according to the National Health Care Anti-Fraud Association. The Medical Identity Fraud Alliance estimates that almost two million Americans have been victimized in 2013 alone.
"One of the most common forms of medical identity theft we see is where a thief takes someone's Social Security number and health insurance information and begins billing for services not provided to that individual," says Jonathan Ishee, JD, LLM, MPH, MS, an assistant professor at UTHealth School of Biomedical Informatics. "By far we see it the most in the Medicare population because most of the time these people are over 65 and traditionally access health care at a higher rate than younger individuals."
Associate professor appointed director of inter-professional education at SBMI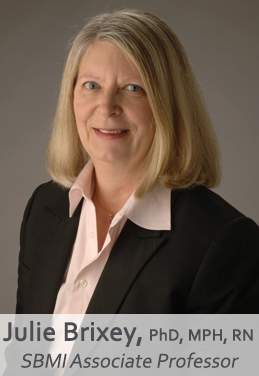 In November 2013, Juliana Brixey, PhD, MPH, RN, associate professor of biomedical informatics and nursing, was appointed to a newly created leadership role at UTHealth School of Biomedical Informatics as the director of inter-professional education.
"My vision for inter-professional education (IPE) at UTHealth is to increase collaboration across the six schools," said Brixey. "In particular, my focus will be to increase IPE between SBMI and the nursing schools at UTHealth and The University of Texas Medical Branch at Galveston—with hopes to collaborate with all of the UT-affiliated nursing schools across Texas."
She will begin her new role as director of inter-professional education at SBMI by collaborating on the&nbsp Deans' Honors Colloquium in Inter-professional Education initiative at UTHealth.
"SBMI is well suited to be at the forefront of inter-professional education," said Brixey. "Our student body is composed of clinicians, computer scientists, mathematicians, biologists and professionals from other varied disciplines. Informaticians are accustomed to working in inter-professional teams and understand that successfully working in those teams improves the safety and quality of patient care."
Upcoming events
Save the date
SBMI Informatics Journal Club
11 a.m. to noon, Wednesday, Jan. 8
The monthly event provides an informal environment for students, faculty and alumni to engage in a breadth of current informatics topics while building an understanding of study design.
University Center Tower 14th floor lobby
TMC Library Orientation
9 to 10:30 a.m., Jan. 22, 2014
TMC library staff will give an overview of library services, demonstrate database searches, answer questions about finding research for specific topics and explain how to use the Bioinformatics Research Guide.
University Tower Center room 1414
iHealth 2014
Thursday, Jan. 30 – Saturday, Feb. 1, 2014
Advance registration deadline: Jan. 9, 2014
iHealth is the operational informatics-focused conference where health care professionals who are involved in transforming care delivery convene to share ideas, research and best practices.
Hilton Orlando Lake Buena Vista
SBMI seminars
All seminars are held from noon to 1 p.m. at the University Center Tower, 7000 Fannin Street, room 1414, Houston, TX 77030. Individuals who are unable to attend the seminars in person can watch the seminar live or after the presentation on the school's webcast. Seminar viewers and attendees are encouraged to complete the seminar survey.
Join the conversation! Follow the key points if you can't attend or tweet your feedback of the SBMI seminars: #SBMIseminar.
| | | |
| --- | --- | --- |
| Date | Speaker | Topic |
| Jan. 8 | N/A | No seminar scheduled |
| Jan. 15 | Ming Zhan, PhD | Integrated omics and systems biology to explore stem cell fate control and microenvironment |
Important dates
| | |
| --- | --- |
| Nov. 18 – Jan. 1 | Class registration for spring semester |
| Dec. 1-28 | Online orientation on Moodle |
| Dec. 24-26 | Christmas holiday – university closed |
| Jan. 1 | New Year's Day holiday – university closed |
| Jan. 10 | Tuition & fee payment due to avoid late fee |
| Jan. 13-17 | Assessment of late tuition payment fee ($15 late fee) |
| Jan. 13-17 | Late registration (late registration fee assessed) |
| Jan. 13 | Spring classes begin |
| Jan. 13 | Financial aid check release date |
| Jan. 20 | Martin Luther King Day holiday - university closed |
| Jan. 21-27 | Class add/drop deadline for students already registered |
| Jan. 31 | Tuition & fee payments should be made to the Bursar's Office |