Volume 5, Issue 5
December 11, 2014
Happy Holidays from SBMI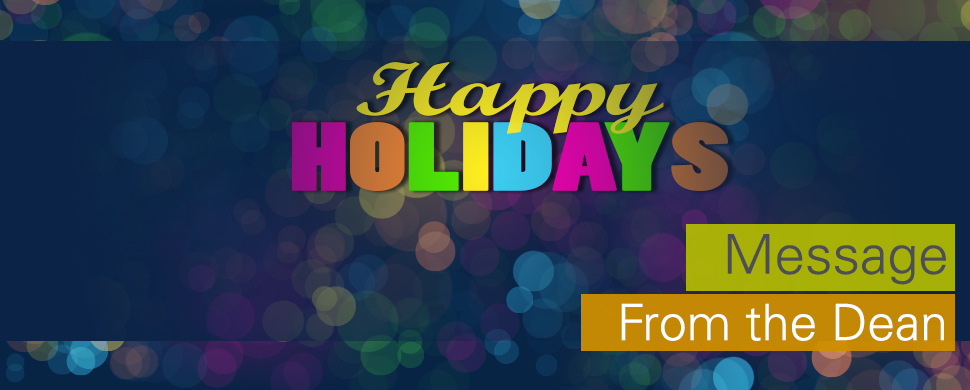 SBMI would like to wish everyone a happy and joyous holiday season. The university will be closed Dec. 24 to 26 and on Jan. 1. SBMI will be open on Dec. 29 to 31 and Jan. 2 with limited hours and limited staff so please call 713.500.3900 if you need any assistance during those days.
SBMI Awarded $7.3 Million for Health Information Technology Research

SBMI is proud to announce that it has been awarded grants totaling $7.3 million to enhance health care and biomedical discovery through the use of health information technology. Five SBMI faculty members, acting as principal researchers, have received seven grants since June of this year. Those faculty members are: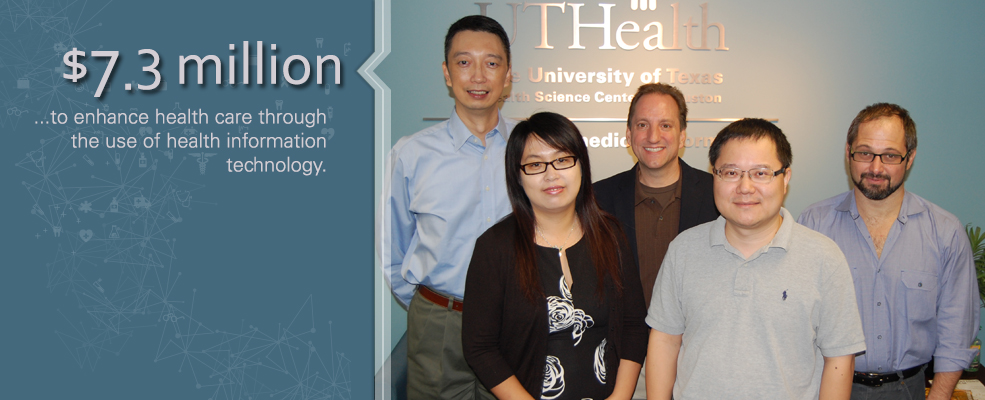 Associate Professor Trevor Cohen, MBChB, PhD received a $160,000 grant from the U.S. National Library of Medicine to contribute to the development of the Data Discovery Index Coordination Consortium (DDICC).
Associate Professor Yang Gong, MD, PhD was awarded a $1.2 million grant for patient safety research by the Agency for Healthcare Research and Quality (AHRQ).
Professor James Langabeer II, PhD, MBA, EMT received a $240,000 grant from the American Heart Association (AHA) for a Phase 2 study working to enhance the care of heart disease through an analytic model and database.
Assistant Professor Cui Tao, PhD earned a $1.4 million grant from the U.S. National Library of Medicine to develop a software program to make electronic health records more user-friendly for clinicians.
Associate Professor Hua Xu, PhD was awarded grants to enhance the use of medical records in research totaling approximately $4.3 million from the National Institute of Allergy and Infectious Diseases, the U.S. National Library of Medicine and the National Institute of General Medical Sciences.
SBMI Faculty Members Create Book on Improving EHRs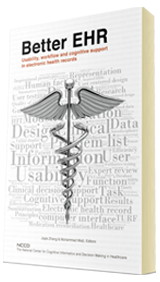 SBMI Dean, Jiajie Zhang, PhD and Adjunct Associate Professor Muhammad F. Walji, PhD recently compiled a book titled "Better EHR: Usability, Workflow & Cognitive Support in Electronic Health Records." The book specifically details many of the usability, workflow and cognitive support issues of EHRs and presents methods and tools that address these issues.

"Using an EHR can dramatically increase health care efficiency, improve patient safety and reduce health care costs," said Zhang. "But when that EHR has suboptimal usability and workflow or other shortcomings, those benefits can be diminished. This book's intent is to demonstrate those flaws and ways to address them to maximize the benefits of EHRs."

The book is a collection of 20 chapters that were contributed by 47 authors from across the nation. Other SBMI faculty members co-authored many of the research contributions, including Elmer Bernstam, MD, MSE, Trevor Cohen, MBChB, MD, PhD, Amy Franklin, PhD, Yang Gong, MD, PhD, Todd Johnson, PhD, Dean Sittig, PhD and Min Zhu, MD, PhD. Several SBMI students contributed to the creation of chapters as well. The chapters each address a variety of challenges like poor usability, suboptimal workflow and cognitive overload; as all are obstacles to EHR meaningful use.
"This book was assembled as an aid to industry professionals like EHR designers, implementers or developers and as an information resource for students and researchers in academic institutions", notes Walji. "But beyond that, it is informative for the broader community as well."

A grant that SBMI earned in 2010 was used to support the development of the book. The grant was provided by the Office of the National Coordinator for Health Information Technology (ONC) through the Strategic Health IT Advanced Research Projects (SHARP) Program and allowed SBMI to initiate the SHARPC project in order to address patient-centered cognitive support issues.

The "Better EHR: Usability, Workflow & Cognitive Support for Electronic Health Records" book can be accessed online at http://sbmi.uth.edu/nccd/better-ehr.
SBMI Hosts Fall 2014 Poster Session and Ethics Panel on Dec. 15

Join us on Dec. 15 for the fall 2014 SBMI poster session & ethics panel. Students will present their research findings for the semester and we will host a holiday cookie social as well.

This year's session will also include an ethics panel during the last hour. The following panelists will be participating:
Susan Fenton, PhD - Assistant Professor and Associate Dean for Academic Affairs, SBMI
Jonathan Ishee, JD, MPH, MS, LLM - Assistant Professor, SBMI
Claire Clark, PhD, MPH - Postdoctoral Fellow, McGovern Center for Humanities and Ethics at the UTHealth Medical School
Nathan Carlin, PhD, MA - Associate Professor and Director of the Medical Humanities and Ethics Certificate Program, McGovern Center for Humanities and Ethics at the UTHealth Medical School
The session and ethics panel will take place in the Willerson Discovery Hall, which is inside the Fayez S. Sarofim Research (IMM) Building from 4 - 7 p.m. We hope all SBMI students, faculty, staff and alumni can attend.
SBMI Professor Earns Contract with the Houston Fire Department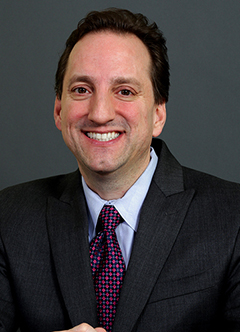 Jim Langabeer, PhD, MBA, EMT, SBMI professor, was recently awarded a two-year contract that is sponsored by the Houston Fire Department (HFD). Under his new contract, Langabeer is tasked with completing a clinical outcomes research evaluation, or a CORE study, of the Houston Emergency Medical Services (EMS) intervention program titled Electronic Tele-Health and Navigation Network (ETHAN).
ETHAN was implemented in an effort to better align appropriate levels of treatments for 911 callers and to improve timely access to quality care. ETHAN's goal is to reduce the number of unnecessary EMS transports to local hospital emergency departments (ED) by connecting non-urgent patients with primary care resources through the use of tele-health technology used on paramedic tablets. Ultimately allowing HFD physicians to better diagnose and route patients for care.
His role is to develop a database of patients and evaluate the efficiency of the ETHAN technology on certain results like cost of treatment or clinical outcomes based on which patients received intervention and which patients did not. The primary objective of his evaluation is to potentially help improve the delivery of care for Houston and other EMS providers across the country. SBMI would like to congratulate Dr. Langabeer.
SBMI Student Wins Texas School Nurse Organization Award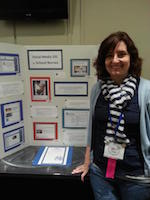 SBMI master's student Regina Wysocki attended the Texas School Nurse Organization 2014 conference that was held in Houston at the Westin Galleria from Nov. 14 to 16 and won an award for her "Excellence in Nursing" poster.
Regina created a poster demonstrating the ways in which the health services department of her school district, Klein Independent School District, uses social media, particularly Facebook, Twitter and YouTube and the district's campus websites to connect with parents and other community stakeholders.

SBMI Professor Dean Sittig, PhD has recently been featured in several news articles including:
A Bloomberg BNA story on electronic health record vendors that can be found here.
An op-ed written by Sittig and two colleagues on the Ebola virus that was published in two foreign publications; The Hindu (click here to read), an English-language Indian daily newspaper and The Gulf Today, an English-language daily newspaper based in the United Arab Emirates.
A report on EHRs and their inability to detect an infectious disease that was covered by Health Data Management. Read the entire article here.

Save the Date

December 11
The Quest for Personalized Medicine: A Patient Similarity Approach
Assaf Gottlieb, PhD, Postdoctoral Research Fellow at Stanford University
SBMI Special Seminar at UCT 1412, 1 – 2 p.m.
December 15
SBMI Fall 2014 Student Poster Presentation Session & Ethics Panel
Fayez S. Sarofim Research Building (IMM) Lobby
1825 Pressler Street Houston, TX 77030, 4 – 7 p.m.
Important Dates

| | |
| --- | --- |
| December 12 | Last class day for the fall 2014 semester |
| December 12 | Last day to defend proposal (PhD) |
| December 12 | Completed work due to faculty for summer 2014 incompletes |
| December 15-19 | Final exams & evaluations |
| December 17 | Faculty grade changes to Registrar for summer 2014 incompletes |
| December 19 | Signed coversheet & final copy of state of the science/capstone report due (MS) |
| December 23 | Final fall grades are due |
| December 24-26 | December holiday – university is closed |
| January 1 | New Year's Day holiday – university is closed |
| January 12 | First class day for spring 2015 semester |
| January 19 | Martin Luther King Jr. Day – university is closed |