Volume 5, Issue 6
January 22, 2015
Spring Semester at SBMI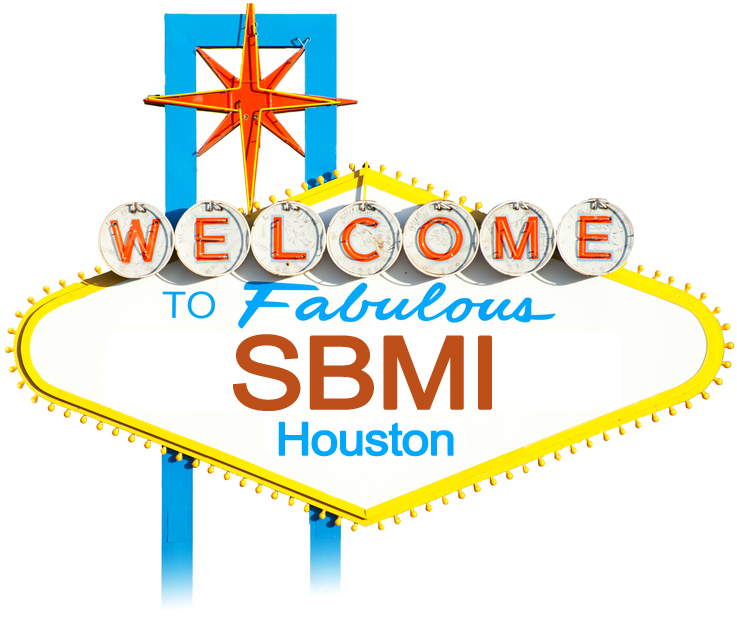 We hope everyone had a lovely and healthy holiday season. We want to welcome back all returning SBMI students. To all new SBMI students, we are very happy to have you join the SBMI community here at UTHealth. We are looking forward to a successful spring semester.
As the semester begins, we want to remind all students to submit their updated yearly degree or program plan if it has not been completed recently. Please work with your academic advisor to complete the form and if anyone has questions regarding the degree plan, please contact the Office of Academic Affairs at 713.500.3591 or SBMIAcademics@uth.tmc.edu for assistance.
SBMI to Host Etiquette Dinner on February 9

On Feb. 9, the SBMI Office of Academic Affairs will host an etiquette dinner for current SBMI students. This is an excellent opportunity to enjoy a delicious meal while gaining dining confidence by learning business dining etiquette. Attendees will learn multi-course dining concepts, utensil usage, ordering from various menus, ordering wine and host responsibilities.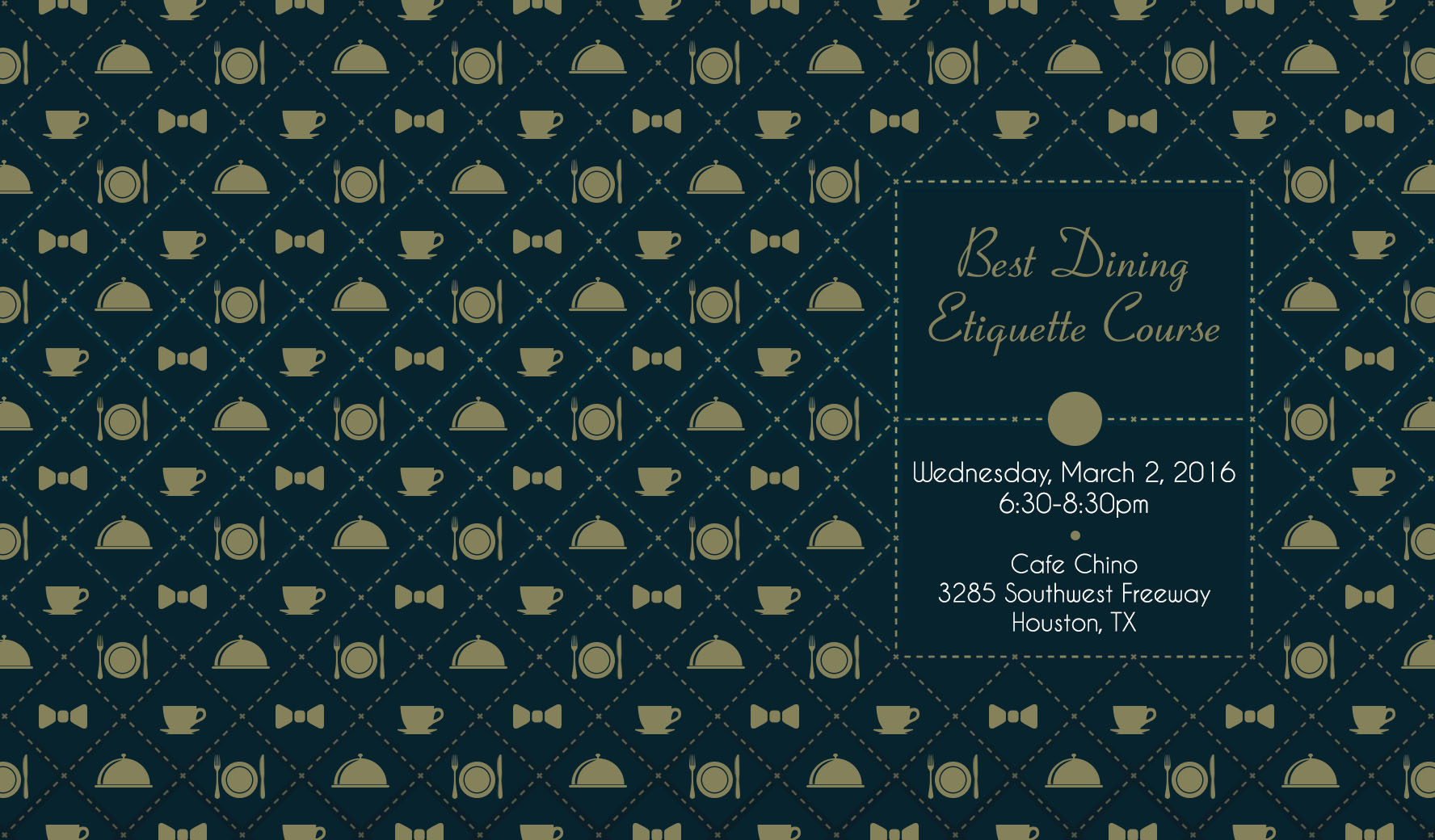 The etiquette dinner will take place at Café Chino from 7 to 9 p.m. and students must register beforehand in order to attend. Registration is first come, first served and will be limited to 21 students. For students whose registration cannot be confirmed because the event has reached capacity, you will receive notification of such and you will be added to the event waitlist.
We encourage all students who would like to attend to submit their online registration form as soon as feasible at https://sbmi.uth.edu/etiquette/.
Congratulations to SBMI Scholarship Awardees

SBMI would like to congratulate the following students who were each awarded a Doris Ross Scholarship for the spring 2015 semester.
Kavoos Eilami, Health Informatics Master's Student
Edward Elms, Applied Health Informatics Master's Student
Gustavo Garza, Applied Health Informatics Master's Student
Aldo Martinez, Public Health Informatics Certificate Student
Adetomiwa Oguntuga, Applied Health Informatics Master's Student
Regina Wysocki, Applied Health Informatics Master's Student
The Doris Ross Scholarship Fund was established by the John P. McGovern Foundation in 1999, in honor of the pioneering founder and first Dean of the UTHealth School of Biomedical Informatics (formerly, UT School of Health Information Sciences), Dr. Doris L. Ross. This endowed fund is one of several resources that provide financial support to outstanding SBMI students destined to become leaders in the field of informatics.
Project SHINE Fellowship Opportunities

Project SHINE (Strengthening Health Systems through Interprofessional Education) aims to strengthen the public health workforce through improved fellowships/collaborations between health departments and direct care providers. The fellowship programs' mission is to meet the nation's increasing and urgent need for applied public health informatics and epidemiology workforce capacity in state and local health departments.
Applications are currently being accepted for the following Project SHINE fellowships:
Applied Public Health Informatics Fellowship (APHIF):
Deadline to apply is Jan. 30, 2015.

The Applied Public Health Informatics Fellowship (APHIF) trains recent graduates in the expanding field of applied public health informatics. Participating fellows will receive one year of on-the-job training at a state or local health agency under the guidance of experienced mentors. The fellowship is designed for doctoral or master level graduates in public health who are interested in the practice of public health informatics at the state or local level. Fellows are carefully matched to host agencies based on the career interests of the fellow and available opportunities at the host agency.


Health Systems Integration Program (HSIP):
Deadline to apply is Feb. 16, 2015.

The Health Systems Integration Program (HSIP) places public health professionals at state, tribal, local, and territorial health departments. The recent push for improved outcomes in population health has called for these public health and primary care sectors to collaborate more effectively. The HSIP Fellowship is designed for practitioners with a doctoral degree and two years of public health experience or at least four years of public health experience with a master's degree. The applicants will go through a competitive application process and will be selected based on their applications, candidate interviews and host site matching. The program commitment is one year.


Informatics-Training in Place Program (I-TIPP):
Deadline to apply is March 31, 2015

Informatics-Training in Place Program (I-TIPP) is an opportunity to build public health informatics capacity within the existing workforce. I-TIPP is an innovative approach to bring relevant on-the-job training to appropriate health department staff. I-TIPP aims to train the existing workforce while they are employed in a health department. This program is designed for individuals with an interest in gaining more training and experience in public health informatics. This one year applied training program will provide an overview on various topics within public health informatics with a particular emphasis on meaningful use and surveillance system improvement. Please visit http://shinefellows.org/ for details and forward all questions to Jessica Pittman (jpittman@cste.org).
SBMI alumna Biru Yang, Ph.D., M.P.H is an I-TIPP fellow and is happy to answer any questions regarding each of the fellowship opportunities. Feel free to contact her at biru.yang@houstontx.gov.
AMIA 2015 Call for Participation

The American Medical Informatics Association (AMIA) will host its annual symposium in San Francisco this year from Nov. 14 to 18 and is calling for submissions.

There are a variety of presentation formats and categories available for participation including papers, posters, podium abstract presentations and system demonstrations. Some of the AMIA 2015 program themes include global ehealth, imaging informatics, terminology and standards ontologies and more. The deadline for submissions is March 12, 11:59 p.m. EST. For more information on submission, visit the AMIA 2015 call for participation webpage.
Distance Education Announcements and Updates

UTHealth has begun a phased implementation of a new learning management system, Canvas. Three SBMI courses are being taught in Canvas in spring 2015 semester. Students and faculty can login at https://uth.instructure.com/login/26 using the same username and password used for Moodle. More courses will be moved to Canvas over the next two years.
Canvas orientation for students
Canvas orientation for faculty
Students should check their UTH email account regularly and log into Moodle and/or Canvas for all online course and school communications. All currently enrolled students now have access to the virtual learning environments, AvayaLive and Second Life. Please check your UTH email account for notification about your AvayaLive account. Not all courses use these virtual environments. Please check with course instructors or contact DE@uth.tmc.edu if you have questions.
AvayaLive quick start guide for students
Second Life orientation slides and help page
The Distance Education team has compiled an updated set of resources for instructors for spring 2015. These instructor resources are available in every current course in Moodle and Canvas. Faculty can review the updates on policies, technologies and services at the link below.
Distance Education slides for faculty
Contact Distance Education at DE@uth.tmc.edu
Upcoming SBMI Recruiting Events

Several SBMI faculty and staff members will be traveling in the coming months to visit universities and attend conventions to promote our degree programs. We invite any prospective students or alumni in the area to visit us during these events.

Feb. 16 – Texas State University Graduate & Professional School Fair

SBMI Professor, Lex Frieden, MA, LLD (hon) was quoted in a Bloomberg Business Week article that was originally posted in the Austin American-Statesman. Frieden discussed Texas Governor Greg Abbott and how he can change the political landscape regarding disability. Click here to read the entire article.

Save the Date

January 28
Informatics Challenges in Personalized Cancer Therapy
Amber Johnson, Ph.D.
SBMI Research Seminar at UCT 1414, 12 p.m.
February 4
Pipelines for Data Analysis
Hadley Wickham
SBMI Research Seminar at UCT 1414, 12 p.m.
February 9
SBMI Best Dining Etiquette Dinner
Event is only open to current SBMI students & registration is required.
Cafe Chino, 7 - 9 p.m.
February 11
Use of Natural Language Processing in Enterprise Terminology Development
Sina Madani
SBMI Research Seminar at UCT 1414, 12 p.m.
February 18
TBA
Kirsten Ostherr
SBMI Research Seminar at UCT 1414, 12 p.m.
February 25
SBMI Informatics Innovation (I2) Lab Open House
UCT 1480, 1 - 3 p.m.
Important Dates

| | |
| --- | --- |
| Jan. 13 - Feb. 9 | Late tuition payment fees are due |
| Jan. 20 - 28 | Add/Drop via myUTH is open for students already registered |
| Feb. 16 | President's Day - university is closed |
| March 6 | Last day to drop courses & receive grade of WP or WF (May impact GPA.) |