Volume 4, Issue 11 June 23, 2014
Town Hall Meeting to be Held

A town hall meeting for all students will be held prior to the beginning of the fall semester to discuss a slight tuition increase mandated by The University of Texas System, as well as the new practicum fees. An email invitation will be sent out about the meeting as soon as it is scheduled, and there will also be further information about the issue on the SBMI web site soon.
Academic Update Schedule Change

Going forward, the Academic Update will no longer be published in June and July, and will resume in August. If you have news or announcements that you would like to share during the summer, please either call Shannon Rasp at 713-500-3991 or email her at shannon.m.rasp@uth.tmc.edu. She is also your contact for publishing news in the Academic Update during the regular academic year.
SBMI Welcomes New SGO Officers

The SBMI Student Government Organization has named its new officers for the 2014-2015 academic year. The new SGO president is Dr. Mehdi Rais, the vice president is Evan P. Bernard, and the secretary is Adriana Stanley.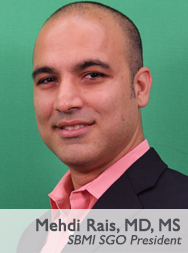 Rais, who served as the SBMI's SGO vice president this past year, is an applied master's graduate and now pursuing a doctor of philosophy degree in health informatics. Rais was previously the director of clinical informatics at Texas Tech's Health Science Center and the chief medical information officer for a local organization, but recently stepped down to focus full-time on his education.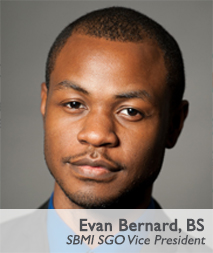 Bernard is a first year master's student in biomedical informatics, having already earned a bachelor's degree in environmental health with practical experience in the public health field. He plans to add clinical informatics to his resume, with the goal of eventually becoming a chief information officer.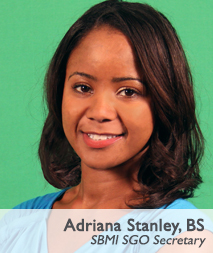 Stanley is pursuing a master's degree in health informatics. She is currently working as a graduate research assistant on a project on decision making and complexity in the emergency center at LBJ General Hospital, and has also worked on the Sharp C Turf project on electronic health record usability.
Google Glass and Health Care Presentation this Friday

The South Central Texas Chapter of HIMSS is hosting a presentation called "Google Glass + Healthcare = ?" this Friday, June 27th from 11-12:30 at the MD Anderson Mays Clinic, 1200 Holcombe Blvd., Room ACB1.12345.
Many providers are excited about Google Glass and the future of eyewear computing in medicine, but there are still many questions. What will Glass be used for? By whom? How? Why?
The speaker will be Kyle Samani, who has been building computers and programming since he was 10 years old. For the past five years, he led the design and development of an electronic medical record for rural environments, VersaSuite. As CEO of Pristine, Samani is a pioneer in the health care Google Glass app market.
A complimentary lunch catered by the French Corner will be provided if you RSVP to drohe@mdanderson.org. If you have any questions, please call Duke Rohe at 713-377-2234.
AMIA Invites Submissions for Student Design Challenge


The AMIA has announced the deadlines for its Second Annual Student Design Challenge, in which it invites teams of graduate students from different scientific disciplines and backgrounds to propose creative solutions to a specific problem related to health care. This year the challenge invites submissions that focus on novel and original approaches to facilitating communication, information exchange and cooperation between individuals and their health care providers. The deadline for the proposal submission is Aug. 1.
SBMI YouTube Channel Achieves Milestone

SBMI would like to thank all of the viewers and subscribers of the school's YouTube channel for enabling us to reach 30,000 views! Check out the new layout on YouTube and some of the latest SBMI videos. Also, stay updated with the school and the latest news and trends in biomedical informatics by following the school's other social media sites: Facebook, Twitter, LinkedIn, Pinterest and Flickr.
Dean to Teach 10x10 Course

Dr. Jiajie Zhang, the Dr. Doris L. Ross Professor and dean at the SBMI, will be teaching the "Healthcare Interface Design Distance Learning Course" as part of the AMIA 10x10 program. The class focuses on electronic medical records, human-computer interaction, human factors and health information technology usability. Students will master the fundamental principles and methods in health interface design, learn how to evaluate the usability of existing systems, and how to design new systems with built-in usability by applying related theories, principles, methodologies and techniques. The course costs $2,195 and runs July 7-Sept. 7.
Learn more and register
New Staff Member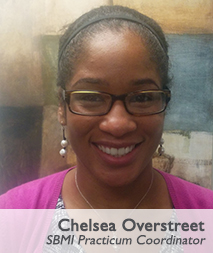 Chelsea Overstreet has joined the SBMI staff as the new practicum coordinator. She assists current master's level students with securing clinical sites and locations for their practicum requirements and works in conjunction with students and their advisors to help them find the best environment for fostering their health informatics academic interests. Chelsea was previously an admissions officer and recruiter with The University of Texas at San Antonio Graduate School. If you need assistance planning your practicum, call Chelsea at 713-500-3911 or email her at Chelsea.E.Overstreet@uth.tmc.edu.
Dr. Elmer Bernstam spoke to 740 AM Radio about the accuracy of health information online. The article can be read here.
Lex Frieden was interviewed by News 92 anchor Bonnie Petrie for a story on emergency preparedness for people with disabilities. He also provided information to a reporter with TakePart.com for a story on the use of service animals in schools, which can be seen here.
Dr. Yang Gong Receives Grant

Dr. Yang Gong received a University of Texas System Patient Safety Grant, a two-year grant worth $100,000. Funded by the UT System Malpractice Plan, these awards help UT faculty conduct research, educational initiatives and clinical collaborations to improve health care quality and safety.


Important dates
| | |
| --- | --- |
| June 9-30 | Registration for the second six-week session |
| June 23 | Second installment payment due |
| June 30 | Final dissertation drafts due to advising committee for review |
| July 2 | Tuition and fee payment due for the second six-week session to avoid late fee |
| July3 | Classes begin for the second six-week session |
| July 3-9 | Late registration for the second six-week session (late fee assessed) |
| July 3-9 | Class add/drop for students registered in the second six-week session |
| July 4 | Holiday, university closed |
| July 15 | Last day to defend dissertation for Ph.D. students |
| July 29 | Final installment payment due |
| Aug 4 | Completed work due to faculty for incomplete grades from spring 2014 semester |
| Aug 8 | Last day to drop summer courses and receive grades of "WP" or "WF" |
| Aug 11 | SBMI Poster Session |
| Aug 12 | Last class day for summer sessions |
| Aug 12 | Signed cover sheet and final copy of State of the Science in PDF format due to the Office of Academic Affairs from master's students |
| Aug 13-14 | Final exams and evaluations for the 12-week session |
| Aug 14 | Final exams and evaluations for the second six-week session |
| Aug 16 | Grades due in campus solutions for incomplete grades from spring 2014 semester |