Volume 4, Issue 8 March 31, 2014
SBMI Career Day
All SBMI students are invited to the SBMI 2014 Career Day Thursday, April 10, 9:30 am to 6 pm at the IMM Atrium, Saraofim Research Building. At this event, you will:
Develop professional networking skills
Discover professional business interview etiquette
Decipher what employers expect from you
Discuss employment potential with employers in the field
To be fully prepared, students need to:
Review Chapter 3 of Sheryl Dawson's e-book, "Job Search: The Total System," available for download here.
Revise your current Resume to follow the standards outlined in the e-book
Bring copies of the resume for potential on-site interviews
Dress professionally! In a sea of qualified students and alumni, this is your chance to stand out. Wearing professional attire can increase your confidence and grab recruiters' attention. Don't wear tennis shoes, jeans or T-shirt.
This event is sponsored by UTHealth School of Biomedical Informatics Office of Academic Affairs and open to SBMI students, alumni, faculty and staff only.

Voting open for the John P. McGovern Award for outstanding teaching

SBMI students have nominated the following SBMI professors for the 2013-2014 John P. McGovern Award for Outstanding Teaching:

Students can now vote for the next McGovern Award winner from SBMI. If you haven't voted, review your email for a message from Survey Monkey to vote. Please do not forward this message because the link is uniquely tied to the survey. Voting will close on April 6 at midnight. The award will be given to the winning faculty member at SBMI's commencement ceremony on May 8.

UTHealth Student Perception Survey

Student Perception Survey is now open till Monday, March 31. The survey is a triennial, comprehensive and confidential survey of the student experience at UTHealth. Input and feedback from current students are important and provide campus- and school-based leaders with information needed to improve the quality of student services across UTHealth.

Department of Health and Human Services health informatics internship

The U.S. Department of Health and Human Services Office of the Assistant Secretary for Planning and Evaluation is seeking a student intern with background in health informatics for summer 2014 to work on the Patient-Centered Outcomes Research in the Health Quality and Outcomes Division.

Contact Katherine Warren at 202-205-8677 or Katherine.Warren@hhs.gov with questions.

SBMI at HIMSS14


UTHealth SBMI was proud to participate as an exhibitor at the HIMSS14 annual conference held in Orlando. The conference brings together 37,000+ health IT professionals, clinicians, executives and vendors from around the world. Exceptional education, world-class speakers, cutting-edge health IT products and powerful networking are hallmarks of this industry-leading conference.

SBMI was not only an exhibitor, but an avid twitterer while at the conference, ranking in the top ten Twitter handles for #HIMSS14. We were Tweeting live from the education sessions, interviewing faculty member Dean Sittig, and catching up with our very own MS student Anu Gururaj, who served as a student volunteer.

Video of Dean Sittig
Video of Anu Gururaj

The impact of "meaningful use" on providers and EHR use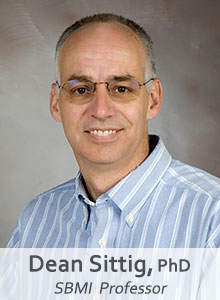 SBMI Professor Dean Sittig, PhD, was featured in MedPage Today's Hot Topics

As Stage 1 of meaningful use is wrapping up to a close, Sittig thinks it has been successful with EHR adoption rate close to 90 percent in hospitals and probably 70 percent for ambulatory practices. He also emphasizes that it is important for physicians to start preparing for new requirements for exchanging information with providers and patients, more structured data entry, and other challenges in Stage 2.

Dr. James Langabeer returns to UTHealth
The Houston Business Journal reported on Dr. Langabeer's return to UTHealth


Dr. Jim Langabeer returned to UTHealth after serving as president and chief executive officer at Greater Houston Healthconnect. "Jim Langabeer built an organization that, for the first time, has enabled our community's leading healthcare institutions to achieve true continuity of care for the benefit of their patients," Dr. Bernard Harris, chair of the Healthconnect board of directors, is quoted as saying in the report.


SBMI faculty shares thoughts on protecting the use of service animals
Featuring SBMI Professor Lex Frieden, MA, LLD (hon)


Lex Frieden, disability rights champion, shared his thoughts on legislation designed to protect the use of service animals in public places March 5 on Houston Matters, a live talk show on KUHF 88.7 FM.


Upcoming events
Save the date
BBQ Fundraiser benefiting Dr. Nori Aoki Fund
6 p.m. to 8 p.m., Monday, April 7
This fundraising event hosted by Drs. Kim Dunn, Kathryn Stream, Jack Schull, and Jiajie Zhang is an effort to commemorate Dr. Nori Aoki and establish an endowment benefiting SBMI students. See event invitation.
7000 Fannin St., Houston, TX 77030
Student Informatics Journal Club meeting

11 a.m. to noon, Wednesday, April 9
The SBMI Student Informatics Journal Club holds monthly meetings in UCT1410. See meeting schedule.
University Center Tower (UCT) Room 1410

SBMI 2014 Career Day
9:30 a.m. to 6 p.m., Thursday, April 10
IMM Atrium of the Saraofim Research Building
1825 Pressler Street, Houston, TX 77030
SIC Crawfish Boil

4:30 p.m. to 7 p.m., Friday, April 11
Come enjoy this spring party! See event details.
Cooley Center Courtyard, 1941 East Road

2014 Texas Regional HIMSS Conference
Tuesday, April 22 to Wednesday, April 23
The Texas chapters of HIMSS will hold its 6th Annual Regional Conference. The theme of this 2-day educational conference is "Healthcare IT Innovation – It's a BIG Deal". See event details.
400 North Olive Street, Dallas, TX 75201
SBMI Connect
4 p.m. to 6:30 p.m., Monday, May 5
SBMI invites prospective students to learn about our health informatics graduate program. Learn more and register at: http://sbmi.uth.edu/connect
Saraofim Research Building Atrium
1825 Pressler Street, Houston, TX 77030
SBMI 2014 Commencement
4 p.m. Thursday, May 8
This year's Commencement speaker will be Dr. Robert Robbins, President and CEO of the Texas Medical Center. More information about Commencement 2014 can be found on SBMI website.
Beth Robertson Auditorium,Sarofim Research Building
SBMI seminars
All seminars are held from noon to 1 p.m. at the University Center Tower 7000 Fannin Street, room 1414, Houston, TX 77030. Individuals who are unable to attend in person can watch the seminar afterward by visiting the research seminar page and clicking on the seminar titles, which link to the recorded presentations. Past seminars recorded before January 2014 can be viewed on the School of Biomedical Informatics webcast.
Seminar viewers and attendees are encouraged to fill out the seminar survey. Join the conversation! Follow the key points if you can't attend or tweet your feedback of the SBMI seminars: #SBMIseminar.
| | | |
| --- | --- | --- |
| Date | Speaker | Topic |
| April 1 | Kevin Fickenscher | The Leadership Imperative - The Informatics Solution |
| April 9 | Tyler Carruth | TBA |
| April 16 | Sandor Szalma | TBA |
| April 23 | Jianbo Lei | Study of named entity recognition in Chinese clinical text |
Important dates
| | |
| --- | --- |
| March 31 | Deadline for ordering graduation regalia |
| April 4 | Last day to defend dissertation |
| Apr 14 | Summer registration begins |
| Apr 15 | Titles of State of the Science & Dissertation due to Office of Academic Affairs |
| Apr 18 | State of the Science drafts to advising committee for review |
| Apr 25 | Student's completed work to faculty for incomplete grades from previous fall semester |