Volume 4, Issue 10 May 22, 2014
SBMI Celebrates Commencement

Thirteen students received their Master of Science in Health Informatics and two received their Doctor of Philosophy of Health Informatics at The University of Texas School of Biomedical Informatics commencement, held May 8 at the Institute for Molecular Medicine. "The landscape of health care delivery is rapidly changing and informatics is a huge part of that," Dr. Robert C. Robbins, president and chief executive officer of the Texas Medical Center, told the students. "Bioinformatics sciences are advancing the discovery of life science on a daily basis, and you all play a role."
Several awards were also announced at the ceremony. The John P. McGovern Outstanding Teacher Award was given to Dr. Yang Gong in recognition of his dedication to his students and teaching. The ceremony also honored faculty member Dr. Noriaki Aoki, who passed away in January at the age of 47, with the 2014 Distinguished Alum Award. The award was accepted on behalf of the Aoki family by Shoko Miyagawa, Ph.D., who worked closely with Aoki on the CHORD-J project at Keio University in Japan. The Paul C. Boyle Award for Excellence in Student Research for fall 2013 was awarded to Taiwo Akinwande, Craig Harrington, and Rodney Howell. Harrington also received the Boyle Award for the spring 2014 semester.
2014 commencement pictures
2014 commencement video
Doctor of Philosophy in Health Informatics
Sina Madani, M.D., M.S.
Sahiti Myneni, M.S.E.
Master of Science in
Health Informatics
Jon Banks, B.S.
Gwendolyn Brobbey, M.D.
John D. Calhoun, B.S., M.S.
Jennifer Fox, B.S.N.
Rodney Howell, B.S.
Santosh Joshi, B.S.
Derek Meeks, M.D.
Nasim Rezanejad, M.D.
Andrew Saldana, B.S.
Ruth Ungerer, B.S.N.
Charles Van Duyne, M.D.
Gary Walker, M.D., M.Ph.
Peyman Zabihinoury, B.S.
SBMI Connect


The SBMI Connect 2014 career event was hosted by the school May 5 at the Institute for Molecular Medicine. Informatics industry leaders held a discussion panel in which they discussed the career opportunities in the field, what they look for in job applicants, their own backgrounds and experiences with informatics, and other information of interest to SBMI students.
Sheryl Dawson, CEO of Dawson Consulting Group, said, "This school is on the cutting edge of innovation in health care. This is an area where the sky is the limit."
Jody Spaulding, health care technology director at Deloitte, agreed, saying, "We are overwhelmed with data. We need experts who can translate it into actionable data."
Robert Murphy, chief medical information officer at Memorial Hermann Healthcare System, told the students that, "It was when I was in charge of five regional emergency rooms in the 1990s that I learned how important data is. For me, informatics means not just data, but the human aspect of it, as well."
In addition to the panel, which was followed by a question-and-answer session, 21 students also displayed posters of their latest research projects for the attendees to view and discuss.
Shannon Vogel Awarded HIMSS Scholarship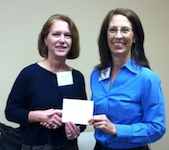 Shannon Vogel (on the right in the photo), an SBMI student currently working on an applied master's degree in health informatics, received a $1,500 scholarship from the Austin HIMSS, presented to her by Lillian Prince, chair of the Austin HIMSS Scholarship Committee. Vogel will use the award to attend classes this summer as a distance learning student. Her focus is on gaining a deeper understanding of the health informatics industry as she plans to help physicians with their health information technology needs in the ambulatory practice setting.
HIMSS Student Scholarship

HIMSS South Central Texas is offering three student scholarships in the amount of $2,000 each to students demonstrating academic excellence and leadership potential in health information technology and related fields. The deadline to apply is June 16.
New Faculty and Staff Members


Kimberly Smith, Ph.D., joined SBMI on May 13 from the University of Texas in Austin. She is teaching systems analysis and the introductory course to health informatics.

Emin Saglamer became the SBMI's director of Educational Technology on May 19. He is responsible for ensuring that the school's use of educational technology is integrated, streamlined, and helps the school achieve its strategic goals. Prior to coming to the SBMI, Emin led the educational technology research and division at Texas State University.

Miranda Hedrick took over as the administrative coordinator for admissions in the Office of Academic Affairs May 16. Miranda comes to us from the registrar's office at UTHealth.

Blanca Torres joined the SBMI staff as the new administrative coordinator for the SHARPC office located in UCT 165. She comes to SBMI from the School of Public Health and has been at UTHealth for eight years.


Dr. Elmer Bernstam was interviewed on New Radio 740 about the possibilities computer simulation offers surgeons. To read about it, click here.
Sam Liong, SBMI manager of business development, provided information to a reporter from iHealthBeat writing a story on the Health Information Technology Regional Extension Center's push to digitize health records.
Dr. Peter Killoran was interviewed by a reporter for Frontline Medical News for a story on the benefits of clinical informatics certification.
E-health record expert Dean Sittig, Ph.D., provided information to a reporter for Healthcare IT News working on an article about health information technology security.

Yang Gong, MD, Ph.D., Receives Grant

Associate Professor Dr. Yang Gong received a $5,000 grant from The University of Texas Kenneth I. Shine Academy of Health Science Education for his project, "Improving Quality and Safety Through an Inter-professional Education Program: Design and Evaluation of a Pilot Course at UTHealth." The purpose of this grant program is to stimulate research and innovation in health science education.


Important dates
| | |
| --- | --- |
| May 26 | Memorial Day holiday (university closed) |
| June 5 | Tuition and fee payments due at the bursar's office |
| June 9 | Registration for second six-week session |
| June 23 | Second installment payment due |
| June 30 | Ph.D. students - final dissertation drafts to advising committee for review |