Volume 5, Issue 10
May 22, 2015
Congratulations to 2014-2015 Graduates
SBMI hosted our annual Commencement Ceremony on May 14. 14 of the 27 students who have earned a master's or doctoral degree from SBMI over the past three semesters took part in the festivities. Dr. Blackford Middleton, 2014-2015 AMIA Chairman for the Board of Directors, was the commencement speaker.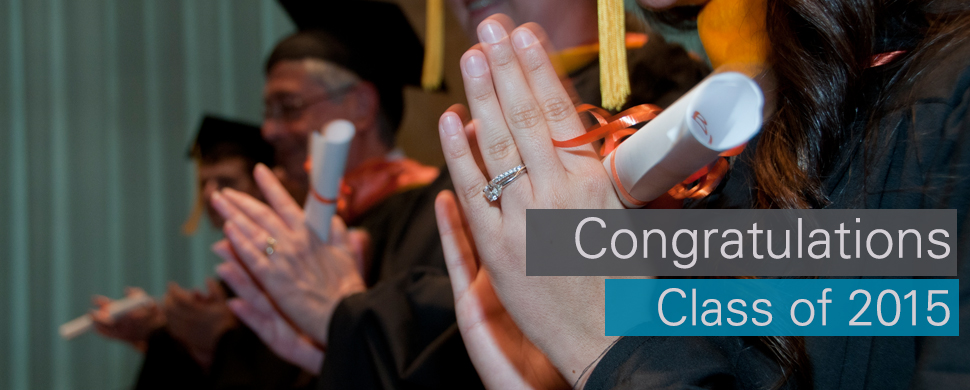 We would like to congratulate the following students who participated in our Commencement Ceremony.
Fall 2014 Master's Graduates
Ruth V. Arya, B.S.
Bhagyashree Dhavale B.S., M.S.
Binu Geordi B.S., M.S.
Lidia Turrubiartes, B.A.
Spring 2015 Master's Graduates
Saman Ansari, B.S.
Lisa Briones, B.S.
Heather Fregia, MBA
Gustavo Garza B.S.
Anupama Gururaj, Ph.D.
Manoj Kapoor, B.S.
Michelle Nichols, B.A., M.S.
Chioma Odo, B.S.
Adriana Stanley, B.S.
Fall 2014 Doctoral Graduate
Several award winners were announced during the ceremony as well including the John P. McGovern Outstanding Teacher Award that Dr. Kimberly Smith received for her commitment to educating SBMI students. Alumnus Dr. Adol Esquivel was on hand to earn the 2015 Distinguished Alum award from the SBMI Alumni Association. SBMI doctoral student Zhiguo "Stanley" Yu's poster "Correspondence of Topic Models and MeSH for PubMed" was the winning poster for the spring 2015 Paul C. Boyle Award for Excellence in Research.

Congratulations to all award winners and to our newest group of SBMI alumni.
Ceremony photos coming soon to Flickr
Click here for ceremony video
SBMI Bragging Points

Many members of the SBMI Community have recently achieved noteworthy accomplishments and we want to recognize them.
SBMI Associate Dean for Research & Professor, Elmer Bernstam, M.D., M.S.E. recently earned his Clinical Informatics Board Certification.
Two SBMI students participated in the Deans' Honor Colloquium in Interprofessional Collaboration for spring 2015. The sessions are sponsored by the Center for Interprofessional Collaboration. SBMI certificate student Mohinee Shrestha attended all four sessions and Nilufar Isakova, also a SBMI certificate student, attended three of the four sessions.
One of SBMI's master's students, Regina Wysocki, recently had a paper published. The paper is titled "Social Media for School Nurses: Promoting School Health in the 21st Century" and Regina will present a poster on the topic at the National Association of School Nurses conference in Philadelphia this summer.
Student Governance Organization Election Results

SBMI would like to thank all of the students who participated in the 2015-2016 Student Governance Organization (SGO) elections; this includes those who opted to run and students who participated by voting. SGO had one of the largest turnouts to date for voting participation.

We want to congratulate the new SGO officers for the 2015-2016 academic year:
Adriana Stanley, President
Anna Xu, Vice President
Zhiguo "Stanley" Yu, Secretary
Congratulations to all and we look forward to another productive year for SGO.
HIMSS16 Call for Proposals is Open

HIMSS16 will take place in Las Vegas from February 29 to March 4. If you are feeling lucky, we encourage you to submit a proposal by the deadline, June 15th, 5 p.m. CST.

HIMSS is looking for stories related to how IT is transforming the quality, safety, access, and cost-effectiveness of health and healthcare in your setting. Proposals should provide insight, thought leadership, expertise, and lessons learned on the optimal use, and value derived from, IT and management systems in the health sector.

Visit the HIMSS16 website for information on proposals and submission details. Contact Deb Clough, Manager of Annual Conference Education at dclough@himss.org if you have questions regarding submission.
Upcoming SBMI Recruiting Events

Several SBMI faculty and staff members will be traveling in the coming months to visit universities and attend conventions to promote our degree programs. We invite any prospective students or alumni in the area to visit us during these events.

June 28 - 30 - TXHIMA Annual Convention in San Marcos, TX
July 13 - 14 - AHIMA Data Summit: Beyond ICD-10

in Baltimore, MD

July 14 - 15 - Student Success Summit 2015

in Austin, TX
SBMI Professor, Dean Sittig, Ph.D., was featured on the MedicalTechnologySchools.com list of "20 Professors Changing Health Information Technology." Visit their website to see all faculty members from across the nation that are also included.
SBMI Associate Professor Peter Killoran, M.D. recently participated in a Houston Public Media, KUHF Radio show regarding health information overload.
Save the Date

June 5
Generating Practice-based Evidence from Electronic Health RecordsNetwork Analysis
Nigam Shah, PhD, MBBS
SBMI Seminar at UCT 1414, 1 p.m.
Important Dates

| | |
| --- | --- |
| April 13 - May 25 | Summer registration open in MyUTH |
| May 25 | Memorial Day - university is closed |
| May 26 | First day of classes for summer semester |
| May 26 | Tuition & fee payment due to avoid late fee |
| May 26 | Financial aid check release date |
| May 26 - 29 | Class add/drop for students already registered |
| May 26 - 29 | Late MyUTH Registration |
| May 26 - 29 | Late fee payment - $15 late fee |