Volume 4, Issue 4 November 21, 2013
UTHealth School of Biomedical Informatics at AMIA 2013
SBMI faculty, staff and students flocked to Washington, D.C. Nov. 16-20 for the American Medical Informatics Association 2013 Annual Symposium. The resident SBMI social media and video guru Marcos Hernandez captured SBMI happenings through short clips and microblogging on Twitter, where we ranked as the #7 tweeter for AMIA 2013! Check out the video below that features SBMI dean Jiajie Zhang, PhD, discussing AMIA 2013 and SHARPC. Watch all of the SBMI videos from AMIA 2013 on the SBMI at AMIA 2013 YouTube playlist, which features research posters, presentations, scientific sessions, working groups, events and more! A full story will be distributed in the coming weeks featuring all of the SBMI news at AMIA 2013.
Fall poster session and new poster printing policy for students
The fall 2013 semester is coming to a close, which means the SBMI poster session is right around the corner! This semester's poster session will be held from 4 to 6 p.m. on Monday, Dec. 9 at the Fayez S. Sarofim Research Building, IMM Atrium (1825 Pressler, Houston, TX 77030). The event is open to all SBMI faculty, staff, students and alumni. Join us for food and refreshments and learn about student research, which will be featured on new large-format posters.

Effective fall 2013, all SBMI students presenting at the fall and spring poster sessions must print large-format posters in order to be considered for the Paul C. Boyle Award for Excellence in Research. Students can use the SBMI Media Lab plotter to print the large-format posters, and the school will waive the plotter-printing fee once per semester for each student or student team presenting at poster session. Any student or student team wishing to use the plotter for printing must submit a reservation request and their poster slide (see template) to de@uth.tmc.edu by noon on Dec. 6, 2013; in addition, students and student teams must submit their poster title and the names of all their team members to SBMIAcademics@uth.tmc.edu by the same deadline. If a poster requires a reprint because of student or team error, the cost of the second poster will be paid by the student or team.
The new policy to print large-format posters reflects professional expectations at industry conferences and symposiums and will prepare students for their future career. This policy also reflects the school's expectations of students to produce quality graduate-level work. Students needing additional posters or other printed materials from the plotter will be charged and can refer to the cost calculator for the estimated cost.
New SBMI journal club for students, faculty and alumni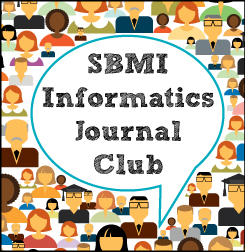 The first SBMI Informatics Journal Club session, hosted by the Student Governance Organization, was held on Nov. 13. The monthly event provides an informal environment for students, faculty and alumni to engage in a breadth of current informatics topics while building an understanding of study design. The meetings are held once a month from 11 a.m. to noon on the second Wednesday of every month. Attendees can meet in the fourteenth floor lobby of the University Center Tower. The next meeting is scheduled for Wednesday, Dec. 11.
The SBMI Informatics Journal Club aims to: (1) foster the sharing of information and knowledge in a relaxed, engaging environment with peers and faculty sponsors; (2) promote better interaction between students on campus and students learning at a distance; and (3) promote a better understanding of the biomedical informatics field among SBMI students. Informatics Journal Club meetings are a discussion-style meeting with student presenters as lead speakers and faculty sponsors as moderators. Selected topic and article options are sent at least one week in advance so attendees have enough time to prepare for stimulating discussions. Two topics, based on provided research articles, will be discussed for 30 minutes each at the meetings. This arrangement is subject to change based on student response and participation.
New IPE program seeking participation from UTHealth students
UTHealth will be offering a new pilot program in the spring 2014 semester, called the Deans' Honors Colloquium in Inter-professional Education, for students in each of the university's six schools. The colloquium will focus on teamwork and collaboration.
Participants will: 1) learn about IPE and the various professions represented by the six UTHealth schools; 2) learn basic principles of Team STEPPS (Strategies and Tools to Enhance Performance & Patient Safety) training; 3) engage in inter-professional team activities structured around case scenarios; 4) participate in inter-professional team simulation exercises; and 5) present the findings and outcomes from the inter-professional team-based case scenarios.
The colloquium will meet face-to-face on four Thursdays during the spring 2014 semester from 4 to 6 p.m. (specific dates to be announced). For more information about the program, visit the IPE website or email ipe@uth.tmc.edu. The deadline to apply is Nov. 25, 2013. There is no cost to attend and participants will receive a certificate of completion at the end of the program.
TMC library resources for SBMI students, faculty and staff
Do you know how the TMC Library can help you with your research, learning, teaching and other information needs? With a TMC Library card, SBMI students, faculty and staff can access materials in the library and online, including online tutorials, electronic journals, ebooks and databases (some full text). Search quickly for full text articles by following these brief instructions to use the TMC ProSearch's advanced search. You also have access to reference services and the free InterLibrary Loan service if you need materials from another library.
View the TMC Library Orientation and Overview presentation for more information on the services offered, gaining access to online resources, library policies and reference tips. For a complete list of library services offered to UTHealth students, faculty and staff, visit the UTHealth University Libraries page and check with the local libraries for access and borrowing privileges.
2014 Annual Geriatric Inter-professional Student Competition
The Houston Geriatric Education Center team competition is open to graduate students and undergraduate students—in the final years of their program—at UTHealth, the University of Houston, Texas Woman's University and the American College of Acupuncture & Oriental Medicine. Last year, Gwendolyn Brobbey, MD, MS, MPH, now an SBMI alumna, was on the winning inter-professional team for the HGEC 2013 student competition. This year, students will work within an inter-professional team to assess and analyze the needs of formal and informal caregivers of older adults with Alzheimer's disease or other dementias while focusing on caregiver burden. Teams will visit with patients and caregivers in assisted living or personal home settings in the community as they conduct a needs assessment. Needs assessment data will be analyzed, and the inter-professional team will develop recommendations.
To help prepare students for this competition, students will receive training and resources in dementia, caregiver burden, and the concept of aging in place; training in inter-professional team dynamics; and practical knowledge and experience with community older adults with dementia and their caregivers. The competition will require a minimum of 24 hours of commitment over three months' time. Students have the option to register for independent study credit with a faculty member from their discipline. Registration begins on Nov. 1, 2013 and ends on Jan. 10, 2014. Orientation will be held from 5:30 to 8 p.m. on Jan. 23, 2014, and the competition will take place on Monday, April 7, 2014 from 5:30 to 8 p.m. For more information, contact Kathleen Murphy.
Alumnus receives 2013 UNMC Research Innovation Award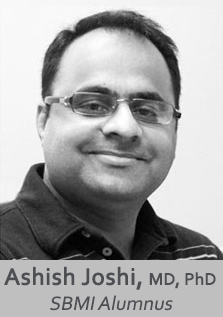 Ashish Joshi, MD, PhD, a 2012 graduate of the SBMI doctoral program, received a 2013 UNMC Research Innovation Award on Oct. 10, 2013. These awards recognize outstanding faculty at the University of Nebraska Medical Center who have significantly advanced research through their inventions, patents and commercial licenses.
Joshi is employed as an assistant professor in the Department of Health Services Research and Administration at the UNMC College of Public Health and was recognized at the UNMC 2013 Innovation Awards for having a new invention and a licensed technology. He received a research innovation award for licensing an Internet-enabled anticoagulation monitoring system called MyPSTLog to Case Care Innovations, LLC. The system is being implemented on Amazon and will be available to users globally. Joshi expressed his gratitude to the SBMI faculty who helped guide him as a student.
Leadership changes in the SBMI Office of Academic Affairs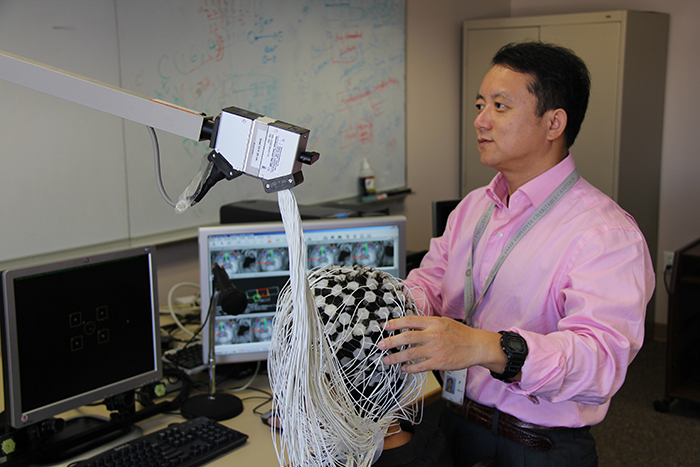 After 15 years of service at UTHealth, Hongbin Wang, PhD, associate dean for academic affairs and professor at UTHealth School of Biomedical Informatics, will be leaving the School of Biomedical Informatics on Dec. 15 to launch the next phase of his academic career at another Texas-based institution.
"Over the past two years, Dr. Wang has been instrumental in reorganizing SBMI's curriculum and streamlining its academic activities," said Jiajie Zhang, PhD, SBMI dean and Dr. Doris L. Ross Professor. "In addition to being an effective administrator, Dr. Wang is a productive researcher who has received continuous extramural funding for the past 15 years. Moreover, Dr. Wang is an excellent teacher who truly enjoys student interaction."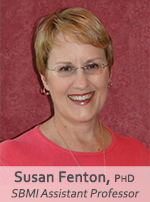 A search for the new associate dean for academic affairs will be underway in the near future, and Susan Fenton, PhD, RHIA, FAHIMA, will assume the role of assistant dean for academic affairs effective Nov. 1. During the remainder of Wang's time at the school, he and Fenton will work closely together to ensure a smooth transition. Fenton joined SBMI as an assistant professor in June 2013. Along with her new duties as assistant dean for academic affairs, she teaches courses in health informatics standards and health informatics safety and security.
SBMI associate professor appointed new director of inter-professional education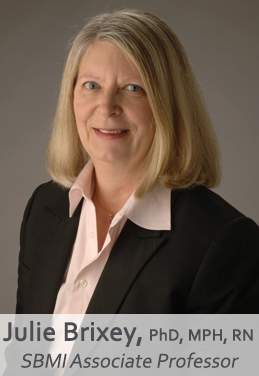 Juliana Brixey, PhD, MPH, RN, associate professor of biomedical informatics and nursing, will take on a new leadership role as the director of inter-professional education for SBMI. After starting her half-time appointment at the School of Nursing this fall, Brixey has lead inter-professional education efforts between SON and SBMI such as building the nursing informatics curriculum between the two schools.
Inter-professional education is a strategic direction at the UT System level, and by nature, the field of biomedical informatics is a highly inter-professional field. SBMI dean Jiajie Zhang, PhD, says that the school strives to be at the forefront of IPE efforts. The combined importance of IPE to the UT System and the inter-professional nature of biomedical informatics demonstrate the need for a dedicated leader to effectively direct the school's IPE efforts.
Due to the commitment associated with her new role, Brixey will no longer serve as the director of the applied master's program. The applied master's program leadership duties will be taken over in the Office of Academic Affairs. A full news release will be distributed in the coming weeks.
New SBMI faculty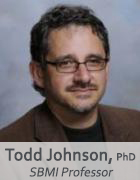 Todd Johnson, PhD, rejoined the faculty at UTHealth School of Biomedical Informatics on Nov. 1, 2013 as a professor of biomedical informatics. Johnson's efforts at SBMI will be focused on the application of informatics in clinical settings, including quality and safety dashboards, visual analytics, clinical research informatics and big data for health care. Johnson has over 20 years of experience in biomedical informatics. In 1991, he received his PhD in artificial intelligence from The Ohio State University, where his work was focused on knowledge-sharing tools for the creation of medical knowledge-based systems that adapted to available information in order to solve a problem. After receiving his PhD, he continued his research at Ohio State as an associate professor in the Department of Pathology's Laboratory for Knowledge Based Medical Systems.
In 1998, Johnson came to SBMI as one of the founding faculty members of the School of Health Information Sciences (the school's former name) and served for three years as the associate dean for academic affairs. Johnson left SBMI to join the faculty at the University of Kentucky in 2010, where he developed a new academic division of biomedical informatics and led the effort to transform clinical and translational science through the use of new digital methodologies. While at the University of Kentucky, he served as the director of the Division of Biomedical Informatics in the College of Public Health's Department of Biostatistics.
Associate professor on new nursing scholarship board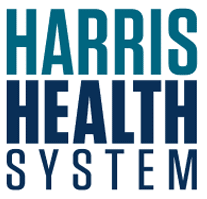 Juliana Brixey, PhD, MPH, RN, associate professor of biomedical informatics and nursing, was selected to serve on Harris Health System's Department of Nursing Services Scholarship Advisory Board. This board was formed to delineate strategies to advance nursing science. As an advisory board member, Brixey will play a key role in helping Harris Health to determine its research foci, strategic partnerships and funding priorities. The mission of the board is to serve as a key advisory body in identifying essential foundational underpinnings; defining developmental pathways; delineating needs and opportunities for multi-institutional and inter-professional scientific partnerships; and outlining strategies for imbuing clinically-based nurses with the knowledge, skills, confidence and spirit of inquiry necessary to promote a culture of excellence in scholarship at Harris Health System. The first meeting was held on Tuesday, Oct. 29, 2013 and future meetings will be held on a quarterly basis.
Upcoming events
Save the date
HIMSS Lunch & Learn Speaker: Kathleen Gaffney
11 a.m. - 12:30 p.m., Friday, Nov. 22
Successful Telemedicine Implementation Considerations
MD Anderson Cancer Center Ambulatory Clinic Building
1220 Holcombe Blvd., Room ACB1.12345, Houston, TX
Health 2.0 Houston Service Project with Via Colori
H2.0H Volunteer Shift: 2 to 6 p.m., Sunday, Nov. 24
Sign up to volunteer for a beautiful afternoon of street art and community service. All H2.0H volunteers get a free t-shirt, free parking and complimentary drinks during their afternoon of service.
Hermann Square, 900 Smith Street, Houston, TX
SBMI Fall Poster Session
4 to 6 p.m., Monday, Dec. 9
SBMI faculty, staff, students and alumni are invited to learn about student research featured on new large-format posters. Food and refreshments will be served.
IMM Atrium, 1825 Pressler, Houston, TX
SBMI Informatics Journal Club
11 a.m. to noon, Wednesday, Dec. 11
The monthly event provides an informal environment for students, faculty and alumni to engage in a breadth of current informatics topics while building an understanding of study design.
University Center Tower 14th floor lobby
SBMI seminars
All seminars are held from noon to 1 p.m. at the University Center Tower, 7000 Fannin Street, room 1414, Houston, TX 77030. Individuals who are unable to attend the seminars in person can watch the seminar live or after the presentation on the school's webcast. Seminar viewers and attendees are encouraged to complete the seminar survey.
Join the conversation! Follow the key points if you can't attend or tweet your feedback of the SBMI seminars: #SBMIseminar.
| | | |
| --- | --- | --- |
| Date | Speaker | Topic |
| Nov. 27 | N/A | No seminar scheduled due to Thanksgiving holiday |
| Dec. 4 | Jianbo Lei and Peter Killoran, MD, MS | TBA |
| Dec. 11 | N/A | No seminar scheduled due to finals week |
SBMI recruiting schedule
Recruiting efforts showing good results
SBMI has been aggressively recruiting for the last year, and it's certainly paid off! SBMI has received 86 new applications for spring 2014 enrollment—a 48.3 percent increase from the spring 2013 application pool. Spring applicant data includes only certificate and master's applicants because PhD students are only admitted to SBMI for the fall semester.
Know someone who may be interested in attending SBMI? Check out the list of upcoming SBMI recruiting events below or visit our Recruiting Events page for the full recruiting schedule. Learn more about the school's programs and speak with a representative in person at any of these upcoming events.
| | | | |
| --- | --- | --- | --- |
| Date | Time | Event | Location |
| Dec. 4-6 | 8:30 a.m. to 4:30 p.m. | 17th Annual Texas Workforce Conference | Grand Hyatt San Antonio |
| Dec. 13 | 8:30 a.m. to 4:30 p.m. | 2013 Gulf Coast Regional Compliance Conference | Houston Marriot West Loop by the Galleria |
Important dates
| | |
| --- | --- |
| Nov. 18 – Jan. 1 | Class registration for spring semester |
| Nov. 22 | State of the science & dissertation titles due to Office of Academic Affairs |
| Nov. 28-29 | Thanksgiving holiday – university closed |
| Dec. 1-28 | Online orientation on Moodle |
| Dec. 6 | Signed coversheet & final copy of state of the science paper due (MS students) |
| Dec. 6 | Last class day |
| Dec. 6 | Student's completed work to faculty for incomplete grades from previous summer semester |
| Dec. 8-13 | Final exams |
| Dec. 9 | SBMI poster session |
| Dec. 17 | Deadline for faculty to submit fall grades |
| Dec. 17 | Faculty grade changes to Registrar for summer incompletes |
| Dec. 24-26 | Christmas holiday – university closed |
| Jan. 1 | New Year's Day holiday – university closed |