Volume 5, Issue 4
November 13, 2014
Members of SBMI Community Elected to ACMI
SBMI would like to congratulate Associate Professor Hua Xu, PhD, Alumna (MS, 2000 and PhD, 2003) Rachel Richesson, PhD, MPH and Adjunct Faculty Member Hardeep Singh, MD as they were all elected to be Fellows of the American College of Medical Informatics (ACMI).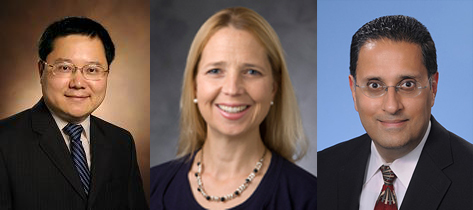 The College of elected Fellows is comprised of scholars and industry practitioners from across North America and the globe. Each Fellow has made significant and sustained contributions and advancements in the field of biomedical informatics. ACMI Fellows are elected by their peers and each has a commitment to advancing the informatics field. Nineteen new ACMI Fellows were elected this year and the induction reception takes place at the AMIA 2014 Symposium on Nov. 16.
SBMI Dean, Jiajie Zhang, who is also an ACMI Fellow, is pleased to have several members from the SBMI community joining the College. "Being both nominated and elected to the American College of Medical Informatics is a true honor; it indicates that you are among the recognized leaders in the biomedical informatics field and have the respect of your colleagues." Zhang continued by stating, "I am very proud to have Drs. Xu, Richesson and Singh joining ACMI as it demonstrates the exceptional informaticists our school both educates and employs."
SBMI faculty members Elmer Bernstam, MD, MSE, MS (elected in 2010), Dean Sitting, PhD (elected in 1992) and SBMI Dean Jiajie Zhang, PhD, MS, (elected in 2003) are all ACMI Fellows. SBMI has two adjunct faculty members who are ACMI Fellows as well; J. Robert Beck, MD (elected in 1990) and M. Michael Shabot, MD, FACS, FCCM (elected in 1991).
Read more about ACMI
UTHealth School of Biomedical Informatics at AMIA 2014

The American Medical Informatics Association (AMIA) 2014 Annual Symposium begins Nov. 15 in Washington and SBMI has faculty, staff and students attending; many of which will be playing an active role in the Symposium. We want to acknowledge the following members of the SBMI community that will be participating in AMIA 2014 Symposium events.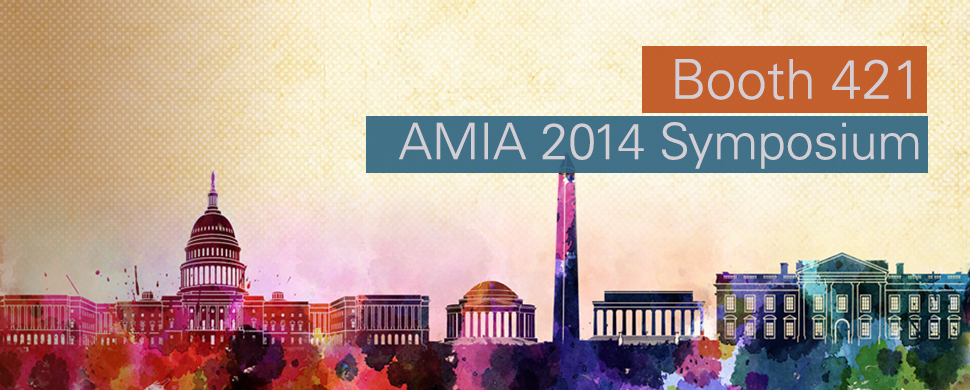 SBMI Professor Dean Sittig, PhD: AMIA Board of Director Member & "Clinical Decision Support: A Practical Guide to Developing Your Program to Improve Outcomes" tutorial session leader on Nov. 16
SBMI Associate Professor Hua Xu, PhD: AMIA 2014 Affiliate Meeting for Informatics for Integrating Biology & the Bedside (i2b2) Organizing Chair & "Doctoral Consortium and a Workshop on Interoperability of Clinical NLP Systems" tutorial session leader on Nov. 15
SBMI Associate Professor Trevor Cohen, MBChB, MD, PhD: AMIA 2014 Scientific Program Committee (SPC) Member
SBMI Professor James Langabeer, PhD: "A Curvilinear Path Towards Interoperability: Disparate Models of Community Health Information Exchange" presentation on Nov. 17
SBMI Assistant Professor Amy Franklin, PhD, SBMI Dean Jiajie Zhang, PhD, & SBMI Adjunct Faculty Member Muhammad Walji, PhD: "Fundamentals of EHR Usability" tutorial session leaders on Nov. 17
SBMI Students Vickie Nguyen, Mandana "Nina" Salimi, Adriana Stanley and Mehdi Rais: Student Design Challenge Finalists (Project Title: "UHealth for Your Health: Enhancing Utilization of Patient Portals and Its Experience")
SBMI Doctoral Candidate Safa Fathiamini, MD, MS: "Exploring the Use of SemRep Predications to Help Identify Secondary Drug Targets for Personalized Cancer Therapy" student poster presentation
SBMI Doctoral Candidate Min Jiang, MS: "Building a Treebank of Hospital Discharge Summaries" student poster presentation
SBMI Masters Student Paul Loubser, MB ChB: "Physician Satisfaction With Computerized Order Entry" student poster presentation
SBMI Doctoral Candidate Stephanie Tucker: "Mobile Education: Reaching Homeless PTSD Veterans" student poster presentation
Please visit our Facebook, Twitter and YouTube channel during the course of the Symposium for the latest updates on SBMI happenings there.
Free Family Bowling with Student InterCouncil

Student InterCouncil (SIC) will host a free family bowling event on Nov. 16 from 4:00 p.m. to 6:00 p.m. at Palace Lanes on 4191 Bellaire Blvd. All SBMI students are invited to attend and bring their significant others and children. Free pizza and non-alcoholic beverages will be served and there will be a toy drive sponsored by UT Police; feel free to bring a new toy to donate.

Bring your UTHealth student ID card in order to get admission. Please visit the SIC website for more information.
Informatics-Training in Place Program Accepting Applications

For those interested in building public health informatics capabilities within their existing workforce, the Informatics-Training in Place Program or I-TIPP is currently accepting applications. I-TIPP is one of three fellowship programs included in Project SHINE (Strengthening Health Systems through Interprofessional Education). The program places emphasis on interprofessional education (IPE) in order to improve population health through health systems integration.
I-TIPP applications should describe the fellowship assignment, supervision, community engagement and fellow interest. All applications will be evaluated by a panel and must include a letter of support from the applicant's state health officer, state epidemiologist or local health officer.
If you would like to apply, you can visit the Project SHINE website for more information or to access the electronic application. Applications will be accepted Nov. 3, 2014 to March 31, 2015. Only one application will be accepted from each state or local host health agency and all fellowship assignments will begin in July 2015. An online information session will be held on Dec. 1 from 12-1 p.m. CST to give prospective applicants strategies for submitting a successful I-TIPP application. Click here to join the session; the password to enter is epi1234.
Biru Yang, PhD is an SBMI alumna and is currently employed at the Houston Department of Health and Human Services as an epidemiologist supervisor. Yang is an I-TIPP fellow and SBMI Associate Professor, Juliana Brixey, PhD, MPH, RN is her mentor.
SBMI Members to Participate in Kelsey Research Foundation Conference

Kelsey Research Foundation will host its 15th annual Health Services and Outcomes Research Conference on Dec. 9 and several members of the SBMI community will be participating.
Professor Dean F. Sittig, PhD & Adjunct Faculty Member Hardeep Singh, MD are hosting a workshop titled "The SAFER Guides: Empowering Organizations and Clinicians to Improve the Safety and Effectiveness of Electronic Health Records (EHRs)."
Adjunct Faculty Member Hardeep Singh, MD will also be speaking on "Emerging Issues in Patient Safety: Lessons Learned from Diagnostic Errors."
Professor James Langabeer, PhD, MBA will be speaking on "Integration of Pre-Hospital and Hospital-Based Care for Cardiovascular Outcomes."
For more details on the conference, please visit the Kelsey Research Foundation website.
AHIMA Call for Abstracts for 2015 Convention & Exhibit

American Health Information Management Association (AHIMA) will host its 2015 convention in New Orleans Sept. 26 to 30 and is looking for convention submissions.

Submissions can offer training, information and updates on issues that are important to both health information management and health informatics. The presentation contributions can explore the ever-changing and evolving fields of health information management and health informatics, examine research and analytical approaches being utilized or detail day-to-day practice and applications.

There are a variety of presentation formats and categories available for participation. If anyone is interested in participating, click here for more information. All abstract submissions are due by 11:59 p.m. on Dec. 1.
Upcoming SBMI Recruiting Events

Several SBMI faculty and staff members will be traveling in the coming months to visit universities and attend conventions to promote our degree programs. We invite any prospective students or alumni in the area to visit us during these events.

Nov. 15 & 16 – TX Chapter of the American College of Physicians Annual Meeting
Nov. 16 to 18 – AMIA 2014 Annual Symposium

SBMI Associate Dean for Academic Affairs, Susan Fenton, PhD, was asked to contribute to an article in the Houston Chronicle. Fenton discussed the promising future for health information technology careers. You can click here to read the article.
Hardeep Singh, MD, adjunct associate professor at SBMI was quoted in a recent Modern Healthcare online article regarding the mishandling of Thomas Eric Duncan's Ebola treatment. SBMI Professor, Dean Sitting, PhD was highlighted in the article as well. To read the entire article, click here.
Dean Sittig, PhD & Hardeep Singh, MD were also cited in a CureMD.com article on the Ebola virus and health information technology. Click here to read the article.
Dean Sittig, PhD was also featured in a recent article on insuranceQuotes.com that highlighted patient privacy, EHR storage and maintenance and how to handle errors on your health records. To read the entire article, click here.
Hua Xu, PhD, SBMI associate professor, was featured in the Houston Business Journal's "People on the Move" section following his recent American College of Medical Informatics Fellow election. Dr. Xu's profile can be reviewed here.

Save the Date

November 15
Application Deadline for Spring 2015 (Certificate and Master's) and Summer 2015 (Doctorate)
November 15 -
November 19
AMIA 2014 Annual Symposium
Washington Hilton
Washington D.C.
November 24
Identifying Innovative Healthcare Solutions on Mining Big Medical Data
Yang Xiang, PhD
SBMI Special Seminar at UCT 1414, 1 p.m.
December 3
State of the SBMI
Dean Jiajie Zhang, PhD
December 15
SBMI Fall 2014 Student Poster Session and Ethics Panel
Fayez S. Sarofim Research Building (IMM) Lobby
1825 Pressler Street Houston, TX 77030, 4 p.m. to 7 p.m.
Important Dates

November 14
Last day to defend dissertation (PhD)
November 17 -
January 9
Spring 2015 registration is open on MyUTH
November 27-28
Thanksgiving holiday – university is closed
December 3
Drafts of state of the science/capstone report due to advisor or committee (MS)
December 5
Titles for state of the science & dissertation due to Office of Academic Affairs
December 12
Last class day for the fall 2014 semester
December 12
Last day to defend proposal (PhD)
December 12
Completed work due to faculty for summer 2014 incompletes
December 15-19
Final exams & evaluations
December 19
Signed coversheet & final copy of state of the science/capstone report due (MS)
December 19
Faculty grade changes to Registrar for summer 2014 incompletes