Volume 6, Issue 4
November 25, 2015
SBMI Wins Health Data Analytics Challenge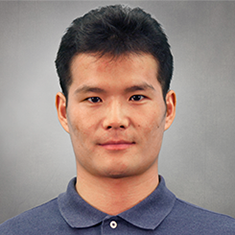 Doctoral student Zhiguo "Stanley" Yu recently attended the Institute of Electrical and Electronics Engineers (IEEE) International Conference on Healthcare Informatics 2015 (ICHI 2015) in Dallas, TX. Yu and his SBMI faculty advisor participated in the Healthcare Data Analytics Challenge during the conference and won.
In conjunction with his advisors SBMI Professor Todd Johnson, Ph.D. and University of Texas at Austin Assistant Professor Byron Wallace, Ph.D., Yu submitted a two-page paper and the code they developed. The goal of the challenge was to design foundational techniques aimed towards building a system that can point a patient or caregiver posting a question on a support forum to similar questions that were previously posted on the forum.
SBMI Hosts Fall 2015 Poster Session on Dec. 14

Join us on Dec. 14 for the fall 2015 SBMI poster session & celebrate the end of the semester. Students will present their research findings for the semester and we will host a holiday cookie social as well.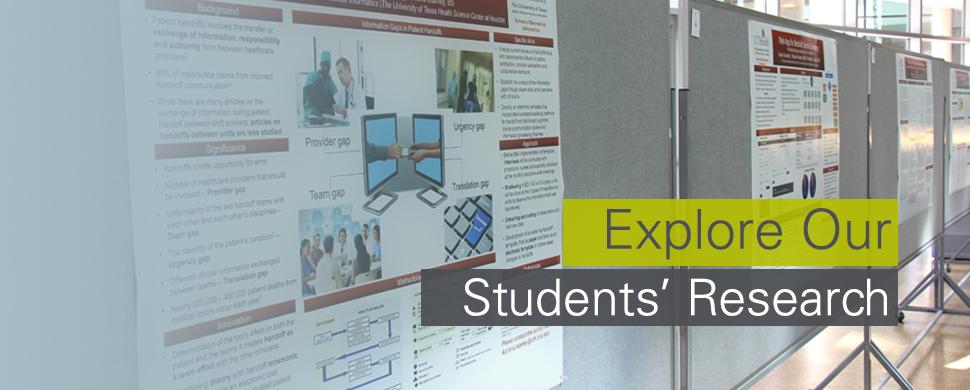 The session will take place in the Fayez S. Sarofim Research (IMM) Building from 4 to 6 p.m. We hope all SBMI students, faculty, staff and alumni will attend.
SBMI Faculty Travel to Colombia

SBMI's Associate Dean for Academic Affairs and Assistant Professor Susan Fenton, PhD, along with Assistant Professor Debora Simmons, PhD, RN, traveled to Bogota, Colombia earlier this month to speak at the First International Symposium on Informatics and Healthcare Systems and Public Health.

The symposium was held at El Bosque University (EBU) and speakers focused on topics like "Advances in the use of Technology and Health Information Systems" and "Strategic Health Information Management: From Information's Life Cycle to Big Data Analytics." In addition to participating in the symposium, SBMI is developing an agreement with EBU to improve health IT training in Colombia.
Upcoming SBMI Recruiting Events

Several SBMI faculty and staff members will be traveling in the coming months to visit universities and attend conventions to promote our degree programs. We invite any prospective students or alumni in the area to visit us during these events.


Three SBMI faculty members were profiled in the Houston Business Journal's "People on the Move" section: Tiffany Champagne, Ph.D., M.B.A., R.D., Robert Murphy, M.D., and Angela Ross, D.N.P., M.P.H.
The George Bush Presidential Library and Museum awarded SBMI Professor Lex Frieden the 2015 Outstanding Educator Award earlier this month.


The Battalion, the student newspaper at Texas A&M University, also featured Frieden in an article commemorating the 25th anniversary of the Americans with Disabilities Act.

Save the Date

Dec 2
SBMI Research Seminar
State of the SBMI
Jiajie Zhang
Dec 14
Fall 2015 Student Poster Session
Fayez S. Sarofim Research Building (IMM) Lobby (1825 Pressler St 77030)
4:00 to 6:00 p.m.
Important Dates

| | |
| --- | --- |
| Nov 25 | M.S. - State of science/capstone drafts to Advising Committee for review |
| Nov 26 - 27 | Thanksgiving holiday – University is closed |
| Dec 11 | Last class day for fall 2015 |
| Dec 11 | Ph.D. - Last day to defend proposal |
| Dec 11 | M.S. - Signed coversheet & electronic copy of state of the science/capstone due to OAA |
| Dec 14 - 18 | Final exams/evaluations |