Volume 4, Issue 3 October 30, 2013
HIMSS14 program assistant opportunity for full-time students

HIMSS student members currently enrolled full time as an undergraduate or graduate student in a health information management or related program are eligible to apply as a program assistant for HIMSS14. Before applying, students should ensure they are available to be on site at the conference from Friday, Feb. 21 to Thursday, Feb. 27, 2014. Program assistants will receive complimentary conference registration, shared housing, daily transportation to and from the convention center, scheduled meals throughout the conference (breakfast briefings, lunches, some dinners and social functions), opportunities to network with over 30,000 industry professionals, access to conference education sessions, post-conference performance-based cash incentives and more! Apply by Nov. 18, 2013 to be a HIMSS14 program assistant.
Call for entries: Costs of Care 2013 essay contest

Patients and health care providers are encouraged to submit their best stories in anecdotal form illustrating the importance of cost-awareness in health care for a chance to win $1000. Care providers include doctors, dentists, nurses, pharmacists, clinical assistants, health administrators and students of these professions. Patients include patients, patients' friends or family members and students of non-clinical professions.
Entries should be typed, double spaced, 500-700 words in length and submitted by Dec. 1, 2013. Entries will be judged based on the quality of writing and the anecdote's relevance to cost-awareness in medicine. Email submissions to contest@costsofcare.org are preferred; however, entries may also be mailed to: Costs of Care, 511 6th Ave. Box #13, New York, NY 10011. Four care-provider finalists and four patient finalists will be chosen. All finalist entries will be read and rank-ordered by the Costs of Care judges, who include Andy Grove, Maureen Bisognano, David Goldhill and Steven Brill. Four $1000 prize winners will be named—two care providers and two patients.
SBMI alumnus receives high honor from Indian government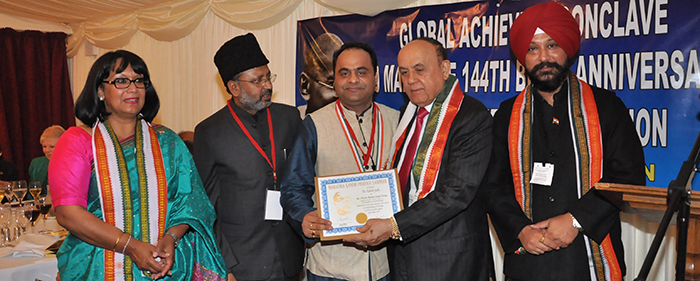 Ashish Joshi, MD, PhD, a 2012 graduate of the doctoral program at UTHealth School of Biomedical Informatics, was awarded the 2013 Mahatma Gandhi Pravasi Samman Award by the government of India and the Non-Resident Indians Welfare Society of India.
"I'm extremely honored and humbled to have received this award," said Joshi, an assistant professor in the Department of Health Services Research and Administration and the Center for Global Health and Development at the University of Nebraska Medical Center College of Public Health.
The Mahatma Gandhi Pravasi Samman Gold Medal recognizes people of Indian origin for their significant contributions in various fields in the country of their residence and in the service of the wider global community. Pravasi Bharatiya Divas is celebrated in India each year on Jan. 9 to mark the contribution of the overseas Indian community to the development of India. The day commemorates the return of Mahatma Gandhi from South Africa to Bombay on Jan. 9, 1915.
Read about Ashish Joshi, MD, PhD
Scholarships now available to new SBMI students
Are you close to completing your certificate and considering a master's degree at SBMI? Or maybe you've finished your master's degree and want to get a PhD. Perhaps you have a friend, colleague or family member who's considered attending SBMI and needs some extra motivation. Well, look no further! SBMI is now offering competitive scholarships to all new certificate, master's and PhD students. These scholarships will be awarded by the school's admissions committee to selected new students, based on a holistic merit-based evaluation of student application materials, including GRE scores, GPA and reference letters. No separate applications for scholarships are needed. Due to limited funding, not all qualified students may receive awards.

A one-time scholarship ($1,000 for certificate students, $2,000 for master's students and $3,000 for PhD students) will be awarded during the first semester of attendance. Funds will be disbursed to the student's account and the student will be responsible for any remaining tuition and fee balance. To qualify, apply for admission by the application deadline.
Uncovering what's hiding inside big data
SBMI professor Elmer Bernstam, MD, MSE, quoted in TMC News article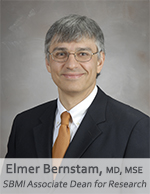 Big data has been a big buzz phrase for the past few years. But what does big data really mean? Essentially, it's a ritzy term for a not-so-sexy concept—the idea that massive amounts of information can be analyzed and cross-referenced by high-performance supercomputers to reveal hidden patterns and correlations that can benefit humankind.
For example, genetics researchers seeking to link genetic mutations with diseases may have millions of DNA samples to wade through and cross-correlate. Public health researchers looking for disease patterns across the country—determining where diabetes is most prevalent, for example—have page after page of epidemiology reports to sift through and compare. Big data, processed by high-performance computers, software and other data-crunching tools, can take an otherwise behemoth-sized set of data and present it in a compelling and easy-to-grasp manner.
"More and more data from more and more sources is generated every day," said Elmer Bernstam, MD, professor and associate dean for research at The University of Texas School of Biomedical Informatics at Houston, and an internal medicine physician at the university's Medical School. "Advancements in technology have led to incredibly clever algorithms that process, compare and visualize these data in insightful ways. This opens up promising new opportunities for research."
Read the full TMC News article
Researchers developing new automated methods for earlier detection of drug adverse side effects
Prescription drugs are meant to help patients suffering from illness and disease, but some drugs, like Vioxx, produce unintended side effects after being released into the marketplace.
"These side effects are not always discovered in clinical trials because individuals with idiosyncratic responses may not be represented in the trial population," said Trevor Cohen, MBChB, PhD, associate professor at UTHealth School of Biomedical Informatics. "After the drugs are released into the marketplace, new side effects may emerge because more people are taking the drug, and the implications of a side effect that was observed previously may become clearer."
According to the New York Times, about 25 million Americans took Vioxx in the course of five years, and in 2004, the drug was pulled off the market because evidence showed that it doubled the risk of heart attack, stroke and death. So, what can be done to mitigate the fatalities and illnesses caused by unintended drug side effects?
"We're proposing a new automated methodology that will identify plausible drug event pairs based on patient data in electronic health records and information from the biomedical literature," said Cohen, principal investigator for the project. "Currently, the FDA collects side effect reports and has provided spontaneous reporting systems that physicians can use to report potential side effects, but it has been shown that reports for these systems are biased. People tend to report things that they already know are side effects, and other problems aren't necessarily reported. The novel approach that we're developing has the potential to detect side effects much earlier than existing methods."
Read about automated methods for
early cancer detection
Defining biomedical informatics series: Public health informatics
A student in the MPH/PhD public health informatics dual degree program shares his story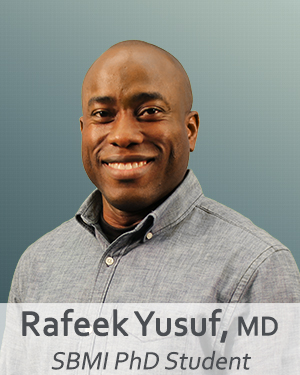 Rafeek Yusuf, MD, embarked upon his journey in health care working as a surgeon in orthopedic and trauma units. For nine years, in Nigeria and the U.K., he participated in exploratory surgeries for gunshot wounds, hip and knee replacements, and spinal and joint fusion surgeries.
"As a surgeon, I enjoyed the impact I had on patients, but I felt I could help even more people," said Yusuf. "I wanted to look at the bigger picture in health care and find solutions to problems impacting large populations rather than focusing on one patient at a time."
Yusuf thought that his medical training was too restrictive, and he longed to be a well-rounded health care professional who could think outside the box. He discovered health informatics while completing a certificate program in information systems management in Nigeria. He later decided to pursue a dual degree focused on public health informatics because it united his love of technology with his ambition to impact patient health at a population level.
Listen: SBMI dean's session at The 2013 Texas Tribune Festival

Jiajie Zhang, PhD, Dr. Doris L. Ross Professor and UTHealth School of Biomedical Informatics dean, spoke at The 2013 Texas Tribune Festival during, "The Most Exciting Developments Coming out of Texas" session as part of the health care track. Fellow panelists included Dorit Donoviel, Eva Sevick and George Georgiou, with Emily Ramshaw moderating. Listen to the full session on SoundCloud. Dean Zhang begins his presentation at the 23:15 mark. View photos from the session on Flickr.
SBMI faculty member elected to AHIMA education council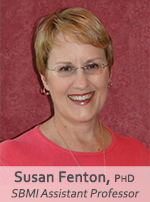 Susan Fenton, PhD, RHIA, FAHIMA, an assistant professor at UTHealth School of Biomedical Informatics, was elected to the American Health Information Management Association's Council on Excellence in Education for a three-year term starting on Jan. 1, 2014.
"I will focus on finding ways to encourage AHIMA members to earn advanced degrees," said Fenton. "In the September 2013 issue of Journal of AHIMA, it was revealed that less than 10 percent of members had earned a master's degree or higher. Given the reports that health informatics and data analytics are expected to explode over the next five years, lifelong learning is essential, not optional."
The AHIMA Council on Excellence in Education develops education, coursework and curricula strategies to guide the health information management academic community and improve the profession.
Read more about Susan Fenton, PhD, RHIA, FAHIMA
Grants awarded to SBMI faculty
Pharmacovigilance methods: Leveraging heterogeneous adverse drug reaction data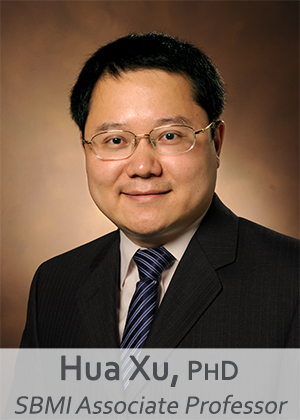 Hua Xu, PhD, received a subcontract as part of a four-year grant awarded to Columbia University by the National Library of Medicine. The project proposes to develop effective methods for discovering new adverse drug reactions by combining information in the FDA's adverse event reporting system, biomedical literature, chemical structure databases and comprehensive clinical data from electronic health records of two different sites with diverse populations, thereby overcoming limitations that rely mainly on the use of one data source. Adverse drug reactions are a major burden for patients and health care, causing preventable hospitalizations and deaths and incurring huge costs. Therefore, continuous post-marketing surveillance is crucial for patient safety.
Upcoming events
Save the date
AMIA Annual Symposium
Saturday, Nov. 16 – Wednesday, Nov. 20
Keynote speakers: Dave deBronkart and Mary Czerwinski
Washington Hilton, 1919 Connecticut Ave., NW, Washington, D.C.
TechStreet Houston
(Free admission)
Tuesday, Nov. 19 – Wednesday, Nov. 20
An open and collaborative platform for the community to learn about and showcase creative ideas, expertise and technologies
George R. Brown Convention Center
1001 Avenida De Las Americas, Houston, TX
SBMI seminars
All seminars are held from noon to 1 p.m. at the University Center Tower, 7000 Fannin Street, room 1414, Houston, TX 77030. Individuals who are unable to attend the seminars in person can watch the seminar live or after the presentation on the school's webcast. Seminar viewers and attendees are encouraged to complete the seminar survey.
Join the conversation! Follow the key points if you can't attend or tweet your feedback of the SBMI seminars: #SBMIseminar.
| | | |
| --- | --- | --- |
| Date | Speaker | Topic |
| Oct. 30 | Zhigang Deng | Visual computing for biomedical applications: Virtual humans, robotic surgery and neuroimaging |
| Nov. 6 | Joseph Hsieh | TBA |
| Nov. 13 | Yonghui Wu | A long journey to short abbreviations |
Important dates
| | |
| --- | --- |
| Nov. 4 | Final installment payment due |
| Nov. 8 | PhD students - last day to defend dissertation |
| Nov. 20 | MS students - state of the science drafts to advising committee for review |
| Nov. 22 | State of the science & dissertation titles due to Office of Academic Affairs |
| Nov. 28-29 | Thanksgiving holiday - university closed |