Volume 5, Issue 3
October 14, 2014
SBMI Town Hall Meeting on October 23rd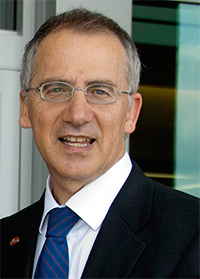 Please join the faculty, students, alumni and staff of SBMI on October 23rd as we hold a Town Hall Meeting with the President of UTHealth, Giuseppe N. Colasurdo, MD. Both Dr. Colasurdo and SBMI Dean, Jiajie Zhang, PhD will discuss the status of the school and field questions from those in attendance.
The Town Hall Meeting will be in the Fayez S. Sarofim Research Building (IMM) Auditorium (1825 Pressler Street Houston, TX 77030) from 3:00 to 4:30 PM. A reception will be held after the meeting. We hope to see everyone from the SBMI community in attendance.
UTHealth's 2014 State Employee Charitable Campaign is Underway

2014 SECC began October 6th and runs through October 30th and we hope all SBMI staff members can make contributions. Last year, SBMI employees donated $2,654 and this year we hope to have 100% participation and surpass last year's contribution.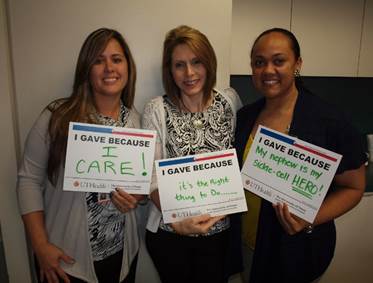 SBMI employees can donate to up to 6 different charities by making a tax deductible SECC donation online via Employee Self Service. Donations can be made in a lump sum that will be taken from your January 2, 2015 paycheck or can be pro-rated; the first deduction will begin with your January 2, 2015 paycheck and will conclude with the last paycheck of the calendar year on December 16, 2015. You can even make a donation by cash, check or money order by submitting this form to Ryan Bien with your donation.
After making your donation, we encourage everyone to print off the SECC Donor "Selfie Sheet", write down why you decided to make a contribution, and take a photo of yourself with your sheet. You can email your photo to secc@uth.tmc.edu and your photo may be featured on the UTHealth SECC Flickr Album. SBMI staff member can also visit Ryan Bien after donating to get a free shirt, water bottle or keychain while supplies last. Please note that no donations will be accepted after October 30, 2014.
If you have any questions regarding UTHealth's 2014 SECC, please visit the UTHealth SECC website or email the SECC Chairperson, Julie Van Orden. Remember that any monetary gift greatly benefits each charity we donate to.
SBMI Professor Releases Second Edition of Book

Professor James Langabeer, PhD has a second edition of his book Health Care Operations Management that is slated to be published in February of 2015. Langabeer and his co-author, Jeffrey Helton, PhD, CMA, CFE, FHFMA, utilized a systems perspective to explore how health care operations management can be improved in large hospitals and clinics. The first edition of the book, which was published in 2008, was adopted widely by more than 400 universities as a primary textbook in their healthcare management courses. For more information on the book, visit the publisher's website.
SBMI Student Profile: Bhagyashree Dhavale

Dhavale will be graduating from the SBMI Master's in Health Informatics program in December of this year and has already started a new career as a Solutions Architect at Greater Houston Healthconnect. Healthconnect, which is located near the Texas Medical Center, is a Texas non-profit corporation that enables neutral health care information exchange for 20 counties in Southeast Texas. It was founded by the Center for Houston's Future and the Harris County Healthcare Alliance and became operational in 2012. To date, the organization is contracted to provide interoperability for 280 area healthcare organizations including many of the region's leading healthcare systems.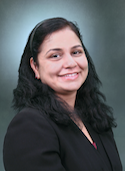 Dhavale's work at Healthconnect will involve implementing Health Information Exchange (HIE) solutions which act as the infrastructure for internal support of Healthconnect. Her position involves the development, communication, and implementation of the organization's HIE solutions, including the components required to support the solutions. Dhavale will also play a role in the integration of corporate and business architectures and applications.
"Being a graduate of SBMI and having the skillset I earned as a student here played an important role in helping me to earn my new position with Healthconnect," stated Dhavale. In her "dual role", Dhavale will be ensuring architectural integrity and compliance standards while also working with Healthconnect Operations to continuously improve availability, serviceability, and efficiency of the HIE solutions.
Earlier this year, Healthconnect became connected to the Texas Health Services Authority's state-level exchange services called HIETexas. For more information on this collaboration, read here.
Flu Vaccination Information

Flu season is officially upon us and we want to encourage all faculty, students, and staff to get their vaccination and help protect themselves from the virus.
There are a variety of times and UTHealth locations included below indicating when and where faculty and staff can get the vaccine. We encourage those in the SBMI community to get their vaccination on the final date at UCT. However, you are welcome to consider alternate dates should your schedule require it.
Oct. 21, 9:00 AM 11:00 AM: Medical School, MSB B645
Oct. 23, 1:00 to 3:30 PM: University Center Tower (UCT), Room 1620
All employees with UT Select insurance will need to bring a photo ID and their insurance card to get the flu shot. You will be required to provide the following information in order to bill UT Select: subscriber ID, relationship to the subscriber, date of birth and gender. Anyone who does not have UT Select insurance may be vaccinated by providing a copy of their health insurance card (front and back) or by paying $30 in cash or check.
If you are unable to attend one of the scheduled vaccination dates, you can bring your insurance card to UT Health Services in UCT, Room 1620 to get your flu vaccination. Office hours are Monday, Wednesday and Thursday from 7:30 AM to 4 PM, and Tuesday and Friday from 7 AM to 3:30 PM. The clinic is closed daily from noon to 1 PM for lunch.
For all SBMI students, as of October 6th, you may visit the Student Health Services clinic Mondays, Wednesdays & Fridays from 9:00 to 11:00 AM, and Tuesdays & Thursdays from 1:00 to 4:00 PM to receive a flu vaccine at no charge. No vaccination appointment is necessary. The Student Health Services office is located in the UT Professional Building (UTPB), Suite 130.
The flu vaccine that has been purchased this year is the FLULAVAL Quadrivalent vaccine manufactured by Glaxo-SmithKline and Fluzone Quadrivalent by Sanofi. This vaccine is an inactivated vaccine and contains no preservatives, thimerosal, mercury or latex. The vaccine is formulated with the four influenza strains recommended by the US Public Health Service for the 2014-2015 Northern Hemisphere influenza season: A/California/07/2009 X-179A (H1N1), A/Texas/50/2012 X-223A (H3N2), B/Massachusetts/02/2012 (B Yamagata lineage) and B/Brisbane/60/2008 (B Victoria lineage). This vaccine is administered intramuscularly.
SBMI Students Run Wellness 5K


We want to congratulate the team of SBMI students who participated in the Baylor College of Medicine Wellness 5K Run on October 11th. Any students who are interested in participating in any SBMI SGO events like this 5K should contact the SGO President, Mehdi Rais.
Alumni Update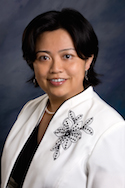 Join us in congratulating SBMI alumna Jung-Wei Chen, DDS, MS, PhD. Earlier this year, Chen was promoted to a professor of an academic track at the Loma Linda University Department of Pediatric Dentistry. In order to earn the promotion, Chen's teaching service and scholarly activity were evaluated. Chen also continues her role as the program director of the Advanced Education Program in Pediatric Dentistry at Loma Linda University as well. Dr. Chen is a two-time SBMI graduate; she earned her MS in Health Informatics in 2002 and her PhD in 2007 and her mentor is SBMI Dean Jiajie Zhang, PhD.
Upcoming SBMI Recruiting Events

Several SBMI faculty and staff members will be traveling in the coming months to visit universities and attend conventions to promote our degree programs. We invite any prospective students or alumni in the area to visit us during these events.


SBMI's Associate Dean for Academic Affairs, Susan Fenton, PhD, and Doctoral Candidate Kang Lin Hseih were featured in an EHR Intelligence article recently. Their research findings on ICD-10 coder productivity were highlighted. Click here to read the entire article.
Dean Sittig, Ph.D., SBMI professor was recently quoted in an article on MedPageToday.com regarding the role EHRs played in the medical care the Dallas Ebola virus patient was given. The entire article can be read here.
Sittig was also quoted in an article in The Pharmaceutical Journal that discussed a new drug safety surveillance initiative that involves the analysis of electronic health data. Click here to read the article.
Medical Economics quoted Sittig in an article regarding the ways in which EHR vendors are building better systems. Sittig's comments, which focus on how clinical decision support can help doctors follow evidence-based guidelines, can be read here.

Save the Date

October 15
Social Network Analysis in Public Health Information Systems: A Concept Map
Catherine Pepper
A Usability Evaluation of a Patient Case Management Prototype
Craig Harrington
SBMI Research Seminar at UCT 1414, 12 PM
October 22
Rafeek Yusuf & Jose Diaz-Vasquez
SBMI Research Seminar at UCT 1414, 12 PM
October 23
Town Hall Meeting with the President of UTHealth, Giuseppe N. Colasurdo, MD
Fayez S. Sarofim Research Building (IMM) Auditorium
1825 Pressler Street Houston, TX 77030 from 3:00 to 4:30 PM.
October 29
Tyler Caruth
SBMI Research Seminar at UCT 1414, 12 PM
November 5
Entrepreneurship
Ivo Nelson
SBMI Research Seminar at UCT 1414, 12 PM
November 12
Ethics and Health Information Technology: Learning Health Care Systems in a Digital World
Ken Goodman
SBMI Research Seminar at UCT 1414, 12 PM
November 15 -
November 19
AMIA 2014 Annual Symposium
Washington Hilton
Washington D.C.
Important Dates

| | |
| --- | --- |
| October 17 | Last day to drop courses & receive grade of 'WP' or 'WF' (This may impact GPA.) |
| November 17 | Spring 2015 registration begins via MyUTH |