Volume 7, Issue 3
October 20, 2016
Cui Tao, Ph.D. Awarded NIH Big Data to Knowledge Initiative Grant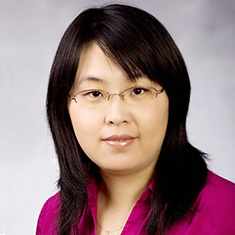 We would like to congratulate SBMI Associate Professor Cui Tao, Ph.D. as she was awarded a grant in Sept. worth more than $1.3 million dollars. The grant is from the National Institutes of Health (NIH) Big Data to Knowledge (BD2K) Initiative and Tao is the principal investigator for the grant.

The project is titled "Metadata Applications on Informed Content to Facilitate Biorepository Data Regulation and Sharing" and it runs from Sept. 28 of this year through July 31 of 2019.
HIMSS17 Program Assistant Opportunity

SBMI is an Academic Organizational Affiliate (AOA) with HIMSS. As such, our students have the opportunity to serve as Program Assistants at the Annual HIMSS Conference.
Program Assistants will get to network, attend HIMSS17 sessions and explore the conference exhibit hall. In addition, here are other perks provided to Program Assistants:
Two HIMSS pullover jackets
All scheduled daily meals throughout the conference, including a breakfast briefing, lunch, student/staff dinner and social functions
Complimentary shared housing
Complimentary conference registration (depending on assignment)
Daily transportation to/from the convention center
Post-conference cash incentive based on performance
In order to be a Program Assistant, students must meet these criteria:
Nov. 14 is the Program Assistant application deadline. Please visit the HIMSS17 website for more information and to apply: http://www.himssconference.org/registration/program-assistants.
The John P. Glaser Health Informatics Society Hosts Inaugural Event

More than 100 attendees gathered to celebrate the launch of The John P. Glaser Health Informatics Society on Oct. 4. The event also included the presentation of the John P. Glaser Health Informatics Innovator Award, the first annual award given by the Glaser Society, to Ivo D. Nelson.

The John P. Glaser Health Informatics Society was established this year by SBMI in recognition of the expertise and leadership of Cerner's SVP of Population Health, John Glaser, PhD, who is a universally recognized thought leader in the field of health informatics. The Society was created to recognize innovators in the field of health informatics and provide education, collaboration and networking opportunities for the broader community of health informatics professionals, clinicians and students.
Ivo Nelson, health care innovator, serial entrepreneur and Global Healthcare Alliance board member, was named the recipient on April 19, and formally received the award during the October 4th lecture and reception at the school. Ivo is currently the chairman and CEO of Next Wave Health, an investment firm that facilitates success among start-ups and early stage companies by providing a comprehensive package of experience, tools, IP, relationships and financial support that translates to long-term success.
Read the entire news story.
View event photo album.
Archer Center Graduate Program in Public Policy Accepting Applications
The Archer Graduate Program in Public Policy allows graduate students from UT System schools to spend the summer in Washington, D.C. working with the organization of their choosing based on their professional & academic goals. In addition to their internship/practicum experience, students will also take public policy courses as part of the program.

The application deadline for the summer 2017 program is Nov. 1. If SBMI students are interested in applying, they can review the online application and contact Sam Neher from UTHealth's School of Public Health for more details.
SBMI Students Invited to 2016 Boo Bash
SBMI's SGO, in conjunction with other UTHealth student organizations, is hosting Boo Bash 2016 on Friday, Oct. 28 from 6 to 9 p.m. at the School of Public Health Deck & Lobby (1200 Pressler Street).
All students are welcome to attend and wear their best costume for the costume contest. Refreshments will be provided and students should bring their ID (both driver's license/passport and UTHealth ID). SGO is also asking students to bring socks, canned goods or packages of ramen noodles to donate to the Houston Area Women's Center.
Upcoming SBMI Recruiting Events

Several SBMI faculty and staff members will be traveling in the coming months to visit universities and attend conventions to promote our degree programs. We invite any prospective students or alumni in the area to visit us during these events.


Save the Date

Oct. 26
Analyzing Correspondence between MeSH and Topic Model - Stanley Yu
TBD - Min Jiang
SBMI Research Seminar in UCT 1414, 12 p.m.
Nov. 2
TBD
Peilin Jia, Ph.D.
SBMI Research Seminar in UCT 1414, 12 p.m.
Nov. 9
TBD
Degui Zhi, Ph.D.
SBMI Research Seminar in UCT 1414, 12 p.m.
Important Dates

| | |
| --- | --- |
| Nov 11 | Ph.D. - Last day to defend dissertation |
| Nov 14 | Spring 2017 registration opens in MyUTH |
| Nov 23 | M.S. - State of science/capstone drafts to Advising Committee for review |
| Nov 24 - 25 | Thanksgiving holiday – University is closed |
| Dec 9 | Last class day for fall 2016 |
| Dec 12 - 16 | Final exams/evaluations |
| Dec 12 | Fall poster session |