Volume 6, Issue 2
September 18, 2015
Dr. Robert Vogler, Ph.D., M.Ed. Retires from UTHealth
After 28 years of service to UTHealth, Dr. Robert Vogler, Ph.D., M.Ed. retired from the university on Aug. 31. Vogler started at the UTHealth School of Nursing in 1985 and after a brief hiatus from the university from 2004 to 2006, he joined SBMI in 2006.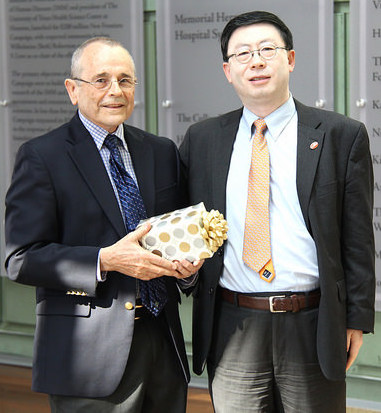 Dr. Vogler, who began his career as a staff nurse in the 1960's, held several positions during his tenure at SBMI. Most recently, he was the administrative director of academic affairs and an associate professor of health informatics. Vogler also worked as the certificate program advisor before retiring last month.
"My former students are my legacy," notes Vogler. "I was able to see incredible growth at both SBMI and the School of Nursing during my career and I had the opportunity to educate so many students which was always the most important thing to me."
SBMI hosted a retirement party for Dr. Vogler to celebrate his career and accomplishments. Everyone at SBMI thanks Dr. Vogler for his incredible service to our school.
Photo album from Dr. Vogler's retirement party
Two New Faculty Members Join SBMI

On Sept. 1, SBMI welcomed two new faculty members. Robert Murphy, M.D. is now an associate professor with SBMI and Hulin Wu, Ph.D., M.S., who joined the biostatistics department at UTHealth's School of Public Health earlier this month, will become a part of the SBMI community as well.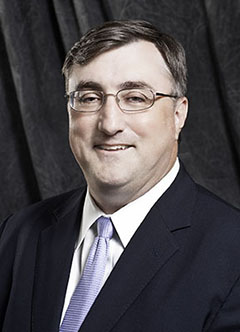 Dr. Murphy joins SBMI after serving in various roles at Memorial Hermann Health System for 10 years. Most recently, Murphy served as the chief health informatics officer. Prior to beginning his full-time faculty position, Dr. Murphy was also an adjunct faculty member at SBMI for the past decade. Modern Healthcare Magazine named Murphy one of the nation's Top 25 Clinical Informaticists in 2010, 2011 and 2012.
Murphy has published and lectured widely on physician adoption and change management, development of evidence-based content for electronic health records and using information technology to improve patient safety and quality. This fall semester, Murphy is teaching a special topics course focused on change management for health informatics.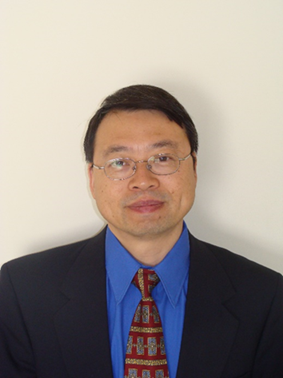 Dr. Wu will be a part-time faculty member at SBMI while spending the majority of his time as a biostatistics professor at the School of Public Health. Wu has been an educator at multiple prestigious universities including Harvard University and the University of Memphis. Most recently, Dr. Wu worked with the University of Rochester School of Medicine and Dentistry. Wu joined the university's biostatistics and computational biology department as a professor in 2003 and was named as dean's professor in 2012 in recognition of his contribution in helping to shape the life of the institution in a significant way.
Wu's research focuses on developing novel statistical methods, computational modeling approaches, bioinformatics tools and other quantitative techniques to manage, analyze and integrate complex biomedical data for biomedical sciences, in particular in immunology and infectious diseases.
Congratulations to our Scholarship Awardees

SBMI recently accepted competitive scholarship applications and our school wants to thank all students who submitted applications. These are the scholarship recipients for fall 2015:
Doris L. Ross Scholarship Fund
Mark Dimatteo – M.S. Student
Sahitha Gajjala – M.S. Student
Hui Song – M.S. Student
Julio Ramos – M.S. Student
Alejandra Zertuche – M.S. Student
Denton A. Cooley, MD Transformation & Hope Scholarship Fund
John Calhoun – Ph.D. Student
Scott Malec – Ph.D. Student
Adriana Stanley – Ph.D. Student
Bridges Family Doctoral Fellowship in Informatics Innovation
Han Chen – Ph.D. Student
Roni Matin – Ph.D. Student
Vivian L. Smith Scholarship Fund
Scott Sittig – Ph.D. Student
Neuosoft Certificate Scholarship Fund
Sonia Kurian – Certificate Student
Nneka Nwaeme – Certificate Student
SBMI Scholarship Excellence Fund
Nabil Ajineh – M.S. Student
Marina Alcoff – M.S. Student
Ky Nguyen – M.S. Student
Willerson Endowed Scholarship Fund
Sumana Goddu – M.S. Student
Diana Morah – M.S. Student
Olubukunola Okulate – M.S. Student
Events for SBMI Students

Now that the fall semester is underway, there are several events that SBMI students should include on their social calendar.
On Sept. 23, the Student Governance Organization (SGO) will host a kickoff party for the new academic year. Students are invited to attend, enjoy refreshments and mingle with peers, faculty and staff. The event will be held in UCT 1410 (University Center Tower, 7000 Fannin Street, 77030) from 5:00 to 7:00 p.m.
The Student Intercouncil (SIC), which is the university's student government, invites all students to attend Salutation 2015 on Sept. 29. It will be held from 5:30 to 7:30 p.m. at the Cooley Center (7440 Cambridge St, 77054). Free food and gifts will be on hand so please bring your student ID if you plan to attend…and visit the SBMI table while you are there!
Run with Team SBMI at the Baylor College of Medicine Wellness 5K Run/Walk on Oct. 10 at One Baylor Plaza. Students can register online and contact Adriana.Stanley@uth.tmc.edu if you have questions. The race will begin at 8 a.m.
Deans' Honor Colloquium for Fall 2015 Begins October 1

The first session of the Deans' Honors Colloquium in Interprofessional Collaboration program for fall 2015 will take place on Thursday, Oct. 1. The educational program offers students from all UTHealth schools the opportunity to work in interprofessional teams. Participants will also enhance their skills by learning the principles of TeamSTEPPS (Strategies and Tools to Enhance Performance and Patient Safety) training.
The program takes place during the first four Thursdays in Oct. and there is no cost to attend this elective program. Participants will receive a certificate of completion if they attend three out of the four sessions. There will also be a drawing for a prize at the end of each session.
All interested students can register online. The deadline to register is Sept. 24. Please email Dr. Juliana Brixey Ph.D., M.P.H., M.S.N., R.N. (Juliana.J.Brixey@uth.tmc.edu) for more information.
HIMSS16 Program Assistant Opportunity

HIMSS16 will be in Las Vegas from Feb. 29 to March 4. If any students are interested in attending the conference, free of charge, we encourage you to apply to be a program assistant. Here are the perks that come with being a program assistant:
Complimentary conference registration which includes networking with thousands of health IT professionals, access to conference education sessions and an opportunity to visit 1,300+ health IT companies on the exhibit floor
One HIMSS pullover jacket
All scheduled meals throughout the conference, including a daily morning breakfast briefing, lunch, student/staff dinner and social functions
Complimentary shared housing
Daily transportation to/from the convention center
Post-conference cash incentive based on performance
Being a program assistant requires a full-time commitment to HIMSS so participants must be available from Feb. 28 through March 4. Program assistants are responsible for their own air transportation to and from Las Vegas, ground transportation to and from the hotel and hotel incidentals.

Please note that students who are HIMSS Members through the SBMI Academic Organizational Affiliate program receive priority consideration. The program assistant application deadline is Nov. 16, so visit the HIMSS16 conference website to apply.


Upcoming SBMI Recruiting Events


Several SBMI faculty and staff members will be traveling in the coming months to visit universities and attend conventions to promote our degree programs. We invite any prospective students or alumni in the area to visit us during these events.


SBMI Professor Dean Sittig, Ph.D. was featured in a recent For the Record Magazine article on the merger of medical records between health care organizations.


iHealthbeat.com interviewed Dr. Sittig as well to comment on the ONC's proposed health IT safety center.

Save the Date

Sept 23
SBMI Special Seminar
Mitch Levesque
Sept 23
SGO Kickoff Party for the 2015 – 2016 Academic Year
UCT 1410 (University Center Tower, 7000 Fannin Street, 77030)
5:00 to 7:00 p.m.
Sept 29
Student InterCouncil (SIC) Salutation 2015
Cooley Center (7440 Cambridge St, 77054)
5:30 to 7:30 p.m.
Sept 30
SBMI Research Seminar
Yongqun Oliver He
"Ontology development and applications for clinical and biological adverse event data integration and analysis"
Oct 7
SBMI Research Seminar
Barbara Berkovich
"Quality goals for laboratory screening: Does 100% make sense?"
Oct 14
SBMI Research Seminar
Ajit Appari
"Is EHR meaningful use associated with hospital-acquired infections? Results from a national sample of US hospitals"
Important Dates

| | |
| --- | --- |
| Oct 16 | Last day to drop courses & receive grade of 'WP' or 'WF' (may impact GPA) |
| Nov 13 | Ph.D. - Last day to defend dissertation |
| Nov 25 | M.S. - State of science/capstone drafts to Advising Committee for review |
| Nov 26 - 27 | Thanksgiving holiday – University is closed |