UTHealth Houston students train for a natural disaster mass casualty event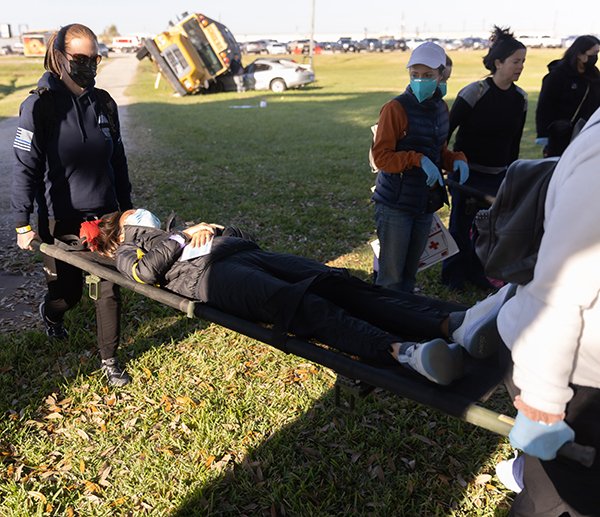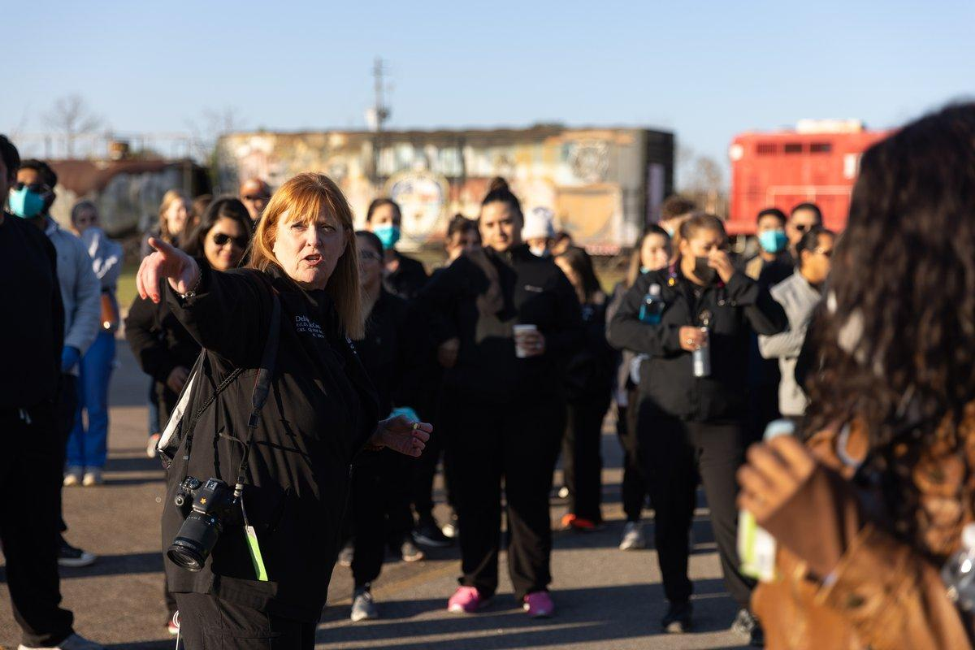 Cries for help rang out early Friday morning on Nov. 19 when a natural disaster caused a school bus to crash and topple over. As the scene played out, students from UTHealth Houston rushed into the field to render aid and appropriately triage the victims.
Some of the "injured" howled for help, while others groaned that they were in pain at the Houston Fire Department's Val Jahnke Training Facility.
Thankfully, this hurricane and motor vehicle accident was just a mock scenario as part of the sixth UTHealth Houston Center for Interprofessional Collaboration Mass Casualty Incident Simulation. Volunteers in each scenario played victims to provide an educational training for students from Cizik School of Nursing at UTHealth Houston, McGovern Medical School at UTHealth Houston, UTHealth School of Public Health, and UTHealth School of Biomedical Informatics.
Of the 350 participants, half attended the morning session and half attended in the afternoon, as limiting the number of participants in each session was critical to keeping everyone safe.
The history of UTHealth Houston's Mass Casualty Incident Simulation
"This event all started in the aftermath of Katrina in 2005 when I realized that so few people, not just nursing or medical professionals, knew what to do when disasters happen," said Elda Ramirez, PhD, RN, the Dorothy T. Nicholson Distinguished Professor and director of the emergency trauma nurse practitioner track at Cizik School of Nursing, and project director of the mass casualty incident drill. "The model for this event is now being used by other schools and fire departments to train their students and staff to be best prepared for emergency situations."
Ramirez emphasized assessing the scene is necessary for the students and responders to navigate the different aspects of the location, potential threats and hazards present, access to resources, the number of casualties, and their severity.
"The students will gain the knowledge of a framework and structure of dealing with these high-stress and tragic incidents when plenty of individuals and injured need immediate assistance. There is a method to the madness," said Ramirez.
Deborah McCrea, EdD, MSN, RN, assistant professor of clinical nursing in the Department of Graduate Studies at Cizik School of Nursing and mass casualty incident event organizer, said the vision of this event was designed by an interprofessional team of faculty using grant funds from The University of Texas System.
"UTHealth Houston is different from other universities by seeking opportunities with community partners, such as the Houston Fire Department, to give our students the best hands-on learning experiences," said McCrea.
The event has grown from 75 student participants in the first year to now approximately 350 student participants, split between a morning and afternoon simulation.
"Interprofessional education is important with students who do not train as clinical staff, such as School of Biomedical Informatics students who are participating in this event alongside students from the School of Nursing. They learn to work together and triage in incidents like this," said McCrea.
Ramirez added that when arriving at the incident, students are surprised to see the situation escalate.
"When you learn the process or the pattern of helping during a practice mass casualty, it becomes instinctual if you ever face this situation in real life. The students will learn how to collaborate with one another, and figure out solutions together," said Ramirez.
Faculty perspective
This annual mass casualty incident drill presents UTHealth Houston students with a rare opportunity to learn with experienced faculty and staff by their side.
Jennifer Swails, MD, co-director of the Center for Interprofessional Collaboration at UTHealth Houston and program director of the internal medicine residency program at McGovern Medical School, commented on the openness to innovation that UTHealth Houston offers its students.
"We have been able to achieve so many teaching opportunities through simulation, just like what we are doing with this mass casualty incident," said Swails.
"The spirit of innovation is really reflected in our students. They come into the Houston Fire Department training center and are able to learn new roles and discover how to respond to an emergency that they couldn't have even imagined. I think that plays forward in their careers in health care so they are able to take great care of their patients."
Faculty facilitator Kevin Schulz, MD, EMS fellowship program director and chief of the Prehospital and Disaster Medicine section of the Department of Emergency Medicine at McGovern Medical School, watched each small team of students go through the exercises followed by a group debriefing, citing what was done well, and ways to improve responses.
"This event is an example to take growing professionals and students and give them a taste of emergency situations, such as natural disaster or active shooter incidents, outside of a hospital or clinical setting," said Schulz. "This is not easy even for professionals who do this all the time. I'm impressed with the students' ability to learn and grow just in the couple of hours they have been participating in this mock incident."
Schulz's main advice to the students is to stay calm and stay safe, and work within a structure and with the professional responders on the scene.
"The key takeaways the students learned included the chaos of a scene like this with multiple casualties, when information isn't established up front, and the first 15-30 minutes where they are creating their structure is the most crucial," said Schulz, who also serves as assistant EMS medical director for the Houston Fire Department.
Schulz added that UTHealth Houston is a leader in all aspects of medical training and the collaborations that are built, out in the field and across Houston, make for better patient care in the hospital and clinics, ultimately making a difference within the community.
Organizers said the scenarios are intended to foster collaboration among students learning different medical disciplines.
Student perspective
The students expressed their shock when first arriving on the scene. Once they began organizing their resources, the students began to step into their leadership roles and realized they already had a lot of the knowledge from their studies to succeed.
Volunteer students played the victims, complete with elaborate stage makeup, known as moulage, coordinated by faculty, and staff from the medical school and nursing school.
Most victims displayed traumatic injuries where the moulage makeup simulated flying debris embedded in their flesh. Other injuries presented were bloody limbs or burns, complete with peeling skin and prosthetics.
Students quickly assessed the severity of more than 50 victims' injuries. The Harris County Institute for Forensic Sciences was on hand to help transport the "dead" to makeshift morgues while students prioritized the triage of survivors to three staged hospitals.
After being successfully triaged, survivors were transported to the makeshift hospitals, where students assessed the severity of their injuries and prioritized the limited number of hospital beds available.
First-year nursing students Jaren Salazar and Sofia Calderon said they learned about themselves during the exercise.
"This is a great learning experience, and it's helpful for me to see the process. I feel better prepared just watching my fellow students go through this situation," said Salazar. "We also have really great clinical experiences at UTHealth Houston, and I'm really grateful for the opportunity to learn with this institution. I love working with people, and I feel like health care is a great way to give back to your community."
Salazar continued, "I'd like to do more simulation-type activities like this event. It's easy to read about these scenarios in a textbook, but whenever you see it in person, it's really beneficial and creates a more meaningful experience as a student."
Calderon added, "I was excited to go into today's training. I learned there is a lot that goes into responding to these situations. The videos we watched to prepare before coming into this situation gave us an idea of what to expect, but nothing prepares you more than coming out and seeing all the moving parts and participating in the hands-on experience."
Both students said they learned from watching and working with their peers.
"My biggest lesson learned is how important it is to move quickly and efficiently with your assessment, being alert, and paying attention to details," said Calderon.
Darren Chai, second-year student at Cizik School of Nursing, said he was reminded of the importance of reassuring patients who are afraid or overwhelmed.
"I learned that these types of situations can be chaotic and it can be difficult to stay organized at times. The participants today did a great job at responding to the situation, triaging, and stabilizing the victims," said Chai. "With a pencil 'impaling' my eye, the students made sure I could hear them since I couldn't see. It was a great example of being mindful of the patient they are tending to and helping them feel comfortable and establish trust in an otherwise scary situation."
Chai added, "Working with the community and having different parts come together for an event like this is meaningful and important for our city."
Many students expressed a newfound confidence after the scenario began and they were launched into having to find solutions to save lives.
Caroline Macmillan, first-year nursing student, was seen in "critical condition" being rolled into an ambulance before being transported to one of the hospitals of the simulation.
"This scenario reflects how well we work together and shows how students of different specialties are able to come together. Going into the ambulance and being carried on the stretcher is all new to me, and I had my eyes closed so I couldn't see what was happening but I could hear the students working together around me to get me situated where I needed to go," said Macmillan.
Macmillan added, "UTHealth Houston is so passionate about having their students succeed. They go above and beyond to create opportunities for us to learn in the classroom and outside of the classroom as well. The faculty members are very caring, and they continue to cultivate great nurses. I'm definitely proud to be one of those nurses."
Closing remarks
Swails thanked the large team of students, faculty, and staff for their time, involvement, and dedication to making the scenarios feel real.
"I am so grateful to the students for participating. The faculty enjoy this event just as much as they do, and it's a rewarding experience for us all," said Swails.
Ramirez added, "Even though this is fun, dramatic, and exciting in this practice simulation, it is very serious when this happens in real life and the skills learned today will aid our students in being better prepared health professionals in the future, ultimately saving lives."