BioBank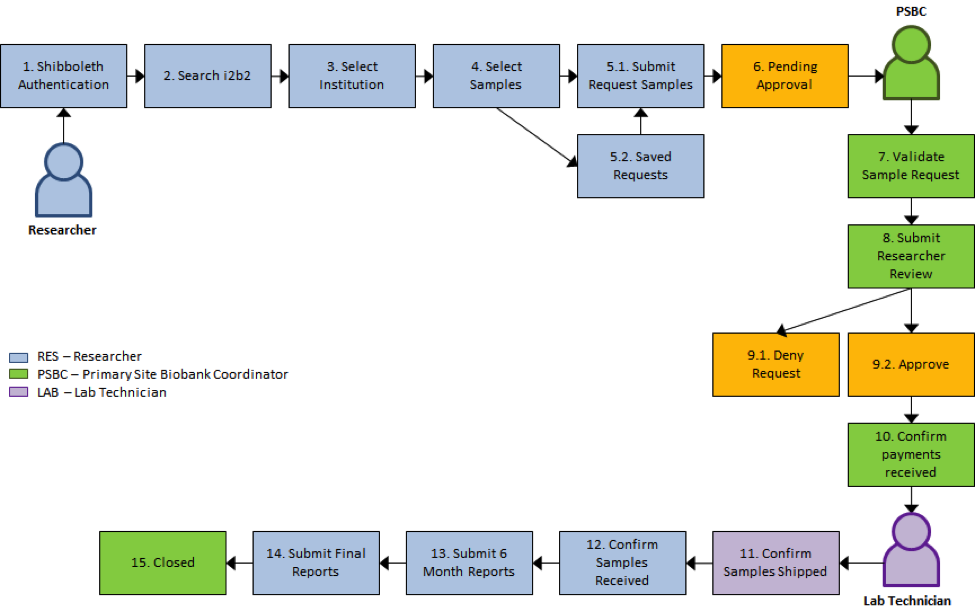 Overview
The University of Texas Health and Science Center-Houston (UTHealth) Center for Clinical and Translational Science (CCTS) Biobank is automating its biobank operations through the development of a custom online software application named SLED (Sample Location and Enhancement Distribution). This application is an internally developed, automated system that provides sample request management (request, approval, distribution, tracking, and reporting), while allowing the data and samples to remain with and under the control of the primary investigator. The project is a collaborative effort between the CCTS Biobank and the informatics team at the University Of Texas School of Biomedical Informatics.
The CCTS Biobank employs a federated rather than a centralized model of sample and data sharing. In this model, the samples and clinical data remain with and are governed by the contributing principal investigator at each site, which ultimately encourages participation by sample owners who are concerned about guaranteeing their ownership of samples and sample information regarding patients, samples and related clinical data. The contributing investigator has the final authority whether or not to collaborate or to release the samples to qualified researchers.
Purpose
The goal of SLED is to help researchers easily locate and request samples and related clinical data. Prior to SLED's inception, the existing system was limited to providing links to samples and data and relying on phone calls to sample owners to facilitate sharing.
How It Works
Locating Samples
Through SLED, researchers will be able to search for samples using a variety of criteria such as availability, clinical data, patient demographics, patient diagnoses, study data, and sample type.
Requesting Samples
To simplify and standardize requesting samples, SLED will provide researchers and designated biobank personnel with the following:
An online sample request form accepted by all participants
Electronic submission of the request form
Online tracking of request status
Notification of sample shipment and receipt
Online submission of research results and sample data (genotype and biomarkers)
Current functionality will be expanded to support reporting requirements as determined by the National Institutes of Health (NIH) and additional regulatory bodies. The initial release of SLED will allow researchers to locate samples and sample data within the UTHealth CCTS Biobank by utilizing i2b2 and related technologies.