Volume 8, Issue 7
February 15, 2018
SBMI's Annual Career Day on March 28
Current SBMI students have the opportunity to learn valuable job search skills and interact with employers at the annual Career Day on Mar. 28. Students can participate in this informative event where they will learn how to build a strong resume, how to effectively utilize social networking sites like LinkedIn and best practices for interviewing.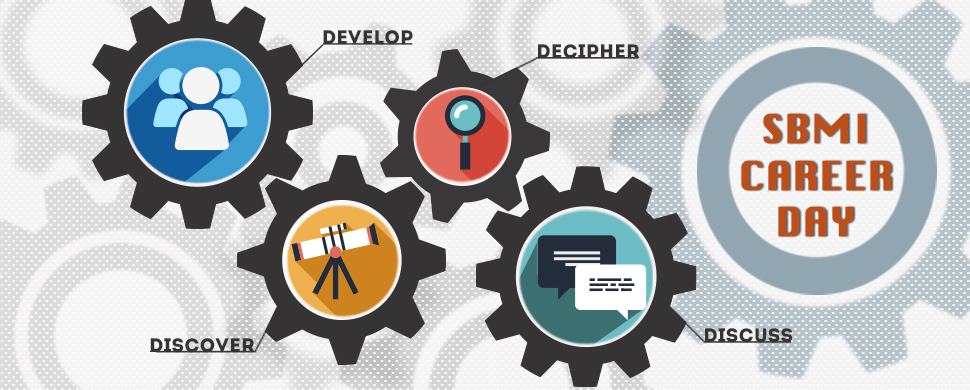 Free headshots will be offered again this year; giving SBMI students the opportunity to have professional photos to elevate their networking profiles, websites or various job search resources.
Career Day will be open to both SBMI students and alumni for the employer session from 3:30 to 6:00 p.m. on the same day. Various employers from the TMC and beyond will attend to discuss job opportunities at their organizations. Attendees of the employer session are encouraged to bring several copies of their resume and dress professionally.
Current SBMI students can register to attend online on the Career Day website and registration will close on Mar. 23. Please email the Office of Academic Affairs at SBMIAcademics@uth.tmc.edu if you have any questions.
SBMI Bragging Points
Members of the SBMI Community have recently achieved noteworthy accomplishments and we want to recognize them and applaud their accomplishments.
UTHealth's Office of the Executive Vice President and Chief Academic Officer and the Interfaculty Council (IFC) recently announced that two of the three recipients of this academic year's Thomas F. Burks Scholarship for Academic Merit are SBMI students. Dual Degree student Stephen Simington and Ph.D. student Muhammad "Tuan" Amith were the recipients with Stephen finishing in first place and Tuan finishing in third place. Please join us in congratulating them!
2017 SBMI Alumna Yalan Zhang, M.S. recently started a new position. She works as a Research Data Analyst in the Department of Neurological Surgery at the University of California, San Francisco (UCSF). Zhang is involved in EHR data management, database projects, and data analysis for brain cancer projects developed at UCSF Helen Diller Family Comprehensive Cancer Center.
SBMI STAR Award Recipients for 2018
Each year, UTHealth celebrates employee leadership and longevity at the STAR Awards by recognizing individuals celebrating five, 10, 15, 20, 25, 30, 35 and 40 years of service to the university. SBMI would like to recognize our Star Award recipients for 2018.
Five Years
Tingting Lu, Ph.D.
Alexa Poole
Deevakar Rogith, MBBS, Ph.D.
Kimberly A. Smith, Ph.D.
Hua Xu, Ph.D.

Ten Years
Juliana J. Brixey, Ph.D., MPH, RN
Kiana Epps
Lex Frieden, M.A.
Yang Gong, M.D., Ph.D.
James Langabeer, PhD, MBA, FHIMSS

Twenty Years
Jaime Hargrave
Virginia "Ginny" Solt
Student InterCouncil (SIC) Scholarship Opportunities
The Student InterCouncil (SIC) is awarding three scholarships to current UTHealth students.
SIC Academic Achievement Scholarship
Toshi Nikaidoh Service Award
Shohrae Hajibashi Memorial Leadership Award
For more information and instructions on how to apply, go to: https://www.uth.edu/sic/scholarships/scholarship-opportunities.htm. The application deadline is 4 p.m. on Friday, March 16, 2018. All application materials must be submitted to Corrin Nice, Office of Academic & Research Affairs, UCT 1565D.
If you have any questions, please contact Corrin Nice at Corrin.D.Nice@uth.tmc.edu.
JAMIA Accepting Applications for Student Editorial Board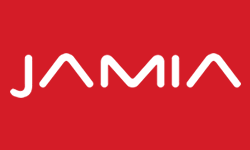 JAMIA is seeking applications from biomedical informatics students for the Student Editorial Board (SEB). The JAMIA SEB was created in 2003, and has provided outstanding informatics trainees with opportunities to receive in-depth exposure to the peer-review process and the operation of a scientific journal. Additional details about this program may be found in a published editorial in JAMIA. A goal of the program is to improve all of these skills through experience and mentorship, and several full JAMIA Editorial Board members initially served as SEB members during their training.
Applications are due by Mar. 2 and should be sent to mail@amia.org.
Selection Criteria
up to six SEB members will be selected from the group of applicants
two-year term
members should be enrolled in an informatics degree program throughout the duration of their term on the SEB
Direct questions to Michael F. Chiang, MD, JAMIA Associate Editor, chiangm@ohsu.edu.
Online Financial Disclosure Statement is Available for 2017
Why is this annual reporting requirement important?
All faculty and certain staff are required to submit an online Financial Disclosure Statement each year by The University of Texas System policy and the UTHealth Conflict of Interest, Conflict of Commitment and Outside Activities policy (HOOP 20). In some cases, a disclosure may also be required by other state and/or federal regulations and for submitting grant applications.
Who is required to submit a Financial Disclosure Statement?
Generally, you must submit a Financial Disclosure Statement if any of the following statements below applies to you:
You are a faculty member;
You are an administrative and professional (A&P) employee (HOOP 150, Administrative and Professional and Classified Job Appointments);
You are an executive officer of the university;
You negotiate or execute contracts on behalf of UTHealth;
You will be involved in procurement ($15,000 or more);
You are involved in contract management;
You are a "Covered Individual" on an UTHealth research project as designated by the principal investigator of the project, per the Research Conflicts of Interest Policy (HOOP 94).
How to submit the Financial Disclosure Statement?
For instructions, FAQs, and the required form, visit the Financial Disclosures Website. The deadline to submit the Financial Disclosure Statement for calendar year 2017 is March 31, 2018.
Questions?
If you have any questions or would like help completing the Financial Disclosure Statement, please contact the Conflict of Interest Office at 713-500-3214 or research_COI@uth.tmc.edu and we will be happy to provide assistance.
Upcoming SBMI Recruiting Events
Several SBMI faculty and staff members will be traveling in the coming months to visit universities and attend conventions to promote our degree programs. We invite any prospective students or alumni in the area to visit us during these events.

Save the Date
Feb. 21

Engagement and Design Barriers of mHealth Applications for Older Adults


Amy Franklin, Ph.D.
SBMI Research Seminar at UCT 1414, 12 p.m.
Feb. 28
Information Visualization for Clinical Quality Improvement
Todd Johnson, Ph.D.
SBMI Research Seminar at UCT 1414, 12 p.m.
Mar. 7
Towards Intoxication Detection via non-invasive Natural Typing
Joonha Chang
SBMI Research Seminar at UCT 1414, 12 p.m.
Mar. 21
Domain adaptation for clinical information extraction
Yaoyun Zhang
SBMI Research Seminar at UCT 1414, 12 p.m
Mar. 28
SBMI Career Day
Fayez S. Sarofim Research Building (IMM)
(1825 Pressler Street Houston, TX 77030), 9 a.m. – 6 p.m.
Apr. 6

SIC 9th Annual Crawfish Boil
Important Dates
Mar. 12-16
Spring Break – no classes will be held
Mar. 30
Ph.D. - Last day to defend dissertation
Apr. 6
Titles of state of science/capstone & dissertations are due to Office of Academic Affairs
Apr. 9
Summer 2018 registration opens in MyUTH
Apr. 14
M.S. - State of science/capstone drafts to Advisor for review
Apr. 27
Last class day for spring 2018
Apr.

27

Ph.D. - Last day to defend proposal
Apr. 30
SBMI spring poster session and Connect