Volume 10, Issue 6
February 25, 2020
2020 DeepTexas Medical AI Symposium on April 23 and 24
SBMI will host the 2020 DeepTexas Medical AI Symposium in Houston on April 23 and 24. The symposium will take place at the Westin Houston Medical Center.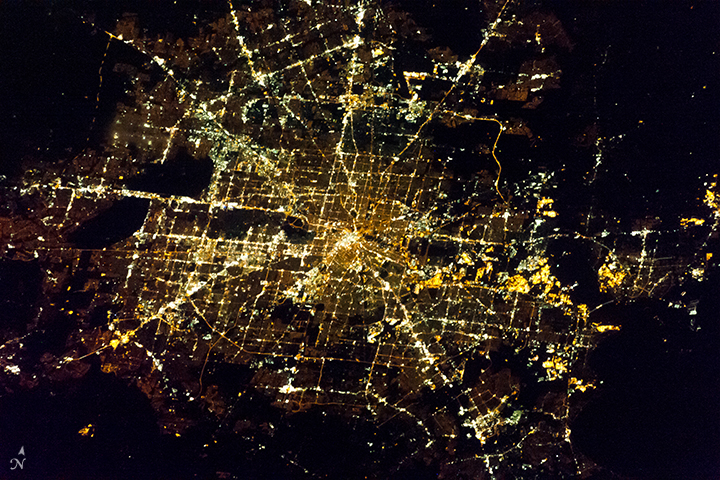 Glassell Family Foundation Distinguished Chair in Informatics Excellence and Dean Jiajie Zhang, PhD, is the symposium chair. Zhang noted that "the goal of the symposium is to educate attendees on the current state of the Artificial Intelligence (AI) Revolution and the ripple effects it is creating in medicine and healthcare. Among other issues, we'll be exploring the myriad applications of AI in medicine and how they can aid us in advancing clinical care."
A complete symposium agenda is available online. Anyone interested in attending should also visit the SBMI website to register for the symposium.
Click here to learn more about the symposium.
SBMI Bragging Points
Members of the SBMI Community have recently achieved noteworthy accomplishments. We want to recognize and applaud their endeavors.
MS Student Andrew Hedges was recently named a Bloomberg Associates Research Fellow. During the program, he will work with the Houston Health Department to create a guide for the Team Up Initiative; a program that educates minority students on career opportunities in the world of sports beyond being an athlete. This guide will be distributed around the nation to allow other city governments to implement similar guides.
MS Student Kalaivany Ganesh was a member of the winning team during UTHealth's Health Innovation Challenge (HIC) case competition on Feb. 22. Her team included five other students from various UTHealth Schools and the goal was to work as an inter-professional team and identify an innovative solution to reduce hospital readmissions. The team split the $1,200 prize money.
SBMI has a student team participating in the MITRE Healthcare Anti-Fraud Academic Competition this year. MITRE recently announced that the team, named the SBMiners, is among the top three finalists. The team includes five UTHealth Students; SBMI PhD Yan Chu (Captain), SPH PhD Student Wanqi Chen, SBMI MS Student Gilberto de la Garza, SBMI PhD Student Tongtong Huang, and SPH PhD Student Qian Qian. The Academic advisors are Associate Dean and Professor Susan H. Fenton, PhD (Lead), Associate Professor Xiaoqian Jiang, PhD, Assistant Professor Kirk Roberts, PhD, and recent PhD Alumnus Kang Lin Hsieh, PhD. The team will travel to Washington D.C. for the presentations and announcement of the winning team on March 23.
SBMI STAR Award Recipients for 2020
Each year, UTHealth celebrates employee leadership and longevity at the STAR Awards. The university hosts an event to recognize individuals celebrating five, 10, 15, 20, 25, 30, 35 and 40 or more years of service to the UTHealth. This year, the university celebrated its first employee with 50 years of service.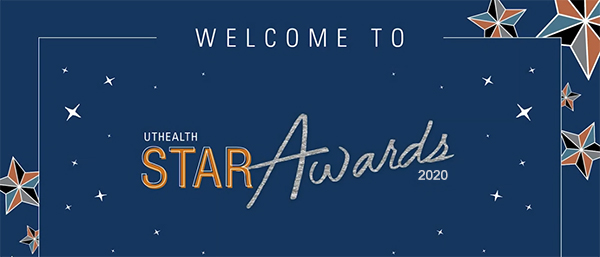 SBMI would like to recognize our Star Award recipients for 2020.
Five Years
Muhammad Amith, PhD
Alejandro Araya
Tambra Ellison
Chelsea Overstreet
Emin Saglamer
Debora Simmons, PhD
Ten Years
Amy Franklin, PhD
Christy Garza
Miranda Hedrick
Sahiti Myneni, PhD, MSE
Zhongming Zhao, PhD, MS
Fifteen Years
Leticia Flores
Twenty Years
Ryan Bien
Twenty-five Years
Marijane DeTranaltes
For a list of all STAR Award recipients across UTHealth, visit the STAR Award website. Employees with 5, 10 and 15 years of service will be recognized on March 24, 2020. Employees with 20, 25, 30, 35, 40, 45, and 50 years of service will be honored on March 26, 2020.
Upcoming SBMI Recruiting Events
Several SBMI faculty and staff members will be traveling in the coming months to attend conferences to promote our degree programs. We invite any prospective students or alumni in the area to visit us during these events.

Feb. 26: University of Texas at Austin Health Professions Fair in Austin, TX
Feb. 27: University of Texas San Antonio Health Professions Day in San Antonio, TX
Feb. 27: St. Mary's University Pre-Health Career Conference in San Antonio, TX
Mar. 2-4: Louisiana Health Information Management Association (LHIMA) Annual Convention in New Orleans, LA
Mar. 2: Purdue University Annual Spring Health Programs Expo in West Lafayette, IN
Mar. 3: Mar. 3: Indiana University Health Programs Fair in Bloomington, IN
Mar. 4: Indiana University Purdue University Indianapolis Health Professions Fair in Indianapolis, IN
Mar. 5: University of Cincinnati Health Professions Fair in Cincinnati, OH
Mar. 6: Ohio State University Health Professions Graduate Fair in Columbus, OH
Mar. 9-13: HIMSS20 in Orlando, FL
Professor James Langabeer, PhD, MBA was interviewed by KHOU 11 as he discussed the benefits of the HEROES program. HEROES was also covered in the Houston Chronicle recently.
Professor Cui Tao, PhD was awarded a $1 million grant in the fall of 2019 from the American Heart Association Institute for Precision Cardiovascular Medicine. Her award was recently profiled by several media outlets including:

xtelligent Healthcare Media
American Heart Association Newsroom
Cardiology 2.0
Save the Dates
Feb. 26
Developing Models to Predict Risk of HIV Infection Using Electronic Health
Record Data
Sarah May (SBMI PhD Student)
SBMI Research Seminar in UCT E-612 & E-614, 12 p.m.
Mar. 4
Clinical Research Informatics in Action: a Data Science Perspective
GQ Zhang, MS, PhD
SBMI Research Seminar in UCT E-612 & E-614, 12 p.m.
Mar. 6
SBMI & SPH Biostats Joint Social
Axelrad (1517 Alabama St, Houston, Texas 77004), 7:30 p.m.
RSVP at: https://forms.gle/3bd2ipJMYSYwZxg37
Mar. 11
An ontology driven dialogue manager for supporting HPV vaccine counseling
Muhammad Amith, PhD
SBMI Research Seminar in UCT E-612 & E-614, 12 p.m.
Important Dates
| | |
| --- | --- |
| Feb. 28 | Last day to submit Withdrawal Form for WP or WF grade |
| Mar. 6 | Last day for spring 2020 Certificate completers and MS and PhD students to apply for graduation |
| Mar. 16-20 | Spring Break - No classes will be held but all SBMI Offices are open |
| Mar. 20 | PhD - Last day to defend dissertation |
| Mar. 20 | PhD - Final dissertation drafts and proposals to Advising |
| Apr. 6 | MS - State of the science/capstone drafts to Advising Committee for review |
| Apr. 6 | Titles of state of science/capstone & dissertation due in Canvas Graduation Course |