Volume 12, Issue 6
February 24, 2022
SBMI Bragging Points
Several members of the SBMI Community have recently earned special recognition or contributed to the informatics community. We want to congratulate those individuals on these accomplishments.
Professor Cui Tao PhD was recently awarded a new Cancer Prevention and Research Institute of Texas (CPRIT) grant worth over $1.3 million. Her award is one of CPRIT's Individual Investigator Research Awards for Cancer in Children and Adolescents. Visit the CPRIT website for more information.
UTHealth's 2022 Healthcare Innovation Challenge ended on Feb. 19. SBMI students were represented on six of the seven teams and there were SBMI students on all three teams that placed. The SBMI student participants included Neha Patel, Antrelle Rollins, Jorge Zamora, Bingyu Mao, Amanda Oliphant, Sharmeen Hamid, Manreet Kaur, Mehmet Enes Inam, and Rowan Khazendar. All of these students delivered outstanding presentations and defended their proposals phenomenally while effectively sharing insights and knowledge related to biomedical informatics.

Team 7, including PhD student, Mehmet Enes Inam, placed 1st and will win a team prize of $1200.
Team 4, including Bingyu Mao and Amanda Oliphant, placed 2nd and will win a team prize of $600.
Team 3, including MS student Jorge Zamora, placed 3rd and will win a team prize of $300.

Professor and Associate Dean Susan H. Fenton, PhD, RHIA, FAMIA, and Assistant Professor Karima Lalani, PhD, RHIA, FACHE, recently contributed to several chapters in a new book titled "The Health Information Workforce: Current and Future Developments." The eBook version is available for download at https://link.springer.com/book/10.1007/978-3-030-81850-0.
Professor Dean Sittig, PhD and Adjunct Professor Hardeep Singh, MD, MPH have a new paper that was published in the Journal of the American Medical Association (JAMA). The paper explores safety assessment of their electronic health record (EHR) system using SAFER (Safety Assurance Factors for EHR Resilience) Guides.
Congratulations to three SBMI Students who were named UTHealth Student Intercouncil scholarship recipients in early February. The awardees are Lori Bertolet (MS), Kendra Isibor (MS), and Ariana Sahli (Dual Degree MS/MPH).
DHI Student Kathleen de Figueiredo recently completed an in-depth podcast interview focused on work-life balance. In addition to working towards her degree, she serves as Director of Quality Improvement at Baylor Scott & White Health.
SBMI Expands Presence in Laredo
SBMI is expanding the school's footprint in the Laredo community to better serve students and health care professionals in the region.
The University of Texas System announced the launch of the new University of Texas Education and Research Center at Laredo in November. SBMI is proud to participate in the new center by offering undergraduate 4+1 accelerated master's programs with partner institutions, the full range of traditional graduate educational offerings, training and professional development opportunities, and community engagement programs.
In addition to the programs in the new center, SBMI still offers an undergraduate 4+1 accelerated master's program with Texas A&M International University (TAMIU). SBMI's Gulf Coast Regional Extension Center (GCREC) staff also helps low-resource health care organizations in the area qualify for financial incentives.
Learn More
UTHealth Houston App is Now Available
The UTHealth Houston mobile app is now available for download. The app is available on both iOS and Android devices. Just visit the App Store or Google Play, enter "UTHealth Houston" into the search, and install the app for easy access to campus information.
In the near future, the UTHealth People Directory will no longer be accessible externally via the UTHealth website. However, the People Directory will be available on the mobile app. For more information on the app features, visit the Inside UTHealth.
SBMI IN THE NEWS
SBMI SGO would like to invite all students and faculty to the first event of the spring semester – Bingo Night. It will take place today, February 24, at 6 PM (CST) via WebEx: https://uthealth.webex.com/meet/nour.a.alia.
RSVPs are appreciated, but not required. We hope you can join for this exciting event!



RSVP Now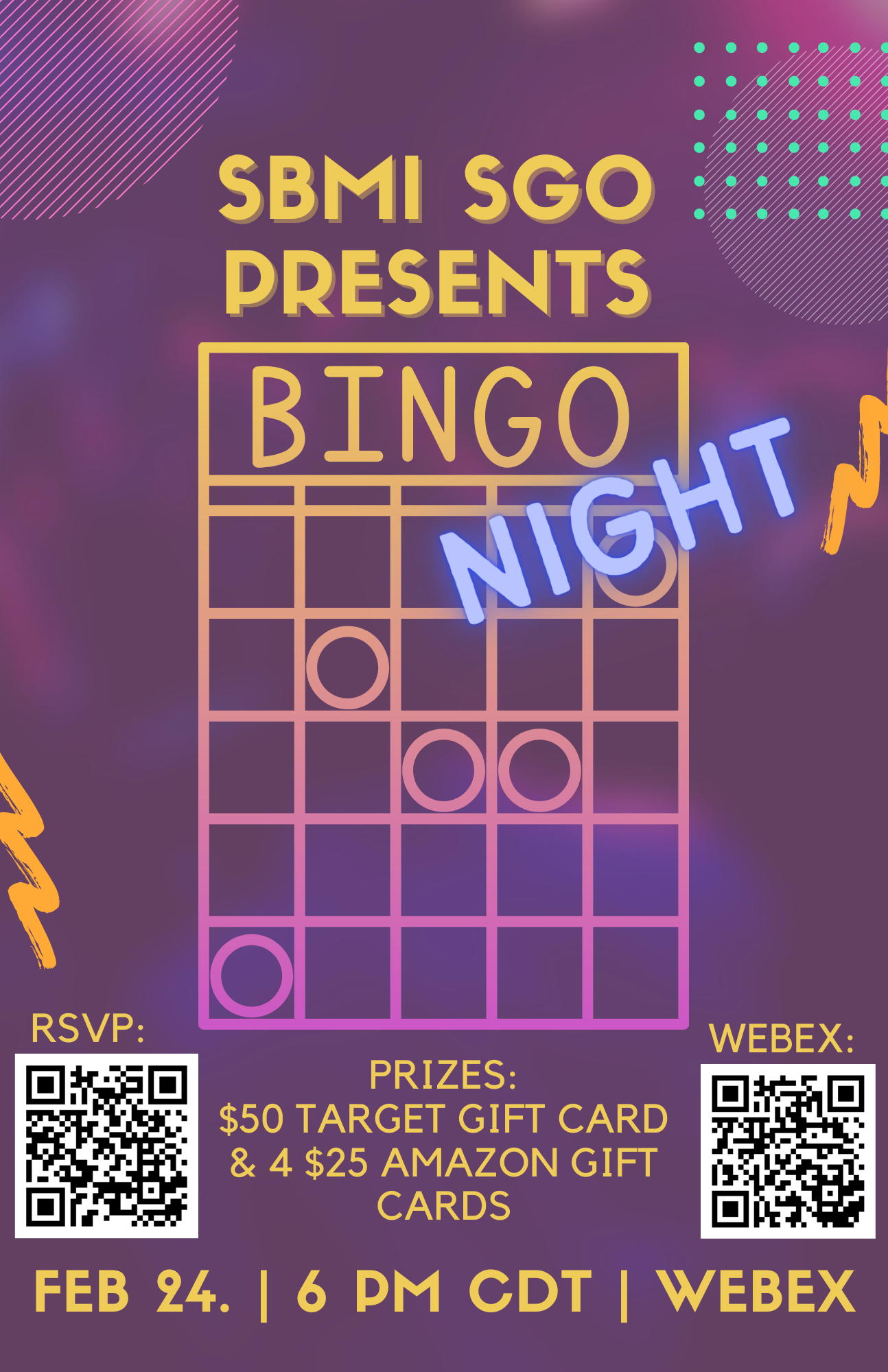 Heroes Helpline Aids Healthcare Workers
UTHealth's Center for Health Systems Analytics is operating a 24/7 free and confidential helpline for all healthcare workers, first responders, and their families in Texas who have been impacted by COVID-19. Healthcare workers, including allied health students and professionals, and first responders are our heroes. The helpline is here to help our heroes and their families who have been experiencing an unprecedented level of stress and anxiety during the COVID-19 pandemic.

Please call the Heroes Helpline at 833-367-4689 to speak with trained staff who will guide you to mental health support resources in your area.
SBMI IN THE NEWS
Professor James Langabeer, PhD, MBA was featured in the most recent edition of the UTHealth "Many Faces. One Mission." magazine.



Learn More
Upcoming Events: All are virtual
Mar. 2
Research Seminar presentation by Alex Turchin, MD, MS
12 PM CDT on GoToMeeting
Mar. 9
Research Seminar presentation by PhD Students Zhao Li & Xu Zuo
12 PM CDT on GoToMeeting
Mar. 23
Research Seminar presentation by PhD Student Sarah May
12 PM CDT on GoToMeeting
Mar. 30
Research Seminar presentation by PhD Student Bingru Li
12 PM CDT on GoToMeeting
Important Dates
| | |
| --- | --- |
| Feb. 25 | Last day to submit Change of Academic Plan Request Form and documentation |
| Mar. 4 | Last day to apply for spring 2022 graduation in myUTH (must be currently enrolled) |
| Mar. 14-18 | Spring Break – no classes will be held |
| Mar. 18 | Last day to drop with a withdrawal grade of "W" Must process drop form |
| Mar. 25 | PhD - Last day to defend dissertation |