Volume 12, Issue 5
January 24, 2022
Spring Semester at SBMI
We hope everyone had a safe & healthy holiday season. SBMI is happy to welcome new students and send greetings to our returning students. We look forward to a successful spring semester.

Now that the semester has started, we want to remind all students to submit their updated, yearly degree or program plans if it has not been completed recently. Please work with your academic advisor to complete the plan and if you have questions, please contact the Office of Academic Affairs at 713.500.3591 or SBMIAcademics@uth.tmc.edu for assistance.
Distance Education Reminders for Spring 2022 Semester
Courses for the spring 2022 semester will follow the same instructional format SBMI has utilized in recent semesters due to the COVID-19 pandemic. Students registered for in-person SBMI courses are expected to attend classes synchronously, either online or on-campus, during the scheduled time and day each week. Most weekly classes will take place via live sessions and delivered using web-conferencing (GoToMeeting or WebEx). However, once per month, these in-person classes will have a pre-scheduled, required on-campus session. In-person class sessions on-campus will occur one time in January, February, March, and April for each course. The in-person attendance schedule is available in Canvas.
The spring semester Add/Drop (as well as complete course withdrawal without a grade) deadline for courses is on Jan. 26. Please keep in mind that courses added in myUTH may take up to 24 hours to appear in Canvas. For questions about Canvas course enrollment and access, please contact the SBMI Distance Education team at DE@uth.tmc.edu.
The TMC Library Liaison librarians Emma Silva (emma.silva@library.tmc.edu) and Travis Holder (travis.holder@library.tmc.edu) will offer virtual office hours to SBMI users on Tuesdays from 1:00 - 4:00 PM at this link.
Spring 2022 Scholarship Recipients
SBMI would like to congratulate our recent scholarship winners for spring 2022. We thank all students who applied, as well. These are the recipients: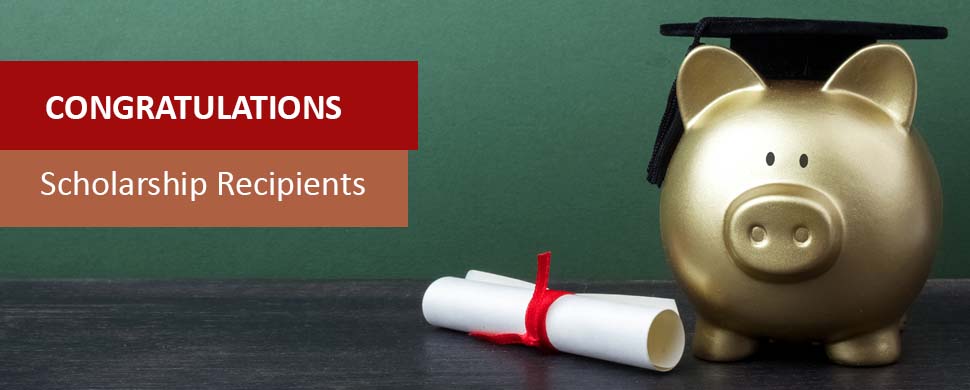 Doris Ross Scholarship
Amy Clodfelter – DHI Student

Lex Frieden Scholarship
Mary Keckeisen – MS Student

New PhD Student Scholarship
Tanjida Kabir – PhD Student
Apollo McOwiti – PhD Student

SBMI Dean's Excellence Scholarship – Jingchun Sun Scholarship
SBMI Dean's Excellence Scholarship
Bhanumathi Gopal – MS Student
Morgan Foreman – PhD Student
Allison Hadjis – MS Student
Zhao Li – PhD Student
Alan Pan – MS Student
Khush Patel – MS Student

SBMI Scholarship Excellence
Nikki Blaze – DHI Student
Kelly Brown – DHI Student

Willerson Endowed Scholarship
Fangfang Yan – PhD Student

SBMI Bragging Points
Several members of the SBMI Community have recently earned a special recognition or contributed to the informatics community. We want to congratulate those individuals on these accomplishments.


Professor James Langabeer, PhD, MBA, Associate Professor Tiffany Champagne-Langabeer, PhD, and Assistant Professor Andrea Yatsco, PhD earned a $1.2 million grant award from the U.S. Department of Justice. They will partner with the Houston Police Department to use the grant funds and assess the efficacy of integrating police agencies into a multi-prong strategy for addressing substance use and addiction across the community.
DHI Student Mary Stanfill was recently awarded an AHIMA Foundation. She was one of two recipients to earn a Rose Dunn Endowed Scholarship.
Professor Dean Sittig, PhD and Adjunct Professor Hardeep Singh, MD, MPH have a new co-authored publication in the Journal of the American Medical Informatics Association (JAMIA).
Additionally, Elmer Bernstam, MD, MSE, associate dean for research and professor, has a newly published, co-authored JAMIA article.
PhD Students Tavleen Singh & Sarvesh Soni were recently awarded pre-doctoral fellowships for the UTHealth Innovation in Cancer Prevention Research Training Program with CPRIT.
Assistant Professor Angela Ross, DNP is a member of the HIMSS Nursing Informatics Workgroup. She recently interviewed one of her fellow group members for Part One of the Nursing Informatics.
SBMI's Dental Informatics Certificate program was mentioned in a Journal of American Dental Association (JADA) article published in November.
Online Financial Disclosure Statement is Now Available
Why is this annual reporting requirement important?
All faculty and certain staff are required to submit a disclosure of financial interests and outside activities online each year by The University of Texas System policy and the UTHealth Conflict of Interest, Conflict of Commitment and Outside Activities Policy (HOOP 20). In some cases, a disclosure may also be required by other state and/or federal regulations (in accordance with NIH guidance) and for submitting grant applications.
Who is required to submit a Financial Disclosure Statement?
In general, you must submit a Financial Disclosure Statement if any of the following applies to you:
You are a faculty member;
You are an administrative and professional (A&P) employee (HOOP 150, Administrative and Professional and Classified Job Appointments);
You are an executive officer of the university;
You negotiate or execute contracts on behalf of UTHealth;
You will be involved in procurement ($15,000 or more);
You are involved in contract management;
You are a "Covered Individual" on an UTHealth research project as designated by the principal investigator of the project, per the Research Conflicts of Interest Policy (HOOP 94).
How can I submit the Financial Disclosure Statement?
For instructions, FAQs, and the required form, visit the Financial Disclosures website. The deadline to submit the annual Financial Disclosure Statement is March 31, 2022. Please contact the Conflict of Interest Office at research_coi@uth.tmc.edu if you have any questions or would like help completing the form.
Inaugural Student InterCouncil Speaker Series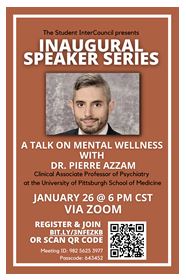 The UTHealth Student InterCouncil would like to invite all students, staff, and faculty to its Inaugural Speaker Series on Wednesday, Jan. 26 at 6 PM (CDT) via Zoom. Dr. Pierre Azzam, Clinical Associate Professor of Psychiatry at the University of Pittsburgh School of Medicine, will present a talk focused on Mental Wellness. All students, faculty, and staff are encouraged to register for the Zoom event ator scan the QR code provided below.
Heroes Helpline Aids Healthcare Workers
UTHealth's Center for Health Systems Analytics is operating a 24/7 free and confidential helpline for all healthcare workers, first responders, and their families in Texas who have been impacted by COVID-19. Healthcare workers, including allied health students and professionals, and first responders are our heroes. The helpline is here to help our heroes and their families who have been experiencing an unprecedented level of stress and anxiety during the COVID-19 pandemic.

Please call the Heroes Helpline at 833-367-4689 to speak with trained staff who will guide you to mental health support resources in your area.
Upcoming Diversity and Equity Speaker Series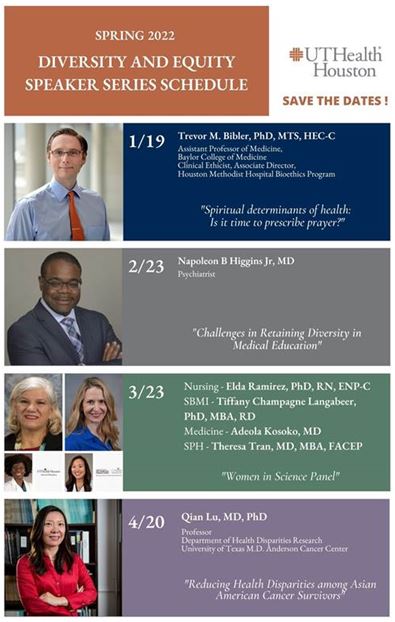 There are several upcoming UTHealth Diversity and Equity presentations taking place in spring 2022. Associate Professor Tiffany Champagne-Langabeer, PhD will participate in one of the events on March 23.
Visit the Office of Diversity and Inclusion website for a full list of seminars. WebEx links for the virtual events will be shared prior to each session.
SBMI IN THE NEWS
Professor James Langabeer, PhD, MBA was quoted in a Clinical Pain Advisor article last month. He discussed how the opioid crisis requires new approaches to prescription opioid management.
Upcoming Events: All are virtual
Jan. 25
DSICCR Tuesday Seminar Series presentation by Jeffery Chang, PhD
12 PM CDT on WebEx
Jan. 26
Research Seminar presentation by Hussein Abbas, MD, PhD
12 PM CDT on GoToMeeting
Feb. 2
Research Seminar presentation by Yandong Jiang, MD, PhD
12 PM CDT on GoToMeeting
Feb. 9
Research Seminar presentation by Griffin Weber, MD, PhD
12 PM CDT on GoToMeeting
Feb. 16
Research Seminar presentations by W. Jim Zheng, PhD
12 PM CDT on GoToMeeting
Important Dates
| | |
| --- | --- |
| Jan. 26 | Add/Drop deadline via myUTH (for students who are already enrolled) |
| Jan. 26 | Late fee payment - $25 Late Fee |
| Feb. 25 | Last day to submit Change of Academic Plan Request Form and documentation |
| Mar. 4 | Last day to apply for spring 2022 graduation in myUTH (must be currently enrolled) |
| Mar. 14-18 | Spring Break – no classes will be held |
| Mar. 18 | Last day to drop with a withdrawal grade of "W" Must process drop form |