Volume 9, Issue 10
June 24, 2019
Summer 2019 Scholarship Recipients
SBMI would like to congratulate our recent scholarship winners for summer 2019. We thank all students who applied, as well. These are the recipients:
Willerson Endowed Scholarship

Tavleen Singh: PhD Student

SBMI Scholarship Excellence

Sripriya Devarajan: MS Student
Kimberly D'Souza: MS Student
Trinh Le: MS Student
Harrington McDowelle: MS Student
Reena Ramachandran: MS Student
Alicia Segovia: MS Student

Lex Frieden Scholarship for Disability and Health Informatics
Neuosoft Certificate Scholarship Fund

Baher Elgohari: Certificate Student
Garrett Hall: Certificate Student
SBMI Bragging Points
Members of the SBMI Community have recently achieved noteworthy accolades. We want to recognize them and applaud their accomplishments.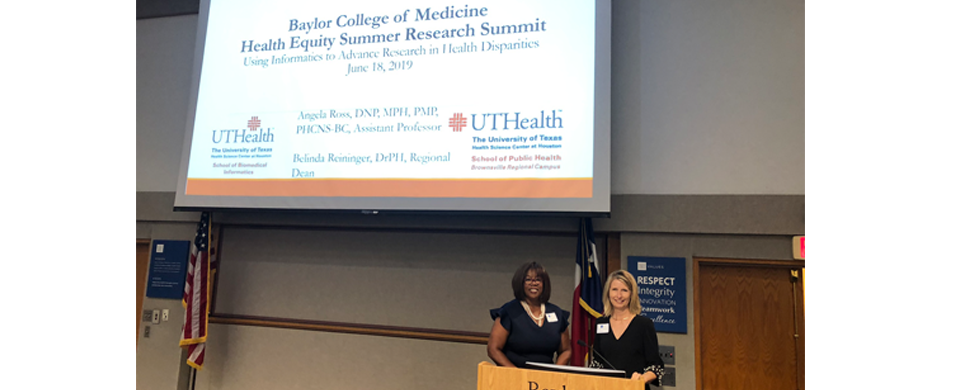 Assistant Professor Angela Ross, DNP, MPH spoke at Baylor College of Medicine earlier this month during the Health Equity Summer Research Summit. Belinda Reininger, DrPH Regional Dean and Professor for the UTHealth School of Public Health Brownsville Campus co-presented with Ross.
Professor Dean Sittig, PhD, Assistant Professor and Alumnus Deevakar Rogith, PhD and Adjunct Associate Professor Hardeep Singh, MD co-authored an article that was recently published in the International Journal of Medical Informatics.
Fifty UTHealth students are volunteering to help Houston middle school children understand more about nutrition and improve their diets. Assistant Professor Tiffany Champagne-Langabeer, PhD, MBA is a Registered Dietitian and Licensed Dietitian who helps support the students.
If any SBMI alumni or current students want to announce a recent professional accomplishment in a future Academic Update, please share the details with Chelsea Overstreet via email at Chelsea.E.Overstreet@uth.tmc.edu. 

TIGER Scholars Internship Program
TIGER (Technology Informatics Guiding Education Reform) Scholars Program is an internship opportunity directed at masters and doctoral level students with the goal of mentoring and helping advance future healthcare leaders. Advance the spirit of TIGER as an interprofessional initiative by contributing to the development of the future interdisciplinary, informatics-focused healthcare workforce.
The TIGER Scholars Program is one academic year will provide opportunities for selected candidates to: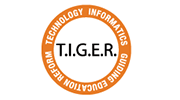 Enhance their knowledge of health informatics education and practice
Expand their professional network with the global HIMSS TIGER community
Develop mentoring relationships with professional informatics leaders
Participate as a member of the global health informatics community through conferences, webinars, meetings, and social media
Engage in activities that promote the informatics profession through education and advocacy
Learn about the services and opportunities offered through HIMSS and TIGER for continuing professional development, certification, and career advancement
Program Application & Selection Process
Interested candidates should submit electronic versions of all the following application package documents to the TIGER Scholars Selection Panel at tiger@himss.org.
Completed application form with demographic and background information
Current curriculum vitae or resume
Copies of all graduate coursework transcripts unofficial transcripts are acceptable
Two (2) letters of recommendation

Preferably one from a faculty member or professional with informatics experience

A Letter of Intent addressing what the candidate hopes to gain through the experience as a "TIGER Scholar"
The internship is remote and includes a financial stipend plus a HIMSS Student Membership. TIGER Scholars will also serve as Program Assistants for the HIMSS Global Conference during the year of their active internship. The goal is to align the Scholars Program internship with the candidate's courses/program to obtain class credits for participation. Program hours/commitment time and the amount of credit granted will vary based on the student's academic program.
July 1 is the application deadline. If applicants have any questions, please contact Toria Shaw (tshaw@himss.org, 312-915-9517).

HIMSS Student Survey
The HIMSS Students and Early Careerists Task Force has developed a survey with the intention of gaining insights regarding what students want from a professional association like HIMSS. We encourage all SBMI students to complete the survey as HIMSS will use the data to directly inform decisions regarding the immediate and continuing future of the resources and programs it provides.
The survey is available online and will take about 10-15 minutes to complete.

Upcoming SBMI Recruiting Events



Several SBMI faculty and staff members will be traveling in the coming months to attend conferences to promote our degree programs. We invite any prospective students or alumni in the area to visit us during these events.
Professor James Langabeer, PhD, MBA was interviewed for a Community Impact Newspaper story recently. He discussed the growing trend of medical offices being incorporated into retail and restaurant developments.
The Journal of Emergency Medical Services ran a feature story on the HEROES program, which is an opioid use prevention program created by James Langabeer, PhD, MBA.
Save the Date
Aug. 13
Summer 2019 Poster Session
SBMI's Building Expansion (6th floor of UCT), 4 p.m.
Important Dates
| | |
| --- | --- |
| July 4 | Independence Day - University is closed |
| July 17 | Fall 2019 registration opens in myUTH |
| July 19 | PhD - Last day to defend dissertation |
| Aug. 9 | PhD - Last day to defend proposal |
| Aug. 12 | Last class day for summer 2019 semester |
| Aug. 13-14 | Final exams & evaluations for summer 2019 |
| Aug. 14 | Electronic copy of state of the science/capstone or dissertations due to the Office of Academic |
| Aug. 26 | First class day for fall 2019 semester |