Volume 8, Issue 10
May 24, 2018
SBMI Year in Review
With the summer semester beginning this month, another academic year at SBMI will soon come to a close. Make sure you watch SBMI's latest "Year in Review" video on YouTube for a recap of the 2017-2018 school year.
Congratulations SBMI Graduates
SBMI hosted its annual Commencement Ceremony on May 9 where 35 graduates participated in the ceremony as they earned a master's or doctoral degree from SBMI this year. The commencement speaker was State Representative John Zerwas, M.D. and the ceremony took place at the Shepherd School of Music at Rice University in the Stude Concert Hall.

We would like to congratulate the following students who participated in our Commencement ceremony.
Summer 2017 Graduates
Ph.D. – Scott Sittig
M.S. – Suhasini Bangar
M.S. – Edward Elms
M.S. – Xun Xu
M.S. – Edward Yao
Fall 2017 Graduates
Ph.D. – Barbara Berkovich
Ph.D. – Francis Manion
M.S. – Laura Bryan
M.S. – Flordeliz Cheatham
M.S. – Stephany Diaz
M.S. – Angela Ethridge
M.S. – Farah Mukheef
M.S. – Maria Razo
M.S. – Robert Salazar
M.S. – Alexander Zarutskie
M.S. – Sicheng Zhou
Spring 2018 Graduates
Ph.D. – Melissa Resnick, M.L.S., M.S.
M.S. – Itunu Adebola
M.S. – Maria Adesodun
M.S. – Lillian Aidi-Way
M.S. – Stephen Alexander
M.S. – Lilia Bazan
M.S. – Ashley Brown
M.S. – Surabhi Datta
M.S. – Belqis El-Ferjani
M.S. – Syeda Nusheen Fathima
M.S. – Anshul Gandhi
M.S. – Victoria Limon
M.S. – Irene Marron
M.S. – Diana Morah
M.S. – Sreedevi Nair
M.S. – Prithvi Patil
M.S. – Michelle Pelham
M.S. – Fiona Smith
M.S. – Sheryl Yanga
Several award winners were announced during the ceremony as well, including the SBMI John P. McGovern Outstanding Teacher Award winner for 2017-2018 – Assistant Professor Angela Ross, D.N.P., M.P.H., PMP.

Alumna & Professor Constance Johnson, Ph.D., M.S., RN, FAAN was awarded the 2018 Distinguished Alum Award from the SBMI Alumni Association.

SBMI M.S. student Laura Vincent won the spring 2018 Paul C. Boyle Award for Excellence in Research with her poster titled "The Incidence of Unnecessary Prehospital Transfusions."

Congratulations to all award winners and to our newest group of SBMI alumni.
Click here for ceremony photos.
Click here for ceremony video.
SBMI Bragging Points
Members of the SBMI Community have recently achieved noteworthy accolades. We want to recognize them and applaud their accomplishments.
Assistant Professor Angela Ross, D.N.P., M.P.H. was honored in late April by Healthcare For the Homeless – Houston (HHH) at the Baylor College of Medicine Volunteer Luncheon. Ross spent six months helping the facility garner the tools needed for a workflow analysis. HHH wanted to identify data requirements before moving to a patient-centered medical home model. Ross helped administrators by evaluating the facility through direct observations, review of facility policies and current data requirements.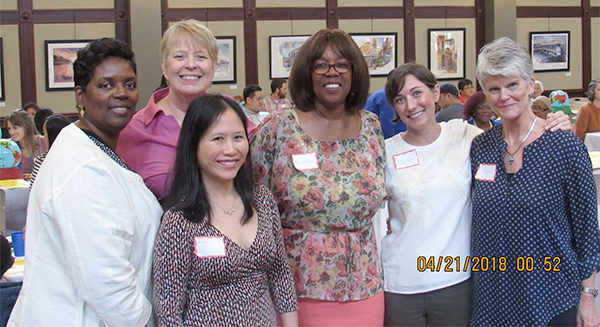 (L-R) V.A. Nurse Administrator Dr. Kai Makeda, HHH Chief Executive Officer Frances Isbell (back), HHH Chief Medical Officer Dr. Naomi McCants (front), Dr. Angela Ross, HHH Executive Vice President Carlie Brown, and HHH Director of Clinical Operations Dr. Jeanne Hanks.
Professor Jim Langabeer, Ph.D., MBA, recently spoke at the Houston Hepatitis Task Force Annual Conference during a session titled "Current State of the Opioid Crisis."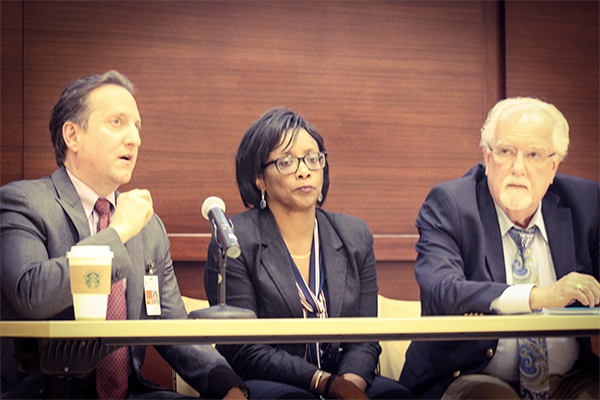 Professor Jim Langabeer, Ph.D., MBA.
JAMIA recently published an article co-authored by Professor Dean Sittig, Ph.D. and Alumna Mandana Salimi, M.S., along with a group of other researchers.
Associate Professor Robert Murphy, M.D. was recently interviewed for a Cerner podcast. He focused on the "now and next of applied informatics in health care."
Certificate student Garett Hall, B.S.N., RN, won a Registrar Abstract Competition earlier this month for an abstract he submitted.
If any SBMI alumni or current students want to announce a recent professional accomplishment in a future Academic Update, please share the details with Chelsea Overstreet via email at Chelsea.E.Overstreet@uth.tmc.edu.
Earning PMP Certification with SBMI
SBMI is proud to announce that the school is now a Registered Education Provider (R.E.P.) for the Project Management Institute (PMI). SBMI's Systems Analysis and Project Management course, also called BMI 5328, meets the educational experience requirement needed for Project Management Professional (PMP) Certification.

According to PMI, survey respondents for the PMI Earning Power Salary Survey indicated that professionals with PMP certification earn a 23% higher salary, on average, than those without the certification.
Assistant Professor Angela Ross, DNP, MPH, PMP, PHCNS-BC is the course instructor and played an instrumental role in revamping the content to meet the PMI requirements. "Companies want to employ individuals who can deliver health IT projects on-time and within budget," Ross continued. "Employers are discovering that adhering to PMI methods and strategies can reduce risks, cut costs and improve project success."

To get the PMP certification, SBMI graduate students must successfully complete BMI 5328 as the course allows them to earn the required 35 hours of educational experience. Students must also have a minimum of 4,500 hours of project management experience in leading and directing projects. Once students meet those prerequisites, they can apply to take the 200 question, multiple-choice certification exam.
Click here for the full news story.
AMIA 2018 Student Design Challenge Now Open
The 6th Annual AMIA Student Design Challenge call for participation is now open. Like last year, the Student Design Challenge is inviting submissions that focus on leveraging Patient Generated Data for improving patient care. Patient-Generated Data (PGD) has become a focus of increasing attention for both health care providers and patients.
Eight teams selected as finalists will attend the AMIA Annual Symposium and present their solutions during the AMIA poster session in November in San Francisco. The Student Design Challenge panel invites the top three teams to participate in a formal presentation at AMIA.
Submissions are due Aug. 1. Visit the AMIA website for more details.
Upcoming SBMI Recruiting Events



Several SBMI faculty and staff members will be traveling in the coming months to attend conferences to promote our degree programs. We invite any prospective students or alumni in the area to visit us during these events.
June 4-6 - CHIA Convention & Exhibit in San Diego, CA
June 4-6 - ASHP – Informatics Institute in Denver, CO
June 10-12 - MaHIMA Annual Conference 2018 in Falmouth, MA
June 10-12 - International Conference on Intelligent Biology and Medicine (ICIBM 2018) in Los Angeles, CA
June 24-26  - 2018 TxHIMA Annual Convention in Austin, TX
Associate Dean for Research and Professor Elmer Bernstam, M.D., presented at the recent American College of Physicians Internal Medicine Conference. His presentation was featured in Healio.
Professor Constance Johnson, Ph.D., R.N., talked about the use of robots to help seniors age in their homes on KPRC Radio's Fifty+ show.
Save the Date
August 13
Summer 2018 Poster Session
UCT 1414, 4 p.m.
Important Dates
| | |
| --- | --- |
| May 21-24 | Class add/drop for students already registered |
| May 21-24 | Late registration open in MyUTH (late fees apply) |
| May 28 | Memorial Day - University is closed |