Volume 10, Issue 2
October 25, 2019
SBMI Bragging Points
Members of the SBMI Community have recently achieved noteworthy accomplishments. We want to recognize and congratulate them.
Professor James Langabeer, PhD, MBA was recently appointed to the National Quality Forum's Electronic Health Records (EHR) Data Quality Technical Expert Panel. The committee will be responsible for identifying e-clinical measures and data sources that come from EHR systems that will be developed for future performance outcomes, payment measures, etc.
Kathy de Figueiredo, MS alumna and current DHI student, was awarded a student scholarship to attend the Institute for Healthcare Improvement's 2019 National Forum on Quality Improvement in Health Care. The Forum is Dec. 8 to 11 in Orlando, FL.
PhD Student Roni Matin will present a poster at the AMIA 2019 Annual Symposium next month. She also earned an AMIA Trainee Travel Award.
Professor Dean Sittig, PhD and Adjunct Associate Professor Hardeep Singh, MD co-authored an article that was recently published by the JAMA Network.
Catalog Addendum Notice for DHI Students
This is a notification regarding an addendum to the 2018-2020 School of Biomedical Informatics catalog that has been approved and posted to the SBMI website.
In addition to the 2018-2020 catalog was to outline the progression requirements for students in the Doctorate in Health Informatics program. This progression information was also explained to the students during the DHI Student Orientation in August, but has now been formally documented and approved by UTHealth.
You can find the updated catalog with the addendum here (pg. 67): SBMICatalog 2018-2020 With AddendumBooklet 10/2/2019
If any DHI Students have questions, please contact the Office of Academic Affairs at SBMIAcademics@uth.tmc.edu.
HIMSS 2020 Program Assistant Application is Open
HIMSS is accepting applications if any students want to apply to become Program Assistants for the 2020 HIMSS Global Health Conference and Exhibition.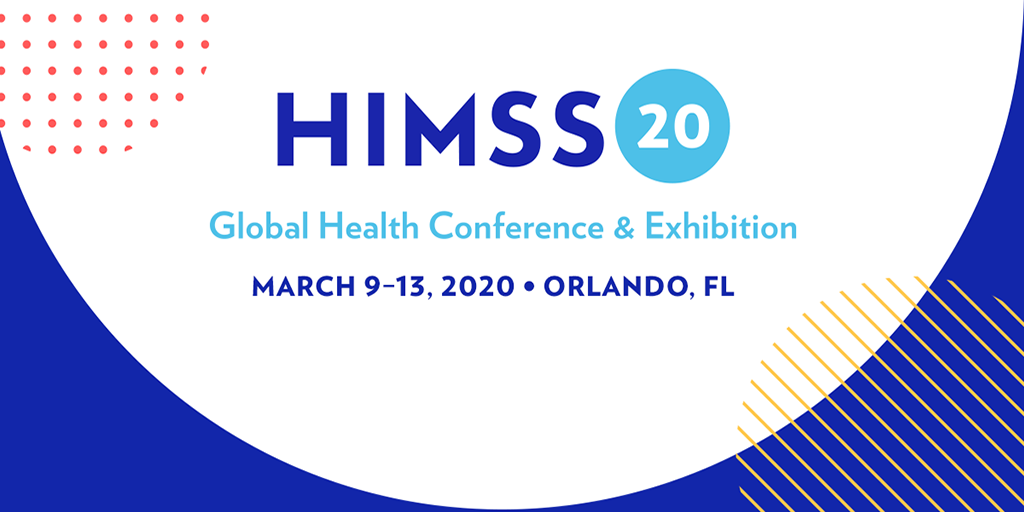 Program Assistants will get to network, attend HIMSS20 sessions and explore the conference exhibit hall. In addition, here are other perks provided to Program Assistants:
2020 HIMSS full zip jacket
Access to the exhibition hall & conference education sessions
All scheduled daily meals throughout the conference, including a breakfast briefing, lunch, student/staff dinner and social functions
Complimentary shared housing
Complimentary conference registration
Daily transportation to/from the convention center
Post-conference cash incentive based on performance
In order to be a Program Assistant, students must meet these criteria:
A current graduate student at SBMI
Available to be onsite in Orlando, FL full time from the dates of March 8 to March 13, 2020 (the conference officially ends at 3 p.m. EST).
Age 21 years or older
Applications are due by Friday, Nov. 29 and students must apply online.
CDC Public Health Informatics Fellowship Opportunity
Applications are being accepted for the CDC Public Health Informatics Fellowship (PHIFP).

PHIFP fellows are data detectives that aid the CDC, other federal agencies, state and local health departments, and international public health organizations investigate and solve complex public health informatics challenges. PHIFP seeks high caliber Master's or PhD-level candidates to apply for the incoming Class of 2020.
The application period is currently open through November 4, 2019. More information is available on the PHIFP application web page.
UT System Archer Center Graduate Fellowship Program
The Archer Center's summer Graduate Archer Fellowship Program provides UT System graduate, medical and other professional (graduate degree level) students the opportunity to learn about policymaking and public service through a fulltime professional internship and classroom experiences in Washington, D.C., during a summer fellowship. Archer Fellows earn in-residence academic credit at their home institution. With the array of government, media, research and cultural institutions in Washington, D.C., students have unparalleled access to seasoned professionals and subject matter experts. As Archer Fellows, students utilize the skills and knowledge developed at their home campuses to address real domestic and global issues facing the nation today.
As part of the program, fellows choose their full-time internships based on personal, professional, and academic goals. Fellows are responsible for researching and applying to the internship of their choice. However, Archer Center staff members have many contacts from throughout D.C. and the UT System that provide guidance during the process. UTHealth Fellows earn nine (9) hours of in-residence credit through courses from the School of Public Health. Graduate Archer Fellows also participate in a specialized working group in one of four topic areas: General Domestic Policy, Health and Healthcare Policy, National Security and Global Policy.
All students participating in the Graduate Archer Fellowship Program pay a flat Archer Center Program Fee in lieu of tuition and fees at their home institution, as well as the cost of housing, transportation, meals and incidentals. The Archer Center currently provides some partial stipends to help fund this experience in Washington, D.C., and funds have also been designated to support students studying specific policy areas. Please visit the Funding Your Fellowship page on their website for further information. Additionally, UTHealth has committed to providing financial support to help cover housing costs for students selected to the program.
View the Archer Center's (three-minute) video to learn first-hand from the program founder, Congressman Bill Archer, and alumni about the impact of the program. Students can also visit the Archer Center website at www.archercenter.org or contact archeradmissions@utsystem.edu to learn more.
The Summer 2020 Graduate Archer Fellowship Program online application deadline is Thursday, November 7, 2019 at 11:59 PM CST.
Upcoming SBMI Recruiting Events
Several SBMI faculty and staff members will be traveling in the coming months to attend conferences to promote our degree programs. We invite any prospective students or alumni in the area to visit us during these events.

The Texas Health Journal included UTHealth in several stories for its special issue about workforce development. Associate Dean for Academic Affairs & Professor Susan Fenton, PhD, was quoted in a story focused on SBMI's new Doctorate in Health Informatics (DHI) program.
Save the Date
Oct. 30
Leslie Lenert, MD
SBMI Research Seminar in UCT E.612 & E.614, 12 p.m.
Nov. 6
Harnessing Online Social Networks for Interventions Targeting Adolescent and Young Adult (AYA) Cancer Survivors – Carlos Perez Aldana
SBMI Research Seminar in UCT E.612 & E.614, 12 p.m.
Nov. 13
Computational modeling tools to facilitate shared decision making in breast reconstruction surgery – Fatima Merchant, PhD
SBMI Research Seminar in UCT E.612 & E.614, 12 p.m.
Important Dates
| | |
| --- | --- |
| Nov. 8 | Ph.D. - Last day to defend dissertation |
| Nov. 13 | Spring 2020 registration opens in myUTH |
| Nov. 25 | M.S. - State of science/capstone drafts to Advisors for review |
| Nov. 28-29 | Thanksgiving holiday – University is closed |
| Dec. 6 | Last class day for fall 2019 |
| Dec. 9 | SBMI's fall Poster Session |
| Dec. 9-13 | Final exams/evaluations |