John Riggs, MD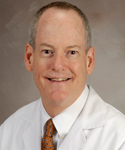 John Riggs is a native Houstonian, having grown up in the shadow of the Texas Medical Center, the son of one of Houston's first infectious disease specialists and a UTMB Professor of Nursing. He graduated from Trinity University with a bachelor's degree in Spanish in 1982 and then came home to UT where earned his medical degree in 1986, and completed a residency in Obstetrics and Gynecology in 1990. Since then he has worked as a member of the UT Houston Ob/Gyn faculty establishing the highly-valued clinical environment at Lyndon B. Johnson General Hospital. He spent many years developing educational programs for medical students and residents and advanced the LBJ Ob/Gyn residency from provisional to full accreditation. In that role, he has earned recognition by his residents and peers as an outstanding teacher.
In 1998 he enrolled in the new UT "School of Health Information Sciences", seeking to understand how clinical information systems can integrate the best clinical research evidence into clinical practice. He focused his education on the concepts of usability, decision support tools and data warehouse design. Since completing his Masters in 2000, he has had an ever-increasing informatics roll within the Harris County Hospital District as their Medical Director of Clinical Information Systems. Since 2005, he has overseen the implementation of an integrated ambulatory and inpatient Electronic Health Record that connects three hospitals and 40+ ambulatory locations providing approximately 1.3 million patient encounters per year. They were recently awarded both the "Health Forum Most Wired" and HIMSS Level 6 awards in 2011 and paid host to the Secretary of Health and Human Services.
Dr. Riggs believes professionals trained in the art and science of biomedical informatics are key resources in the improvement of human health.