School of Biomedical Informatics
---
SBMI Blog Articles

Nursing Informatics
---
Wednesday, April 1st, 2015
written by Chelsea Overstreet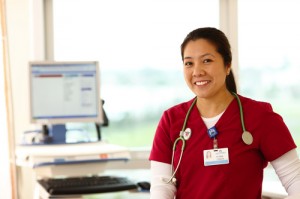 The field of health informatics is vast and multidisciplinary. Informatics is necessary to improve the quality and safety of patient care across the health care continuum. Nurse informaticists play a particularly crucial role in the practice of informatics. In fact, the Director of Informatics, Patient Care Services at Children's Hospital of Orange County, Ruth Slater, R.N., B.S.N, recently stated that "the nursing process is also the driving force of informatics practice."
Nurses have been closely involved in the development of informatics. The American Nurses Association (ANA), which currently offers certification in informatics for nurses, defines nursing informatics as the "specialty that integrates nursing science with multiple information and analytical sciences to identify, define, manage and communicate data, information, knowledge and wisdom in nursing practice." ANA goes on to note that it "supports consumers, patients, nurses, and other providers in their decision-making in all roles and settings."
The objective of nursing informatics is to improve information management and communications to ultimately improve patient-centered care and deliver quality and safe health care. A 2014 HIMSS Nursing Workforce survey found that nurse informaticists play a crucial role in the development, implementation and optimization of information systems and applications in health care systems. Nurse informaticists work in all settings from acute and/or ambulatory care in hospitals and healthcare systems to academia and beyond. With informatics growing rapidly, nursing informatics is following suit.
SBMI is committed to advancing the field of nursing informatics and towards that goal, will collaborate with The UTHealth School of Nursing to offer a Doctor of Nursing Practice (D.N.P.) degree program with an informatics focus for nurses in the fall of 2015. This is the only collaborative program of its kind offered in the state of Texas.
Additionally, UTHealth SBMI facilitated the donation of a collection of nursing informatics books, journals and publications to the John P. McGovern Historical Collections and Research Center at the Texas Medical Center Library during the fall of 2014. Having top-tier nursing informatics degree programs and resources at their disposal allows our students to make impactful advances in the field of nursing informatics.
The future of nursing informatics is very promising as the need for nurse informaticists continues to grow. The next goal in the field is to achieve interoperability and optimization across nursing information systems. 81% of the HIMSS Nursing Workforce survey participants stated that they were currently satisfied with their career choice in nursing informatics. SBMI only hopes that more nurses will advance their education through advanced studies in informatics.