How Virtual and Augmented Reality Are Influencing the Future of Health Care
---
Wednesday, April 27th, 2016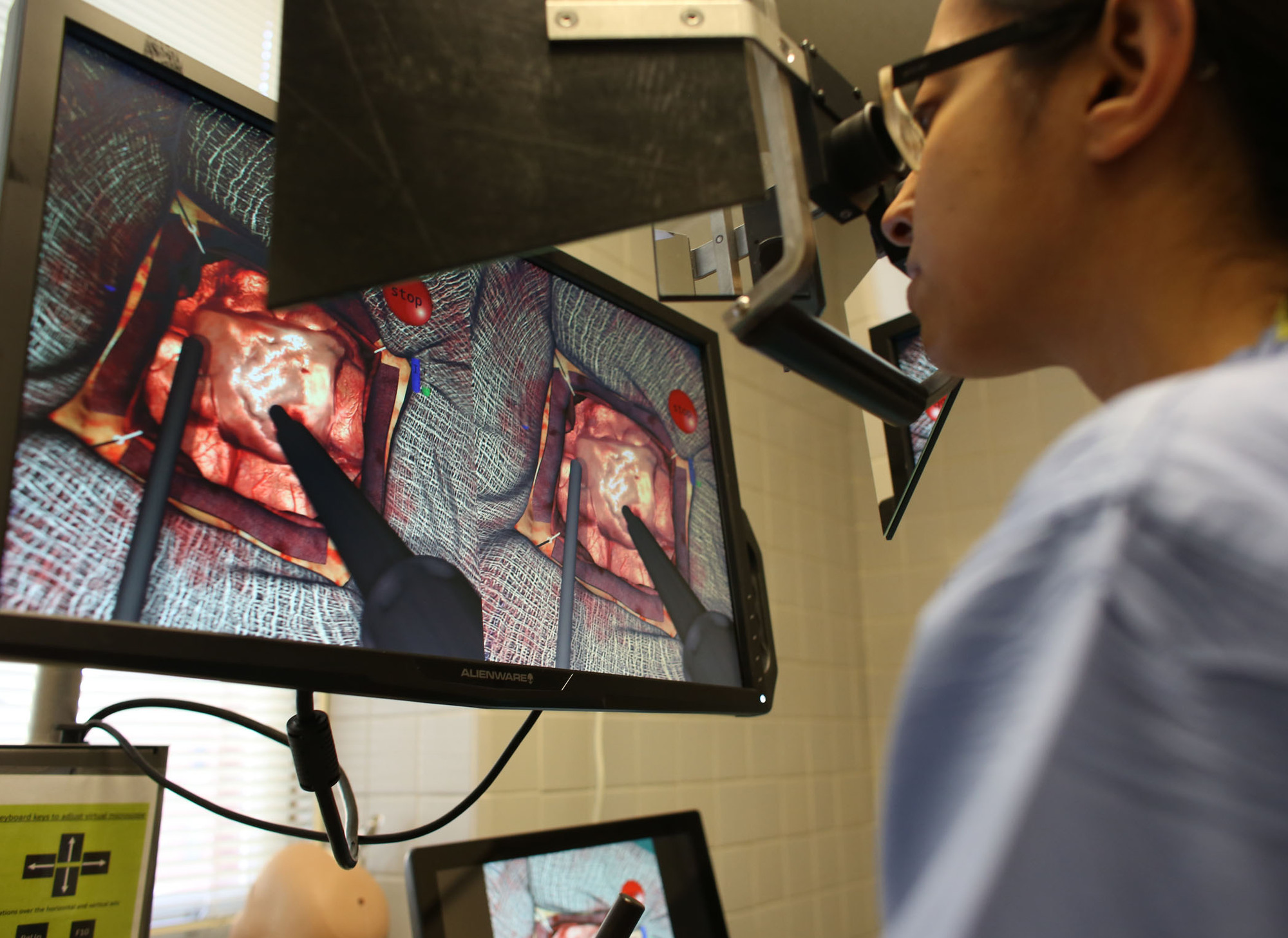 Source: Virtalis, The University of the West of England (UWE)
Virtual and augmented reality (VR and AR, respectively) have been an area of intrigue for some time now. Nearly 20 years ago, UTHealth was making news with virtual reality applications for health, and now the health care facilities that compose the Texas Medical Center are leading the way nationally.[1] Initially little more than a novelty, the technology is improving by leaps and bounds, and so are its practical applications, from improved physician training to pain management.
As this technology is further refined and more widely adopted, there is massive potential for truly revolutionized care.
Improved Training Programs
VR and AR technology create new possibilities for in-depth physician training programs. Currently, most hands-on instruction involves cadavers, videos, and in-person shadowing. Already, the technology has the ability to stream surgeries live, as they happen[2]. This gives the surgeon-in-training the chance to experience surgeries in real-time, from a far more intimate perspective.
The possibilities go beyond live-streaming. The implementation of VR/AR adds a new layer of learning, thereby augmenting and reinforcing each skill. Imagine being able to instantly draw up a fully detailed, three-dimensional projection of a human body, and then being able to interact with it and the various systems.
At Houston Methodist, surgeons in the BrainLab can use MRI imaging to map out an individual patient's brain. This enables them to not only plan surgery but perform it, even in hard-to-reach places.[3]
Pain Management & Rehabilitation
Rehabilitation is another area where VR/AR can profoundly help patients. For example, programs have been designed to guide patients through a series of exercises that strengthen
and improve mobility. One such device, CAREN (Computer Assisted Rehabilitation Environment) has been used to help wounded warriors, stroke victims, and even patients suffering from dementia.[4]
For patients living with or recovering from chronic physical pain, VR/AR technology offers a new alternative. New programs and devices allow patients to learn how to cope with and monitor their pain[5]. Several studies have shown that VR/AR technology acts as an effective distraction from chronic pain, dulling the sensation.
Anxiety, PTSD and some specific phobias are also being addressed through VR/AR technology. The interactive programs allow patients to practice various coping strategies in a safe environment. This takes some of the pressure off, allowing patients to practice their skills and become less avoidant of triggers in the real world.
JLabs @ TMC, a recent addition to the Texas Medical Center by Johnson & Johnson, incorporates a new patient-centered use of VR, using the technology to bring together cancer patients and clinicians to play to their strengths, communicate freely and jointly develop therapies.[6]
Mindfulness & Meditation
With the ability to take users anywhere, VR/AR technology provides access to environments well-suited to mindfulness and meditation. This particular brand of self-care has proven to be vitally important to overall well-being, and VR/AR makes it accessible.
Additionally, the technology offers a viable escape for home-bound patients. VR/AR brings the world to individuals who are not able to easily walk or travel, improving their overall quality of life. There are numerous programs available, allowing users to experience everything from a helicopter ride through Iceland to a calming walk through the Appalachian wilderness.
The Future of VR/AR Technology
With so much potential, there is no doubt VR/AR technology will become widespread throughout health care, impacting all levels of care, and Houston will continue to be a major player in its progress.
---
[1] http://www.tmc.edu/tmcnews/04_01_98/page_05.html
[2] http://arstechnica.com/science/2016/04/watch-medical-realities-vr-surgery-live-stream/
[3] http://www.houstonmethodist.org/1285_houstonmethodist/738_servicesandspecialties/2044...
[4] http://www.independent.co.uk/life-style/health-and-families/health-news/dementia-sufferers...
[5] http://www.npr.org/sections/health-shots/2016/01/26/464372009/how-meditation-placebos-and-virtual-reality-help-power-mind-over-body
[6] http://www.bizjournals.com/houston/morning_call/2016/03/photos-tour-johnson-johnsons-new-space-in-texas.html