School of Biomedical Informatics
---
SBMI Blog Articles

SBMI Heads to Orlando for HIMSS17
---
Wednesday, February 15th, 2017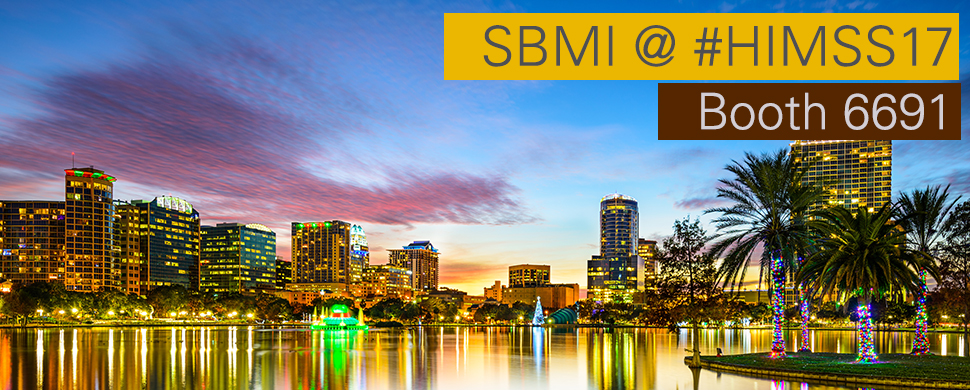 It's like Christmas in February….HIMSS17 has arrived! The annual conference & exhibition is Feb. 19 to 23 in Orlando. This year, the Orange County Convention Center (OCCC) will play host to the conference. Considered one of the largest convention centers in the country, the OCCC is around 7 million square feet. So for HIMSS17, there will literally be lots of ground to cover.

SBMI will be well represented at the conference this year, so here are some SBMI highlights to look for at HIMSS17.
Nina Smith is a Ph.D. student at SBMI and came in third place for the inaugural HIMSS National Health IT Week Student Advocacy Challenge. Smith will be recognized during a joint State Advisory Roundtable and Chapter Advisory Roundtable Luncheon, on Feb. 20 (luncheon is by invitation only) and at the annual Public Policy Breakfast on Feb 21.
Professor Hua Xu, Ph.D. and staff from his lab will have a booth at HIMSS17. CLAMP (Clinical Language Annotation, Modeling, and Processing Toolkit) is a comprehensive clinical natural language processing (NLP) tool that was developed in Xu's lab. The tool is based on several award-winning methods and applications that enable recognition and automatic encoding of clinical information in narrative patient reports. CLAMP provides customization via an easy-to-use graphical user interface and allows for annotation and corpora management. It has enterprise features and comes with a variety of default pipelines, Knowledge sources and sample clinical text. The CLAMP booth number is 5588 so please take time to visit during the exhibition.
SBMI student & Houston Methodist Director in IT Penny Black will lead a session titled "Managing a Legacy Team in an EHR Transition" on Feb. 21 at 8:30 a.m. (EST) in the Tangerine Ballroom (F2). The Session ID is 75.
Professor James Langabeer, Ph.D., M.B.A. will lead a session titled "Mobile Innovations and Telehealth in Emergency Care" on Feb. 21 at 2:30 p.m. (EST) in Room W206A (Session ID is 123).
The Chief Medical Informatics Officer of The University of Texas MD Anderson Cancer Center, John Frenzel, M.D., is also an alumnus of the SBMI program and an adjunct professor. Frenzel will lead a session (Session ID is 167) in the Tangerine Ballroom (F3) on Feb. 22 at 10:00 a.m. (EST) titled "Designing for Data First – Rapidly Deliver Data from an EHR."
Several SBMI students will be in attendance volunteering as HIMSS17 Program Assistants including Laura Bryan and Yujia Zhou. Keep your eye out for them when you attend sessions at HIMSS17.
Networking with your Lone Star State colleagues is a must! The Texas HIMSS Chapters are hosting a reception on Feb 21 at 6:30 p.m. (EST) at Howl at the Moon in Orlando. Please note that registration is required.
As always, make sure you visit the SBMI exhibition booth – 6691. But if you cannot make it to HIMSS17, you can still participate by following SBMI via social media for live tweets & photos of the sessions and events.