Exploring How Informatics is Changing Health Education during National Health Education Week
---
Wednesday, October 22nd, 2014
Lately, a global public health crisis has covered the news. Ebola is making its deadly way across communities in West Africa, and a few isolated cases have been diagnosed outside this region, including two nurses who contracted the Ebola virus in Dallas.
Controlling infectious diseases like Ebola is precisely the reason why the field of public health first became so important over a century ago. By teaching populations about evidence-based methods for containing disease, and by putting in place effective systems to prevent their rise, lives have been saved and public health has been improved.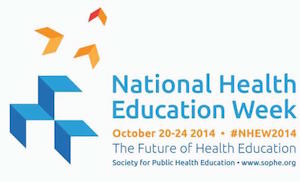 For almost 20 years, the Society for Public Health Education has sponsored National Health Education Week (NHEW), placing the national spotlight on public health and the important role it continues to play in our society. This year, NHEW is taking place October 20-24, celebrating the newest generation of health educators: those individuals currently completing or having recently completed degrees at one of the United States' approximately 250 public health higher education programs.
Applications of Public Health Informatics
Health educators shape policies and procedures, develop interventions and systems, and address health problems specific to various populations. Because they must rapidly obtain and accurately interpret data from various sources, public health professionals traditionally have been early adopters of health informatics, pioneering the integration of health information technologies (HIT) into their work1.
Returning to news coverage of the current Ebola outbreak, it is evident that informatics is proving essential to global efforts to end this crisis. Here are just a few examples.
Late last month, the UC Santa Cruz Genomics Institute made publicly available the UCSC Ebola Genome Portal, a resource for scientists seeking to create a vaccine2. The Network Dynamics and Simulation Science Laboratory has developed a computer model in an effort to anticipate the continuing outbreak of the disease3. HealthMap—an open-source network for collecting real-time data on infectious diseases from health officials and news and social media sources—has been in the news for its ability to spot early indicators of outbreaks, including the current Ebola crisis4.
Informatics is shaping public health dramatically, and not only in this isolated instance. Far more broadly, public health informatics is addressing public health challenges around the world.
UTHealth SBMI's Role
UTHealth SBMI celebrates National Health Education Week as the nation's only stand-alone school of health informatics. SBMI's leadership within the field of health informatics is only bolstered by its dual degree programs in public health. Because of its collaborative relationship with the University of Texas School of Public Health, SBMI plays a unique and important role in the future of health education.
UTHealth SBMI offers two dual degree programs with the University of Texas School of Public Health: a MS/MPH and a PhD/MPH. By gaining a deeper understanding of public health informatics through an integrated academic program, students are prepared to address the public health issues that our increasingly-interconnected global society faces.
To learn more about dual degrees between UTHealth SBMI and the University of Texas School of Public Health, visit our website. Applications for spring 2015 enrollment are due November 15.
References
1Yasnoff W, O'Carroll P, Koo D, Linkins R, Kilbourne E. Public Health Informatics: Improving and Transforming Public Health in the Information Age. Journal of Public Health Management and Practice. 2000; November: 67-75.
2Lasnier G. UCSC Ebola genome browser now online to aid researchers' response to crisis. October 2014; Available from: http://news.ucsc.edu/2014/09/ebola-genome-browser.html (Accessed October 2014).
3Computing for Ebola Challenge. October 2014; Available from: http://www.homelandsecuritynewswire.com/dr20141008-computing-for-ebola-challenge (Accessed October 2014).
4Pasquantonio V. How mapping the Ebola outbreak may ease future health crises. August 2014; Available from http://www.pbs.org/newshour/rundown/mapping-ebola-outbreak-may-help-future-health-crises/ (Accessed October 2014).