SBMI Visits NOLA for the 2015 AHIMA Convention & Exhibit
---
Wednesday, September 23rd, 2015
The 2015 AHIMA Convention & Exhibit officially begins later this week. Several members of the SBMI community will be in attendance for the 87th annual convention that the organization will host. In honor of the upcoming convention, we have created a "David Letterman Top 10" list of things you must do while in New Orleans for the convention.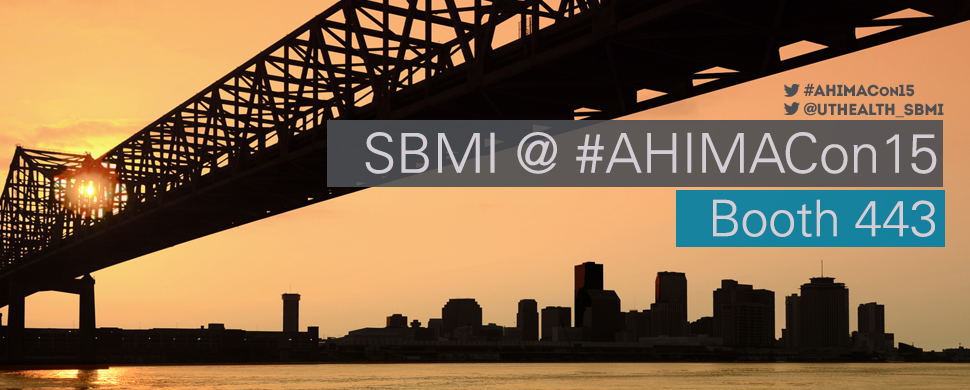 Be sure to follow SBMI on Twitter during the convention to get the latest details on sessions and seminars if you cannot attend. But if you are in New Orleans, remember to use #AHIMACon15 with all your social media posts.
Susan Fenton, Ph.D. is presenting on health informatics in rooms 243-245 on Wednesday, Sept. 30 at 10 a.m. so attending her session is a must.
Visit SBMI at Booth 443 to learn about our health informatics programs and grab some awesome giveaways. You can view the convention floor plan online to see who else will be at the New Orleans Morial Convention Center for #AHIMACon15.
You have to eat some delicious New Orleans cuisine. We suggest cafe' au lait & beignets from Café Du Monde, bananas foster at Brennan's, gumbo from the Gumbo Shop and oysters at the raw bar at Pêche Seafood Grill. That should cover you for your first day!
SBMI doctoral student Scott Sittig will talk about utilizing a "Medical Claims Database to Create a Data-Driven Consumer Engagement mHealth Solution." Scott will present on Wednesday, Sept. 30 at 8 a.m. in rooms 243-245.
Robin Roberts will be the closing keynote speaker on Wednesday, Sept. 30. The co-anchor of ABC's Good Morning America will also be on hand to sign copies of her latest book.
Cruise the Mississippi with the Creole Queen while you are in New Orleans. There is even a dinner jazz cruise so you can watch the sunset on the river.
AHIMA will have various professional and career development sessions going on and we encourage all students to attend. There will be a career fair (bring your resume) and free professional headshots as well.
Review the convention schedule ahead of time. You want to hit the ground running during the #AHIMACon15 so we suggest creating your own personal schedule so you do not miss anything.
Enjoy yourself while you learn, network and explore the exciting HIM field. Take it easy while you visit the Big Easy and make the most of your time at #AHIMACon15!
Share on: