Volume 9, Issue 9
May 23, 2019
Congratulations SBMI Graduates
SBMI hosted its annual Commencement Ceremony on May 15 in the school's new building space. Twenty five graduates participated in the ceremony as they earned a master's or doctoral degree from SBMI over the past year. The commencement speaker was Howard R. Hughes Provost and a Professor of Statistics at Rice University, Marie Lynn Miranda. PhD.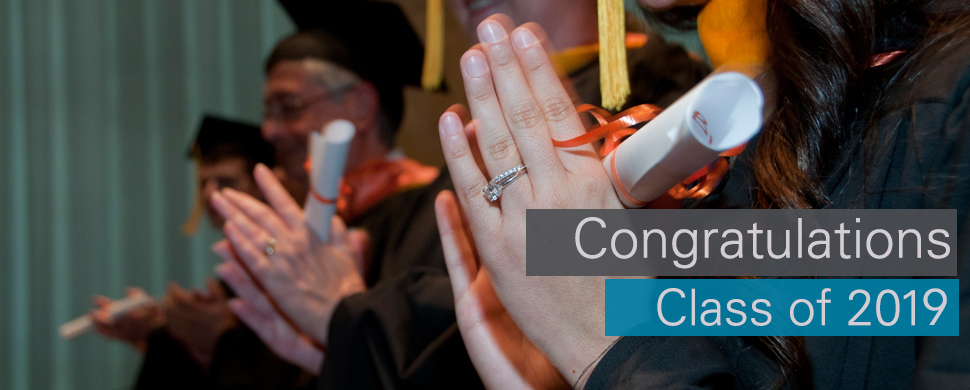 We would like to congratulate the following students who participated in our Commencement ceremony.
Summer 2018 Graduates

Ph.D. – Safa Fathiamini
Ph.D. – Jun Li
M.S. – Benedict Buentipo
M.S. – Olatomi Ijaseun
M.S. – Madhuri Sankaranarayanapillai
M.S. – Sobia Siddiqui

Fall 2018 Graduates

M.S. – Jane Ibekwe
M.S. – Stella Ibekwe
M.S. – Olanrewaju Ikpeekha
M.S. – Yadushyla Narasimhachar
M.S. – Betsy Thomas

Spring 2019 Graduates

Ph.D. – Vickie Nguyen
M.S. – Adeola Akinfaderin
M.S. – Ibijoke Amona
M.S. – Sridatri Chakraborty
M.S. – Brooke Curtis
M.S. – Arshad Ghauri
M.S. – Xinyue Hu
M.S. – Kendall Kiser
M.S. – Shruthi Manas
M.S. – Ankita Misra
M.S. – Christopher Schillaci
M.S. – Lisa Thompson
M.S. – Tammi Turner
M.S. – Blatene Wade
Several awardees were announced during the ceremony as well, including Muhammad Walji, PhD, MS, two-time alumnus and adjunct faculty member, who won the 2019 Distinguished Alum Award from the SBMI Alumni Association. SBMI Public Health Informatics Certificate Student Natalia Rodriguez was awarded the spring 2019 Paul C. Boyle Award for Excellence in Research with her poster titled "Acceptability and Feasibility of Using Video Visits for Weight Management Care."
SBMI's John P. McGovern Outstanding Teacher Award winner for 2018 – 2019 is Assistant Professor Tiffany Champagne-Langabeer, PhD. Additionally, The Glassell Family Foundation Distinguished Chair in Informatics Excellence Dean Jiajie Zhang, PhD recently created three distinct Dean's Excellence Awards. The acknowledgements will be awarded annually and they recognize SBMI faculty members for exceptional performance in research, teaching, and innovative application. That caliber of performance includes high impact publications, research, novel course development, exceptional teaching, and innovative applications that help SBMI's clinical partners. Here are the inaugural winners of the Dean's Excellence Awards:
Dean's Excellence Award in Research - Assistant Professor Luca Giancardo, PhD
Dean's Excellence Award in Teaching - Assistant Professor Kimberly Smith, PhD
Dean's Excellence Award in Innovation - Associate Professor Xiaoqian Jiang
Congratulations to all award winners and to our newest group of SBMI alumni.
Click here for ceremony photos.
Click here for ceremony video.
SBMI Applied MS Earns CAHIIM Accreditation
SBMI's Applied Health Informatics Master's program was recently awarded accreditation by the Commission on Accreditation for Health Informatics and Information Management Education (CAHIIM). Initial Accreditation was approved by CAHIIM's Board of Directors last month at its April 12th meeting.
The accreditation comes after a comprehensive program review conducted by the Health Informatics Accreditation Council and CAHIIM's Board of Directors. CAHIIM's accreditation process involves a rigorous program evaluation that takes multiple years to complete.
"Earning the CAHIIM accreditation demonstrates to our prospective, current, and former students that our applied master's program meets the standards set by peers from across the U.S.," noted Susan Fenton, PhD, RHIA, FAHIMA, Associate Dean for Academic Affairs, Professor and Program Director for the Master's Applied Track. "We are proud to offer students an education that is both relevant and provides current skills required by today's employers."
SBMI Bragging Points
Members of the SBMI Community have recently achieved noteworthy accolades. We want to recognize them and applaud their accomplishments.
The second cohort of DNP Informatics track students recently earned their degrees from UTHealth's Cizik School of Nursing. The success of this unique informatics track is a result of the interprofessional collaboration between SBMI and Cizik School of Nursing. Congratulations to these graduates:

Sarah J. Bottomley, MSN, RN, CPNP
Bunmi Cardoso Harvey, MSN, RN-BC
Delia Garcia MSN, APRN, FNP-C
Chizoma N. Iwuji MSN, RN
Phalassa McArthur MSN, RN-BC
Vertreca Gail Roberson Rose, MBA, BSN, RN-BC
Lavonia Thomas, MSN, RN, NEA-BC, CPHIMS
If any SBMI alumni or current students want to announce a recent professional accomplishment in a future Academic Update, please share the details with Chelsea Overstreet via email at Chelsea.E.Overstreet@uth.tmc.edu. 
AMIA 2019 Student Design Challenge Now Open
The 7th Annual AMIA Student Design Challenge call for participation is now open. The 2019 theme is: Reinventing Clinical Decision Support. This year, AMIA adopted a new format for the student design challenge that will focus on providing student teams with training and mentoring as they work on articulating their proposed solutions.
AMIA 2019 Student Design Challenge
The five most innovative proposals will be invited to participate in a virtual summer training program. During this program, the teams will be provided with training on topics related to the design of interactive systems in health, including but not limited to methods for understanding human practices and requirements gathering, theories and frameworks related to decision support, design methods, evaluation methods, and others. The training will include virtual lectures, and practical exercises.
At the end of the training program, the teams will submit their extended abstract of their final design solutions and a panel of distinguished members of the AMIA community will review and rate the proposed solutions. All five teams will be asked to attend the AMIA 2019 Annual Symposium in Washington, DC in November and present their solutions during the AMIA poster session. The top three teams, as selected by the SDC panel, will be invited to participate in a formal presentation at AMIA.
Submissions are due June 15. Visit the AMIA website for more details.
Upcoming SBMI Recruiting Events

Several SBMI faculty and staff members will be traveling in the coming months to attend conferences to promote our degree programs. We invite any prospective students or alumni in the area to visit us during these events.
Save the Date
Aug. 13
Summer 2019 Poster Session
SBMI's Building Expansion (6th floor of UCT), 4 p.m.
Important Dates
| | |
| --- | --- |
| May 20 – 23 | Class add/drop for students already registered |
| May 20 – 23 | Late registration open in MyUTH (late fees apply) |
| May 27 | Memorial Day - University is closed |