Volume 9, Issue 11
July 25, 2019
Fall 2019 Course Registration Now Open
SBMI Students:
Remember that regular registration for fall 2019 courses opened on July 17 and will run through August 23 in myUTH. If you have questions regarding registration, email the Office of Academic Affairs at SBMIAcademics@uth.tmc.edu.
The fall 2019 semester will begin on August 26. For a full list of courses offered in the fall, visit the SBMI Semester Schedule webpage.
Dr. Fenton Awarded 2019 Regents' Outstanding Teaching Award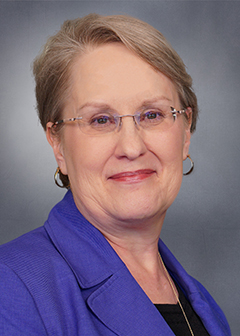 SBMI's Associate Dean for Academic Affairs and Associate Professor, Susan Fenton, PhD, RHIA, FAHIMA, was selected to receive the 2019 Regents' Outstanding Teaching Award from The University of Texas System earlier this month. She is one of 27 educators from UT System's 14 academic and health institutions to receive the prestigious award this year.
"Receiving this award is both an honor and a privilege," stated Fenton. "Nothing happens in health without data and information; my students hear me say this multiple times each semester. That is what drives my passion for teaching biomedical and health informatics to as many interested people as possible, both on campus and in the community at large."
All awardees receive $25,000 and will be presented a certificate and medallion during the Board of Regents meeting in Austin on Aug. 14. Additionally, a luncheon will be held in their honor in conjunction with the meeting.
SBMI Bragging Points
Members of the SBMI Community have recently achieved noteworthy accomplishments. We want to acknowledge and congratulate them.
Kendall Kiser, who became SBMI's first Dual Degree MD/MS graduate in May, was awarded two scholarships recently. Kendall was awarded a Houston HIMSS Chapter scholarship in late May and the TxHIMA Outstanding Student Scholarship award earlier this month.
Assistant Professor Dr. Tiffany Champagne-Langabeer was recently selected as the UTHealth Interfaculty Council (IFC) Chair-Elect for next year (FY 2020). IFC is the representative body of the faculty for all UTHealth schools to the University President.
Several members of the SBMI community, including an alumna, faculty members and a current PhD student (the first named author, Qiang Wei), had a JAMIA article published in mid-July. They collaborated with other informatics researchers from around the country as well.
SBMI Alumna Regina Wysocki, MS was recently named to the HIMSS Nursing Informatics Committee.
Associate Dean for Academic Affairs and Associate Professor Susan Fenton, PhD, was chosen by the TxHIMA Board of Directors to receive the Legacy Award last month. The Legacy Award is TxHIMA's highest honor as it recognizes an Active Member of TxHIMA who has shown exemplary leadership within the organization and has made outstanding contributions to the profession and the professional association.
Two SBMI PhD Students (Yuqi Si & Jingqi Wang) and two SBMI faculty members (Hua Xu, PhD & Kirk Roberts, PhD) have an article that was published in JAMIA earlier this month.

DII Data Science Challenge

SBMI is hosting the DII Data Science Challenge this year. This is a great opportunity to participate in a data science challenge using a dataset derived from Cerner Health Facts®. The Challenge features three tracks with a $7,500 prize for the winning team in each track.
Challenge teams may have from 2-8 members; a team leader must be selected and an institutional/departmental officer must approve team member participation.
The DII Challenge timeline for 2019 is as follows:
July 12, 2019: Challenge Team Registration Begins
July 26, 2019: All registration forms and institutional support material due
July 30, 2019: Release Training Data
September 5, 2019: Release Test Data
September 12, 2019: Challenge Solutions Due
September 19 2019: Challenge Winners Announced
October 18, 2019: Challenge Workshop
Go to the following website for the Challenge rules and registration instructions: https://sbmi.uth.edu/dii-challenge/index.htm. For questions related to the Challenge, please email DII.NDSC@uth.tmc.edu.
Registration is open now but closes Friday, July 26. All interested teams should visit SBMI's website to learn more.

TMC Library Closure
Please be advised that the TMC Library will be closed Saturday, July 27. The library is undergoing construction for renovations being made to the building.
Plan accordingly and make alternative arrangements if you want to use the library on that day.

Upcoming SBMI Recruiting Events

Several SBMI faculty and staff members will be traveling in the coming months to attend conferences to promote our degree programs. We invite any prospective students or alumni in the area to visit us during these events.
Professor Dean Sittig, PhD, was interviewed by Health Data Management about the costs of replacing electronic health record systems.
Professor James Langabeer, PhD, MBA, was quoted in a story on the blog for Esri, the company that owns the mapping app used to conduct his most recent geospatial research analysis.

Dr. Langabeer was also interviewed by STAT about a decision authorizing paramedics in New Jersey to start addiction treatment at the scene of an opioid overdose.
Important Dates
| | |
| --- | --- |
| Aug. 9 | PhD - Last day to defend proposal |
| Aug. 12 | Last class day for summer 2019 semester |
| Aug. 13-14 | Final exams & evaluations for summer 2019 |
| Aug. 14 | Electronic copy of state of the science/capstone or dissertations due to the Office of Academic |
| Aug. 26 | First class day for fall 2019 semester |
| Sept. 2 | Labor Day Holiday – University is closed |