Volume 12, Issue 7
March 24, 2022

Internship Application Currently Open
The GET PHIT program is currently accepting applications for a 160-hour part-time, paid internship program. Students who are eligible for financial compensation will receive a stipend ranging from $2,440 - $3,000, based on education and skill. The Summer 2022 internship begins in early June and ends in mid-August and the application is now open. The deadline to apply is April 1, so please visit this link to review the necessary application materials and submit an application.
Eligibility requirements include:
Must be a student at a GET PHIT institution (UTHealth is included)
Must participate in a GET PHIT boot camp, approved program and/or course
Have a strong interest in public health informatics and data science
Students from underrepresented minorities are strongly encouraged to apply
For practicum-eligible students, this internship can be used for practicum credit. Please contact Chelsea.E.Overstreet@uth.tmc.edu for more information.
Additional information on the GET PHIT program is available online. For more information, email GETPHITInternships@uth.tmc.edu.
| | |
| --- | --- |
| Joe Bridges, a Doctorate in Health Informatics (DHI) Candidate, successfully defended his Translational Project on March 11. Joe will be the first individual to earn a DHI degree from SBMI when he graduates in May of this year. | |
Alumnus Ashish Joshi, PhD (2012) was recently named Dean of the School of Public Health at the University of Memphis. His new position is effective August 1, 2022.
Professor Dean Sittig, PhD and Adjunct Professor Hardeep Singh, MD, MPH recently co-authored a JAMA article to explore systematic safety assessment of electronic health record (EHR) systems using the SAFER (Safety Assurance Factors for EHR Resilience) Guides Assessment. For more information on their study, visit the SBMI News Webpage.
Associate Dean for Academic and Curricular Affairs Susan Fenton, PhD guest-edited a special issue of the Journal of University Teaching and Learning Practice that was released on March 8 in honor of International Women's Day.
PhD Candidate Carlos Pérez-Aldana, MS has been named the HIMSS Steve Lieber Innovator Scholarship awardee for 2022.
As SBMI returns to regular on-campus course attendance, we hope to return to weekly, in-person SBMI Research Seminars as well. As such, we ask everyone in the SBMI Community to respond to a very brief survey. Responses collected will allow our staff to accommodate the needs of attendees for this weekly event.
TxHIMA Scholarship Application Now Open
Each year the Texas Health Information Management Association (TxHIMA) awards several education scholarships to students who demonstrate academic achievement and commitment to the field of health information management in Texas. TxHIMA promotes education and recruitment of new students as critical success factors for the HIM profession.
TxHIMA currently has two scholarship opportunities available for eligible SBMI students. The deadline for applications is Friday, April 22.
Diversi-Tea Party on Friday March 25
The entire UTHealth Community is invited to attend a Diversity Fair on Friday, March 25th from 3:30 to 5:00 PM. This event is an opportunity for everyone to come together and celebrate the aspects of their identity that make them diverse, and to educate others on cultures, traditions, and interesting topics through food, fun, and conversation.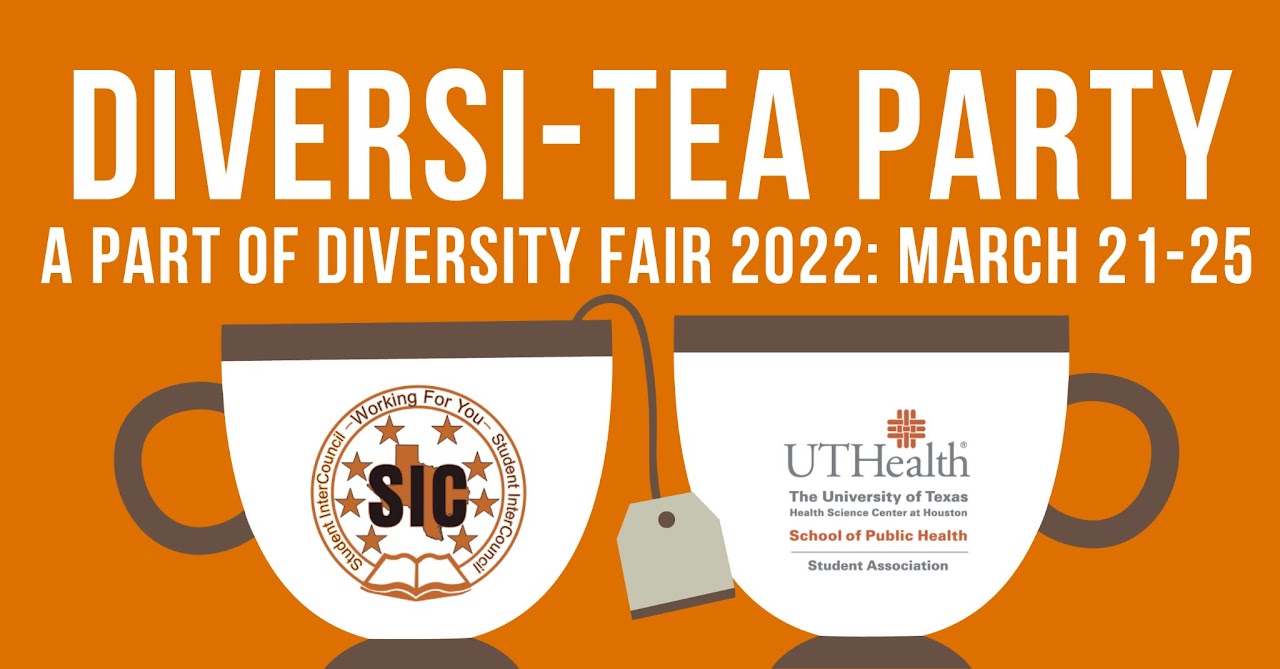 Explore the diversity of those in the UTHealth community with informative booths, as well as complementary Food and Boba Tea. The event will be at the UTHealth IM Field, 1828 East Road (near Bertner Ave).
Heroes Helpline Aids Healthcare Workers
UTHealth's Center for Health Systems Analytics is operating a 24/7 free and confidential helpline for all healthcare workers, first responders, and their families in Texas who have been impacted by COVID-19. Healthcare workers, including allied health students and professionals, and first responders are our heroes. The helpline is here to help our heroes and their families who have been experiencing an unprecedented level of stress and anxiety during the COVID-19 pandemic.

Please call the Heroes Helpline at 833-367-4689 to speak with trained staff who will guide you to mental health support resources in your area.
National Anthem Audition Opportunity
SBMI graduates will participate in the joint UTHealth Houston Commencement Ceremony on Friday, May 13. In preparation for that event, the university is searching for potential National Anthem performers to sing at the ceremony.

Members of the UTHealth Houston community are all invited to submit an audition video. Make sure you include your name and your school affiliation when filming your video submission. Audition videos need to be submitted online and April 1 is the deadline.
A study led by Associate Dean for Research and Professor Elmer Bernstam, MD, MSE was the focus of a Health Imaging article in February. The study showed that a new deep learning algorithm can identify significant findings on scanned radiology reports.
Professor Jim Langabeer, PhD, EdD, MBA, answered questions about health insurance for MoneyGeek.
Save the Date
Mar. 30
Investigate the composition changes of tumor microenvironment in various cancers by novel deconvolution approach
PhD Student Bingrui Li
SBMI Research Seminar
Apr. 6
Social Network Analysis of Online Support Communities for Adolescent and Young Adult Cancer Survivors
PhD Student Carlos Pérez-Aldana
SBMI Research Seminar
Apr. 13
Natural Language Cohort Query at the intersection of AI and HCI
Chunhua Weng, PhD
SBMI Research Seminar
Apr. 20
PhD Student Alexandra Zingg
SBMI Research Seminar
Apr. 27
State of the School
Dean Jiajie Zhang, PhD
SBMI Research Seminar
Important Dates
| | |
| --- | --- |
| April 8 | MS - Capstone Report drafts to Practicum Advisor for review |
| April 8 | MS - Titles of capstone & dissertation due in Canvas Graduation Course |
| April 13 | Summer 2022 registration opens in myUTH |
| April 29 | Last class day for spring 2022 |
| April 29 | Deadline for Removal of Incomplete Grades for fall 2021 |
| May 2 | SBMI Spring Poster Session |