Volume 10, Issue 9
May 22, 2020
Congratulations SBMI Graduates
SBMI published a pre-recorded Commencement Ceremony video on May 13. We encourage everyone to watch the video as we celebrate students who earned a master's or doctoral degree from SBMI over the past year. We want to thank Bela Patel, MD for delivering our Commencement Address.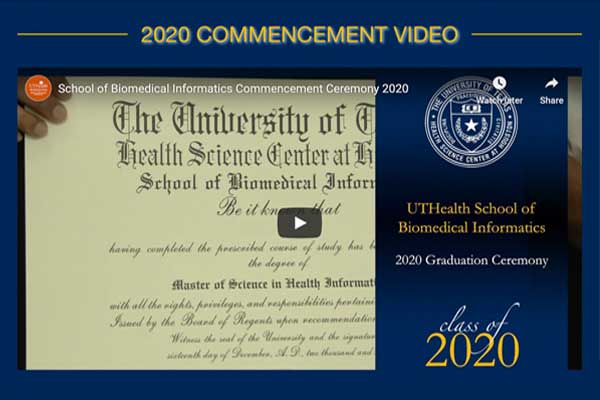 Several awardees were announced during the ceremony as well. Alumnus Anwar Mohammad Sirajuddin, MBBS, MS, CPHIMS (2006) was named the 2020 Distinguished Alum Award winner. SBMI's John P. McGovern Outstanding Teacher Award winner for 2019 - 2020 is Assistant Professor Kimberly Smith, PhD as she was nominated by SBMI Students for embodying excellence in teaching.
The Dean's Excellence Award winners were named for 2020. The acknowledgements are awarded annually and they recognize SBMI faculty members for exceptional performance in research, teaching, and innovative application. Here are the winners of the Dean's Excellence Awards:
Dean's Excellence Award in Research - Professor James Langabeer, PhD, EdD, MBA
Dean's Excellence Award in Teaching - Assistant Professors Angela Ross, DNP & Debora Simmons, PhD
Dean's Excellence Award in Innovation - Associate Professor and Associate Dean for Student, Faculty, and Community Affairs Amy Franklin, PhD, Associate Professor Sahiti Myneni, PhD, MSE, and Assistant Professor Deevakar Rogith, PhD
Congratulations to all award winners and to our newest group of SBMI alumni.
COVID-19 Updates for the SBMI Community
We encourage all students, faculty and staff to visit the SBMI COVID-19 website for updates each day: https://sbmi.uth.edu/covid-19/
SBMI Bragging Points
Members of the SBMI Community have recently achieved noteworthy accomplishments. We want to recognize and applaud their endeavors.
Assistant Professor Licong Cui, PhD was recently awarded a grant from the National Institute of Neurological Disorders and Stroke (NINDS). This grant will help Dr. Cui and her UTHealth colleagues develop risk assessment tools to help clinicians better treat the leading cause of epilepsy related death – Sudden Unexpected Death in Epilepsy (SUDEP). The grant is worth $1,724,766 and the project period began on May 15 and runs through the end of April in 2025.
Alumna Barbara Berkovich, PhD co-authored a book that has been published. The book is titled Applied Population Health: Delivering Value-based care with Actionable Registries.
Laila Rasmy Gindy Bekhet, a SBMI PhD student, has been awarded a Cancer Prevention and Research Institute of Texas (CPRIT) Predoctoral Fellowship.
Professor Dean Sittig, PhD and Adjunct Professor Hardeep Singh, MD, MPH co-authored a new JAMA Viewpoint Article that was published recently.
Microsoft Health Innovation Awards were recently awarded and Assistant Professor Angela Ross, DNP, MPH served on the judging panel. Dr. Ross was highlighted in a feature that profiled each of the judges.
Alumnus Anwar Sirajuddin, MS has been promoted to Senior Vice President, Chief Health Informatics Officer at Harris Health System. Since September of last year, Sirajuddin had served as the Chief Data Scientist with Population Health.
Professor Zhongming Zhao, PhD was recently awarded an $18,325 grant from the National Science Foundation (NSF). This grant will help support the International Conference on Intelligent Biology and Medicine 2020 (ICIBM 2020), which promotes innovative interdisciplinary education, research, and collaboration in data science and artificial intelligence.
UTHealth Employee Wellness Survey
As part of a commitment to the health and well-being of the UTHealth community, the University is conducting a survey to assess the readiness and needs of our workforce during the COVID-19 pandemic. All members of the UTHealth workforce, including faculty and staff, are invited to participate in the anonymous survey, which should take no more than 20 minutes to complete.
UTHealth wants to understand the best ways to support the well-being of all employees. Feedback is essential to strengthening our community by helping to identify our greatest workforce needs.
For questions regarding this survey, please contact: George.Delclos@uth.tmc.edu or David.Gimeno@uth.tmc.edu.
Deadline Extension for Summer 2020 Tuition & Fee Payment
Given the current COVID-19 environment, UTHealth Administration understands that this has been a difficult period for everyone, including our students. As such, the University is trying to work within state statute and federal laws to assist UTHealth students.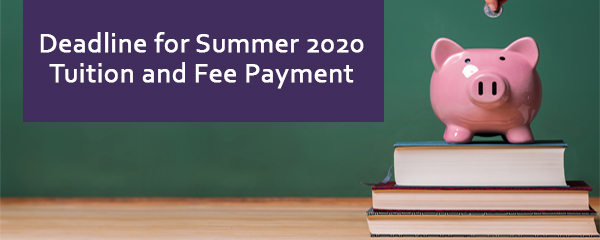 The 2020 summer semester deadline for payment of tuition and fees (including payment under installment plans) has been extended until May 29. If payment is not made by May 29th, students will be dropped from all UTHealth courses.
If students have any questions about this new deadline, please contact the Office of Academic Affairs SBMIAcademics@uth.tmc.edu.
University Classified Staff Council (UCSC) Elections
It is time to choose representatives for the FY 2020-21 University Classified Staff Council (UCSC). All classified staff members from SBMI are invited to participate as UCSC members serve in leadership roles and represent UTHealth Classified Staff employees. The UCSC Election nomination period opened May 18 and ends May 29.
The UCSC is comprised of full-time classified employees from each operating unit/school who are willing to represent their peers and bring about positive change at UTHealth. The UCSC Bylaws require members to be full-time classified employees. There is an attendance requirement for the monthly meetings. Each member serves on one of five standing committees. If you are a classified staff employee (verify at top of payroll statement) and would like to be a UCSC representative or would like to nominate someone, (self-nominations are also encouraged) here are the requirements:
Full-time classified staff employee (verify at top of payroll statement)
Have completed the new-hire probationary period
Have supervisor approval
For information regarding the elections, please contact Alainna Talton, FY 2020 Election Committee Chair. Nominations can be submitted online on the UCSC website.
Professor Lex Frieden, MA, was quoted in the Santa Fe New Mexican about the need for people to revisit their advance directive orders in light of the COVID-19 pandemic.
The Houston Chronicle interviewed Professor James Langabeer, PhD, EdD, MBA, about hospital revenue shortfalls during COVID-19 and how quickly they might bounce back.
Dr. Langabeer was also interviewed by both KHOU-TV Channel 11 and FOX 26 Houston. He discussed the new confidential helpline his team developed. The goal is to give Texas first responders a resource if they want to seek treatment for substance use and mental health disorders. You can also read more in UTHealth News.
Important Dates
| | |
| --- | --- |
| May 25 | Memorial Day - University is closed |