Volume 12, Issue 2
October 27, 2021
McWilliams School of Biomedical Informatics at UTHealth Houston, formerly UTHealth Houston School of Biomedical Informatics (SBMI) Bragging Points
Several members of the McWilliams School of Biomedical Informatics Community have recently earned special recognition or contributed to the informatics community. We want to congratulate those individuals on these accomplishments.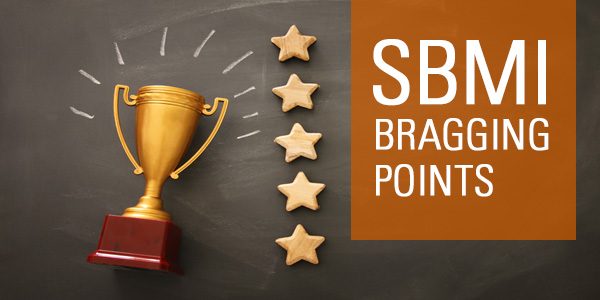 Professor and Associate Dean of Academic and Curricular Affairs Susan Fenton, PhD led the SBMI component in a joint project with UTHealth School of Public Health for a $10 million contract to develop a public health informatics workforce training program. Visit SBMI's News webpage to learn more about this project.
Carlos Pérez-Aldana, MS is a PhD candidate at SBMI and he is making an impact in the field of informatics for his home country of Colombia. He is using informatics to advance health information sharing while working to support young cancer survivors like his wife, Kristi. To read his unique story, please click here.
Professor Cui Tao, PhD is a member of a research team that has been awarded nearly $4 million from CPRIT to increase the number of cancer prevention scientists and boost cancer health equity across the state. To read the full news story, visit the UTHealth News website.
Dr. Tao was also recently awarded a grant from the National Institutes of Health (NIH). With the funds, she, along with her research colleague from the University of Pennsylvania, will utilize informatics and computational techniques for Alzheimer's Disease and Alzheimer's Disease Related Dementias (AD/ADRD) drug repositioning.
PhD Student Yi-Ching Tang was awarded a Pharmacogenomics Global Research Network (PGRN) Presidential Poster Award at the PGRN Fall 2021 Annual Meeting last month. Her abstract was also designated as a PGRN Top Trainee Abstract Award winner in the abstract book.
Professor Zhongming Zhao, PhD has been named an American College of Medical Informatics (AMIA) Fellow (FACMI). Dr. Zhao and ten other fellows will be inducted on Oct. 31 during the AMIA 2021 Annual Symposium in San Diego.
Associate Professor Tiffany Champagne-Langabeer, PhD was recently named a Fellow Member of HIMSS. She will add the FHIMSS designation to her name to indicate her professional status and advancement within our industry.
These four SBMI faculty members have all been named Fellows of AMIA (FAMIA). They will be inducted during AMIA's Clinical Informatics Conference, which will be hosted in Houston, in May of 2022.
Assistant Professor Assaf Gottlieb, PhD and his research colleague from McGovern Medical School, Paul E. Schulz, MD, were recently awarded a new $149,000 grant from the Alzheimer's Association. The researchers will collect and test digital markers for early diagnosis of Alzheimer's disease. Dr. Gottlieb was also awarded an additional $5,000 from the Consortium on Aging and the University of Texas Houston Retiree Organization (UTHRO) to further his work with this research project.
SBMI's Program Receives Top Honors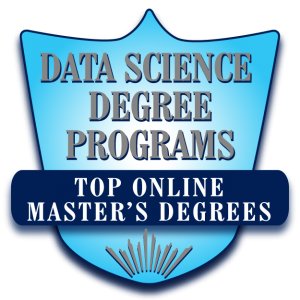 SBMI's Research Track MS degree has a concentration in Bioinformatics. For the second time in three years, that program has been named the top ranking program by Data Science Degree Programs Guide. By gathering data from College Navigator, a website provided by the National Center for Education Statistics, Data Science Degree Programs crafted a list that "highlights the best of the best in quality online master's in bioinformatics programs."
SBMI SGO to Host Fall Celebration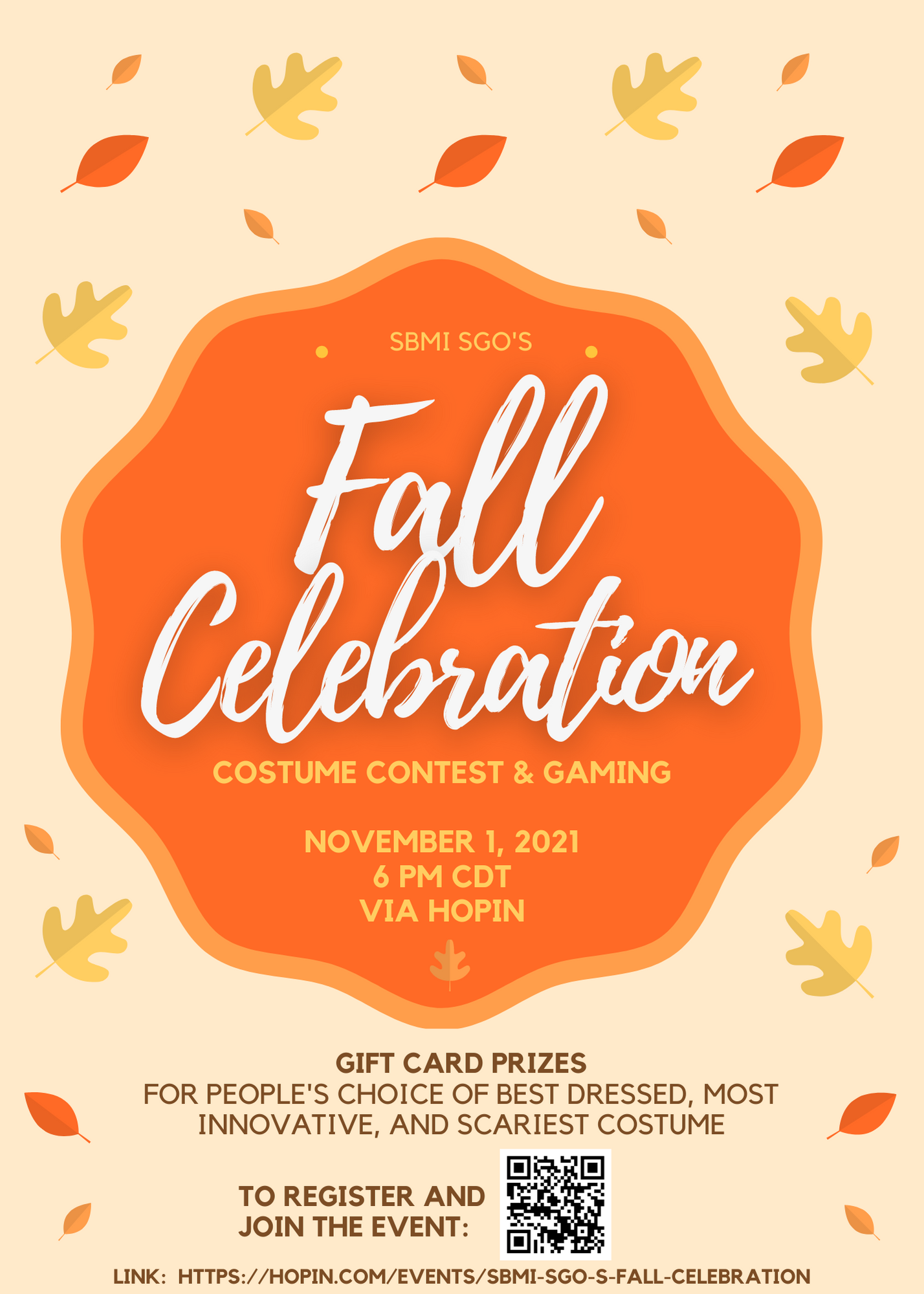 The SBMI SGO will be hosting a Fall Celebration via Hopin on Monday, November 1st at 6:00 PM (CDT). There will be games and a costume contest. Gift cards will be awarded to students for the people's choice of the best dressed, most creative, and scariest Halloween costume.
You may register for the event via Hopin: https://hopin.com/events/sbmi-sgo-s-fall-celebration (Note you will be prompted to purchase a ticket, which is free).
The SGO would also like to showcase your fall crafting and home/desk decorations. Please email nour.a.alia@uth.tmc.edu pictures of your crafts/decorations and we will post them throughout November on Instagram (@uthealthsbmi) in celebration of fall! Dr. Amy Franklin is kindly providing crafting activities which can be up starting Monday, November 1st, from the Rio Grande Conference Room at SBMI.
Heroes Helpline Aids Healthcare Workers
UTHealth's Center for Health Systems Analytics is operating a 24/7 free and confidential helpline for all healthcare workers, first responders, and their families in Texas who have been impacted by COVID-19. Healthcare workers, including allied health students and professionals, and first responders are our heroes. The helpline is here to help our heroes and their families who have been experiencing an unprecedented level of stress and anxiety during the COVID-19 pandemic.

Please call the Heroes Helpline 24/7 at 833-367-4689 to speak with trained staff who will guide you to mental health support resources in your area. Additionally, you can text the Heroes Helpline via their Virtual Lobby during business hours (8am-5pm, Mon-Fri) at https://go.uth.edu/textheroeshelpline.
UTHealth Commemorates Día de Los Muertos
On Nov. 1 to 5, 2021, all six UTHealth Houston schools will be commemorating the Mexican cultural holiday Día de Los Muertos (Day of the Death). The Inaugural "Día de los Muertos at UTHealth" aims to honor the departed loved ones of many members of our community. UTHealth's Office of Diversity and Inclusion invites all members of the University to help recognize the Mexican cultural holiday. Visit Inside UTHealth for more information.
HIMSS Accepting Emerging Healthcare Leaders Poster Proposals
HIMSS is currently accepting proposals to present Emerging Healthcare Leaders Posters during HIMSS22 in Orlando, FL. You are encouraged to apply if you have conducted research on an innovative idea, trailblazing technology, or disruptive development to advance the use of health information and technology.
Proposals will be accepted through Oct. 29, so apply today.
JAMIA Accepting Applications for Student Editorial Board
JAMIA is seeking applications from biomedical informatics trainees for positions on the Student Editorial Board (SEB). Applicants must be current members of AMIA. The JAMIA SEB was created in 2003, and has provided outstanding informatics trainees with opportunities to receive in-depth exposure to the peer-review process and the operation of a scientific journal.
Additional details about this program may be found in a published editorial in JAMIA. Materials must be submitted by Friday, Nov. 12, to mail@amia.org.
Upcoming Events: All are virtual
Oct. 27
Research Seminar presentation by PhD Student Yuqi Si 12
PM CDT on GoToMeeting
Nov. 3
Research Seminar presentation by PhD Student Yanfei Wang
12 PM CDT on GoToMeeting
Nov. 10
Research Seminar presentation by PhD Student Sarah May
12 PM CDT on GoToMeeting
Nov. 17
Research Seminar presentations by PhD Students Jingqi Wang & Xinyuan Zhang
12 PM CDT on GoToMeeting
Important Dates
| | |
| --- | --- |
| Nov. 5 | Last day to drop with a withdrawal grade of "W" Must process drop form |
| Nov. 5 | Last day to apply for fall 2021 graduation in myUTH |
| Nov. 5 | PhD - Last day to defend dissertation |
| Nov. 5 | PhD - Final dissertation drafts and proposals to Advising Committee for review |
| Nov. 17 | Spring 2022 registration opens in myUTH |
| Nov. 25 & 26 | Thanksgiving Holiday – University is closed |