Associate Dean Fenton earns Distinguished Teaching Professor honor from UT System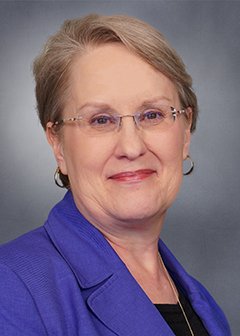 McWilliams School of Biomedical Informatics Associate Dean for Academic and Curricular Affairs and Professor, Susan Fenton, PhD, RHIA, FAHIMA, recently earned an appointment as a Distinguished Teaching Professor. The University of Texas (UT) System distinction is awarded to faculty members "in recognition of their significant contributions to education." The title was conferred upon her at the recommendation of UTHealth President and the Alkek-Williams Distinguished Chair Giuseppe N. Colasurdo, MD.
"I thank both the UT System and UTHealth leadership for this title," stated Fenton. "I am so proud of the work I do and the contributions I make to the informatics students we educate. My goal is to show students the tools and abilities they need to be skilled professionals in the industry, then encourage them to sow those seeds of knowledge in their current and future colleagues, teams, and organizations to yield important results."
This accolade continues the UT System pattern of recognition for Fenton's outstanding work in higher education. Fenton was awarded a 2019 Regents' Outstanding Teaching Award in July of last year. That award is considered "the nation's largest awards programs that recognizes educators in higher education." She was also appointed to the University of Texas Kenneth I. Shine, MD, Academy of Health Science Education (Shine Academy) earlier this year. Fenton's membership in the Shine Academy was instrumental in her Distinguished Teacher Professor appointment. In order to earn the title of Distinguished Teaching Professor, the professor must be a member of an institutional academy of distinguished teachers.
As her title suggests, Fenton leads many of the school's academic and curricular committees and initiatives. In addition to the numerous courses she teaches, Fenton serves as a program coordinator for both the Doctorate in Health Informatics and the Doctor of Philosophy in Biomedical Informatics degree programs. She is an academic advisor for dozens of master's and doctoral students as well.
published on 08/27/2020 at 2:01 p.m.