Cui Tao, Ph.D. awarded honor by President Obama
On Jan. 9, President Barack Obama named Cui Tao, Ph.D., UTHealth School of Biomedical Informatics (SBMI) associate professor, a recipient of the Presidential Early Career Award for Scientists and Engineers (PECASE).

The White House Office of the Press Secretary announced the names of the 102 award recipients. The Presidential Early Career Awards were established by President Bill Clinton in 1996 as "the highest honor bestowed by the United States Government on science and engineering professionals in the early stages of their independent research careers."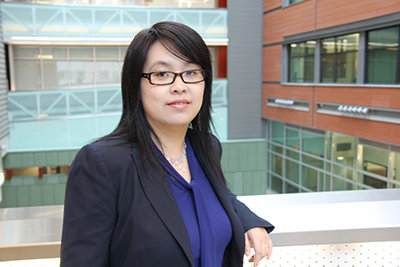 In a press release, President Obama noted, "these innovators are working to help keep the United States on the cutting edge, showing that Federal investments in science lead to advancements that expand our knowledge of the world around us and contribute to our economy."

Tao, who joined SBMI in the summer of 2013, focuses her research on ontologies, standard terminologies, semantic web, and information extraction and integration. She earned both a M.S. and a Ph.D. in Computer Science from Brigham Young University and her undergraduate degree in biology and computer science is from Beijing Normal University in China.

"Earning this distinguished presidential award is an unexpected but incredible accomplishment," Tao said. "Now, I have the opportunity to advance my ontology and semantic research so I can find new ways to improve how clinical and biomedical studies are conducted."
Tao's awarding department for the PECASE is the Department of Health and Human Services and the National Library of Medicine (NLM) falls within that federal department. The NLM nominated Tao for a PECASE because of her research on a NLM sponsored R01 grant – "Patient Medical History Representation, Extraction, and Inference from EHR Data."

As part of the NLM grant, Tao aims to advance reasoning and extraction capacities to fill gaps among ontologies, Natural Language Processing (NLP), and EHR-based clinical research. Her team is developing the TIMER (Temporal Information Modeling, Extracting, and Reasoning) framework, which is an open-source, standard-conforming software package. This new approach allows for automatic temporal data representation, normalization, and reasoning for large and diverse EHR data, thus preparing the integrated data for further analysis.

Tao is the sixth NLM sponsored PECASE recipient and of those NLM awardees, Tao is only the second woman to win the award.

In fall of 2016, Tao received a National Institutes of Health (NIH) Big Data to Knowledge (BD2K) Initiative grant worth more than $1.3 million dollars. As principal investigator, Tao is leading the UTHealth team in developing metadata ontology and annotation mechanisms for informed consent documents.

SBMI Dean & the Glassell Family Foundation Distinguished Chair in Informatics Excellence, Jiajie Zhang, Ph.D., stated that Tao "is an accomplished and skilled educator and researcher who deserves each accolade awarded to her." Zhang continued by saying "I speak for the entire school when I say we are very proud of Dr. Tao. Her work in the biomedical informatics community is worthy of praise and SBMI is happy to see her earn this prestigious achievement."

Tao is the second member of the SBMI community to win the PECASE in as many years. Two-time SBMI Alumnus (M.S. 2002 & Ph.D. 2006) and Adjunct Professor Muhammad Walji, Ph.D., M.S. was a PECASE recipient last year. Walji also serves as the associate dean for Technology Services and Informatics and a professor in the Department of Diagnostic and Biomedical Sciences at the UTHealth School of Dentistry.
published on 01/13/2017 at 1:20 p.m.