UTHealth launches pilot study to help people confronting opioid dependence and overdose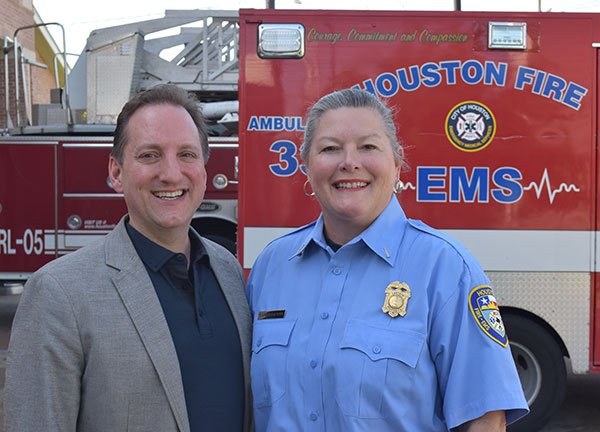 HOUSTON – (June 1, 2018) – An intervention program for people who have overdosed on opioids is the focus of a new multi-institution pilot study led by researchers at The University of Texas Health Science Center at Houston (UTHealth). The study started in April.
"Our goals are to reduce opioid overdoses, develop a coordinated opioid system of care in Houston and to establish prevalence rates for opioid use disorder across Houston," said James Langabeer, Ph.D., M.B.A., the study's principal investigator and professor of biomedical informatics, emergency medicine and public health at UTHealth. "We believe that if we catch patients early—at the time they are facing an emergency situation—they are more likely to be motivated for change."
Every year in Texas, there are more than 1,200 deaths tied to prescription opioids such as oxycodone and hydrocodone, as well as illegal ones such as heroin. This marks a 400 percent increase in a little less than two decades. Langabeer said there is not sufficient data on the extent of the problem in Houston and the study will help fill that gap in knowledge.
Called the Houston Emergency Opioid Engagement System or HEROES, the program's three-pronged approach includes the administration of medication to treat opioid dependence in the emergency department, a follow-up visit to the patient's home by a paramedic, and peer support and counseling from a recovery coach.
The program is funded by a $1.1 million award from the Texas Department of Health and Human Services Commission, through the Substance Abuse and Mental Health Services Administration.
To gauge the success of the program, researchers will measure how long patients stay in recovery.
The study is being conducted in conjunction with the Houston Fire Department, Memorial Hermann-Texas Medical Center and the Houston Recovery Center.
"Collaboration is important. We can't continue to operate in health care silos and expect to improve community health," said Houston Fire Department Capt. Karen Dupont, who is with the department's Emergency Medical Services Division.
A portion of the funding will go to providing first responders and local social service organizations with the opioid overdose reversal drug called naloxone.
After discharge from the hospital, patients will receive a home visit from a paramedic and peer recovery coaching to help them find medication-assisted treatment and continue their recovery. Patients will be asked if they want to participate in the study. If so, researchers will track their participation through the system of care. Langabeer hopes to enroll 100 patients.
Langabeer's collaborators from the Department of Emergency Medicine at McGovern Medical School at UTHealth include Samuel Prater, M.D., and Kimberly Chambers, M.D. Tiffany Champagne-Langabeer, Ph.D., of UTHealth School of Biomedical Informatics, leads the analytical components of the program. Alicia Kowalchuk, D.O., medical director of the Santa Maria Hostel, is contributing subject matter expertise.
"Houston needs a coordinated approach to address the opioid crisis and this is a big step in that direction," Langabeer said.