Nation's first school of biomedical informatics welcomes new space poised to spur health care advances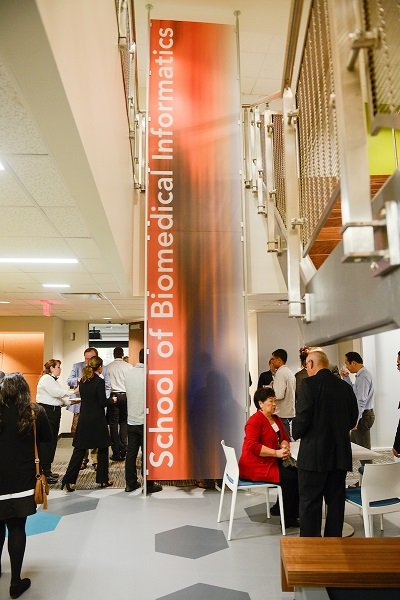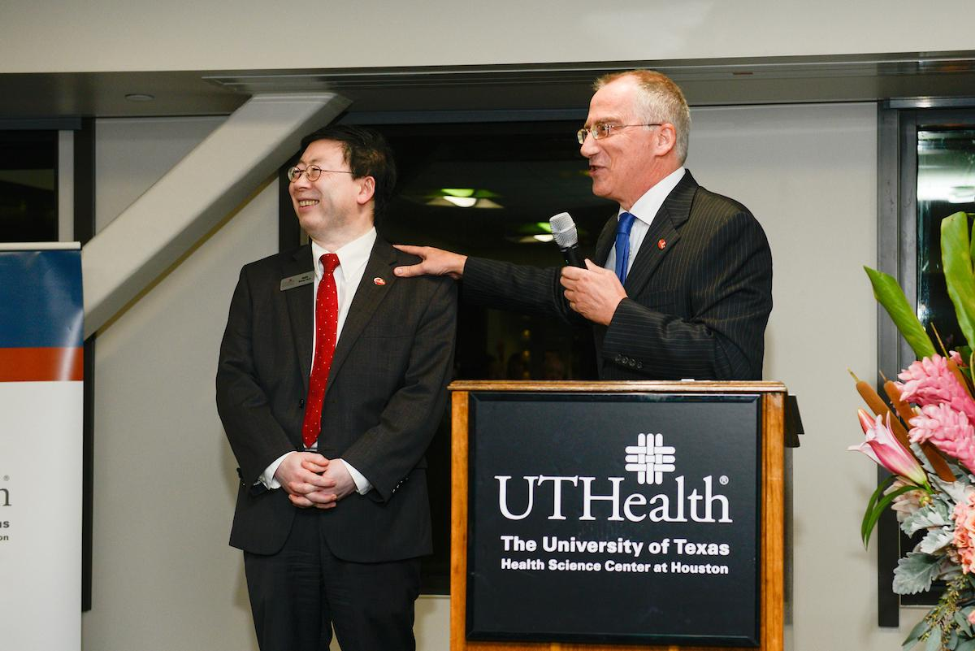 A $15 million space designed to foster technology innovation and collaboration in biomedical science discovery, health care delivery, and disease prevention will open its doors in January to students, faculty, and staff from the School of Biomedical Informatics at The University of Texas Health Science Center at Houston (UTHealth).
The first freestanding school of biomedical informatics in the country will move into an open-concept home filled with state-of-the-art technology reminiscent of Google's headquarters.
"UTHealth School of Biomedical Informatics now has a home that reflects the core of its mission: to educate biomedical leaders, leverage data to transform health care discovery, and develop tools to enhance clinical and public health care," said Giuseppe Colasurdo, MD, UTHealth president and Alkek-Williams Distinguished Chair. "We are grateful to the members of the Legislature and generous donors who have helped make this beautiful space possible, and look forward to what our exceptional faculty and students will accomplish within these walls and beyond."
Located in the heart of the Texas Medical Center, the largest medical center in the world, the building provides the necessary space for the rapid growth of the school, which collects and converts data into actionable information that can accelerate discovery.
The school has tripled in both student enrollment and faculty size since 2013. With its larger footprint and additional resources, the new building positions the school to continue leading the industry in leveraging big data for the improvement of health care delivery, said Jiajie Zhang, PhD, dean of UTHealth School of Biomedical Informatics and Glassell Family Foundation Distinguished Chair in Informatics Excellence.
"A new era of technology-based health care is here," Zhang said. "Soon, you won't be able to find a doctor who isn't using biomedical informatics in some way, so it is more important than ever that we provide the opportunity for students to learn and apply the most advanced understanding in the field and continue filling the growing number of jobs in health information technology."
The area features an innovation lab for students and faculty for group collaboration, brainstorming, and idea sharing that is critical for pioneering discovery. Three of the new classrooms have flexible walls that transform them into an auditorium for large-scale events, including conferences and seminars. Technological advances include a modern media lab, which will play host to educational videos and lectures distributed to internal audiences as well as other universities across the country. The new home also offers plenty of space for convenience while studying, including a coffee bar and café area, break room, and cushioned benches.
"We wanted to provide a space for students to feel like they could comfortably spend the day here surrounded by all the resources they would need to succeed in their studies, including access to our faculty and staff," said Amy Franklin, PhD, associate professor and assistant dean at the school.
The project was partly funded by House Bill 100 from the 84th Texas Legislature in 2015 that provided tuition revenue bonds (TRB), which are state funds given to finance higher education infrastructure. HB 100 was authored by state Rep. John Zerwas, MD, and sponsored by state Sen. Kel Seliger in the Senate.
"It is very important for the Legislature to invest in infrastructure like this new space for a growing program in a high impact field like biomedical informatics," said Zerwas, who was chair of the Higher Education Committee in 2015 and served as chair of the Appropriations Committee in 2017. "The last TRB bill passed by the Legislature was in 2006, so I'm thankful to Gov. Greg Abbott, Lt. Gov. Dan Patrick, Speaker Joe Straus, and our colleagues for helping Sen. Seliger and I push this funding through the Legislature for UTHealth School of Biomedical Informatics."
The Facilities, Planning and Engineering department at UTHealth was strategic and efficient with the way the funding was spent, said Wes Stewart, vice president of the department.
"The Texas Higher Education Coordinating Board estimated the bare construction cost would be about $391 per square foot, but through strategic planning and designs built for efficiency, we were able to reduce construction cost to $230 a square foot," Stewart said.
The 44,709-square-foot facility spans two floors adjacent to UTHealth's University Center Tower (UCT), a size equal to three existing floors. The wider footprint allowed designers to create a more efficient space complete with 230 workstations. The addition sits above the UCT parking garage.
"Constructing a new expanded space on top of a 1970s parking garage came with unique challenges, like ensuring alignment and structural stability, but also distinct financial advantages over trying to construct a stand-alone building," said Ginger Williams, senior project manager. "Our project team worked with others across the university to mitigate the potential risks by separating the project into phases and bringing the general contractor on board to review precision alignment with the existing structure."
This multi-phase process allowed the team to deliver the project at the highest quality, faster than anticipated, and under budget, said Julie Lucas, director of project management.
In 2019, UTHealth School of Biomedical Informatics will launch the first-ever applied Doctorate in Health Informatics program, in addition to its existing PhD program, master's program with two tracks, graduate certificate programs, and dual MD/MS, PhD/MPH, and MS/MPH programs.