SBMI Professor awarded CPRIT grant to advance cancer genomics research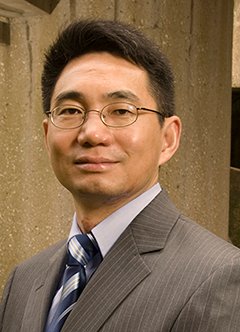 In late August, the Cancer Prevention & Research Institute of Texas (CPRIT) announced that it awarded more than $177 million in new research, product development, and prevention grants. One recipient is SBMI Professor and Center for Precision Health Director Zhongming Zhao, PhD.
The core facility award is worth more than $4.4 million. With the grant, Zhao will launch the UTHealth Cancer Genomics Core (CGC). His goal is to use the CGC as a means to advance cancer genomics and precision medicine– the practice of applying genome sequencing to biological samples to identify genetic changes that could be linked to cancer development, tumorigenesis, or drug treatment of cancer patients.

"The objective is to build a genomics resource to support researchers at UTHealth, throughout the Texas Medical Center, and across the state, so they can better utilize modern genome sequencing technologies for cancer discoveries, prevention, and patient treatment" stated Zhao. The lay summary for CGC grant submission calls genome sequencing "a powerful engine to assist our cancer investigators in both the discovery and translation of research findings to clinical care and disease prevention."
Zhao, who has a joint appointment at UTHealth's School of Public Health, was recruited from Vanderbilt-Ingram Cancer Center in 2016. Zhao's research focuses in genomics; both the methodology development of it and the application of it with complex diseases like cancer. Zhao is a subject matter expert in the field of genomic medicine and he has co-authored more than 310 publications in this area or related subjects. His team has examined genomic data from thousands of tumors, aiming to "search big cancer data for drivers and actionable mutations in cancer."

Zhao's team at the CGC will guide cancer researchers as they use genome technology to find genetic markers, potential explanations for tumorigenesis, gene and environment interactions, clinical outcomes, and molecular mechanisms from tumor samples, cancer cells and animal models. The state-of-the-art single cell-sequencing platform will be offered to CGC researchers as well.

Jiajie Zhang, PhD, SBMI's dean and the Glassell Family Foundation Distinguished Chair in Informatics Excellence said, "Precision medicine practices are sorely needed for cancer patients. The CGC will serve as an important tool for researchers looking to revolutionize and pilot targeted methods for providing effective cancer treatment."
According to the American Cancer Society, "national estimates of cancer recurrence are not available because data on recurrence are not collected by cancer registries." Despite the lack of data, "a large breast cancer study found that recurrence rates varied depending on tumor characteristics, stage of disease, and treatments received." The work Zhao will implement at the CGC is working to find a solution to the problem of recurrence at the molecular level.

"Molecularly targeted therapy for cancer patients is typically treated by kinase inhibitors, and unfortunately, the patients typically relapse after the treatment." Zhao stated. "The genome sequencing technologies allow us to quickly find what genetic alterations have occurred during the drug resistance."
CPRIT states that core facilities awards, like the one Zhao received, "make cutting edge technology available to multiple research institutions through financial support for capital investment and technical expertise."

published on 9/05/2018 at 9:30 a.m.