SBMI alumnus instrumental in Davies Excellence Award win
Memorial Hermann was a 2017 winner of the HIMSS Nicholas E. Davies Excellence Award in the Enterprise category. SBMI alumnus and Memorial Hermann Associate Chief Medical Information Officer Anwar Mohammad Sirajuddin, MBBS, MS, CPHIMS played an instrumental role in the health system's win. HIMSS recognized Memorial Hermann's achievement during the HIMSS 2018 Awards Gala in Las Vegas, last month.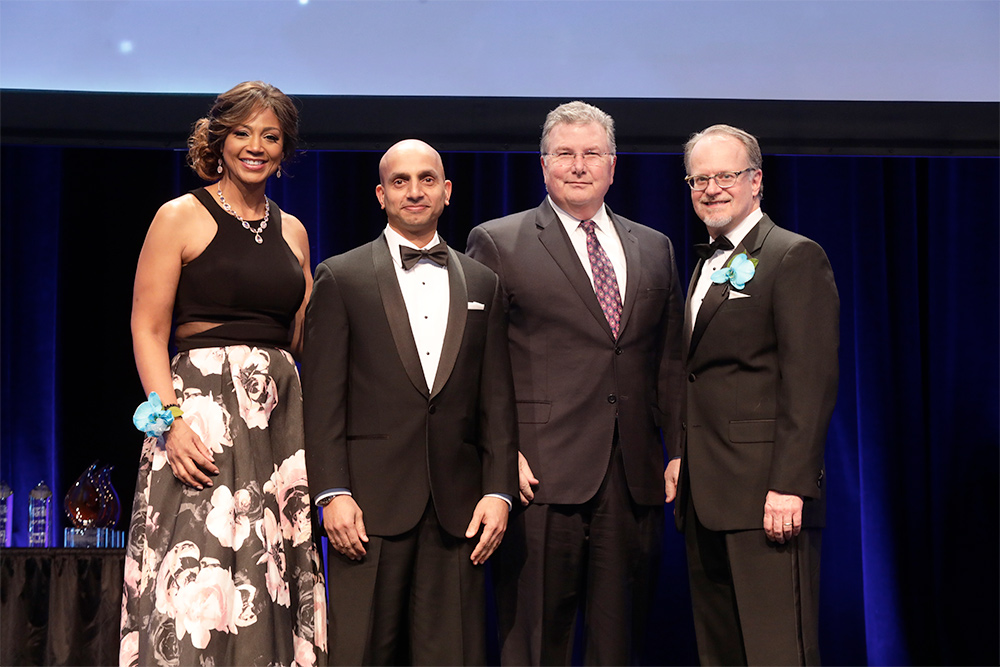 Under Sirajuddin's leadership, Memorial Hermann used a clinical decision support (CDS) system to target alerts within the EHR that positively influence patient care. These alerts, labelled as "good catches," work to identify clinical scenarios where ordering or administering medication may adversely affect the patient. This includes medication allergies, drug-drug interactions, drug duplications, abnormal lab results and more. After the alert, clinicians must change the therapy for the patient and prevent the alert from re-appearing in order to be categorized as a "good catch."
"Targeting our CDS alerts allowed for a 700% increase in the number of 'good catches' each month and the average time between each 'good catch' was almost cut in half," Sirajuddin noted. "The alerts are a safety mechanism that help clinicians feel safer and give patients the benefit of high-quality care and improved outcomes."
Since 1994, the HIMSS Davies Award has acknowledged the health IT practices of hospitals, ambulatory practices and clinics, community health organizations and public health organizations across the globe. These organizations earn recognition for their use of technology to improve patient outcomes.

Jonathan French, CPHIMS, senior director of quality and patient safety initiatives at HIMSS stated, "HIMSS is proud to recognize Memorial Hermann as a Davies Award recipient for improving the care outcomes and safety of their patients enabled through the innovative use of information and technology."
Nineteen organizations earned a 2017 HIMSS Davies Award. When recognizing the achievements of Memorial Hermann's "good catches" CDS alerts, HIMSS stated that the health system "exemplifies the successful use of health IT systems to substantially improve patient outcomes by implementing and monitoring IT interventions to ensure that all of its patients receive safe, high-quality care."

Memorial Hermann's Interim CIO, Amanda Hammel, stated, "I would also like to specifically acknowledge the role of 'Siraj', who started with us as a SBMI student twelve years ago, and now serves as our Associate CMIO. He has been the key leader with our CDS "Good Catches" program, and is a nationally recognized informatics leader in CDS."
Sirajuddin, who earned his masters from SBMI in 2006, is also an adjunct faculty member with SBMI. His critical role in the "good catches" alerts project is one demonstration of the many connections SBMI, and UTHealth, has with Memorial Hermann.

"UTHealth has a long-standing partnership with Memorial Hermann and we congratulate their team for earning a Davies Award," said SBMI's Associate Dean for Applied Informatics and Associate Professor, Robert Murphy, MD. "Both SBMI and McGovern Medical School faculty members hold leadership roles on Memorial Hermann's System Medical Informatics Committee, e-Ordering Editorial Board, and Clinical Decision Support Oversight Committee. We are proud to support Memorial Hermann in its mission of 'providing high quality services to improve the health of people'."
published on 5/3/2018 at 11:10 a.m.