SBMI Professor develops COVID-19 Data Index to advance research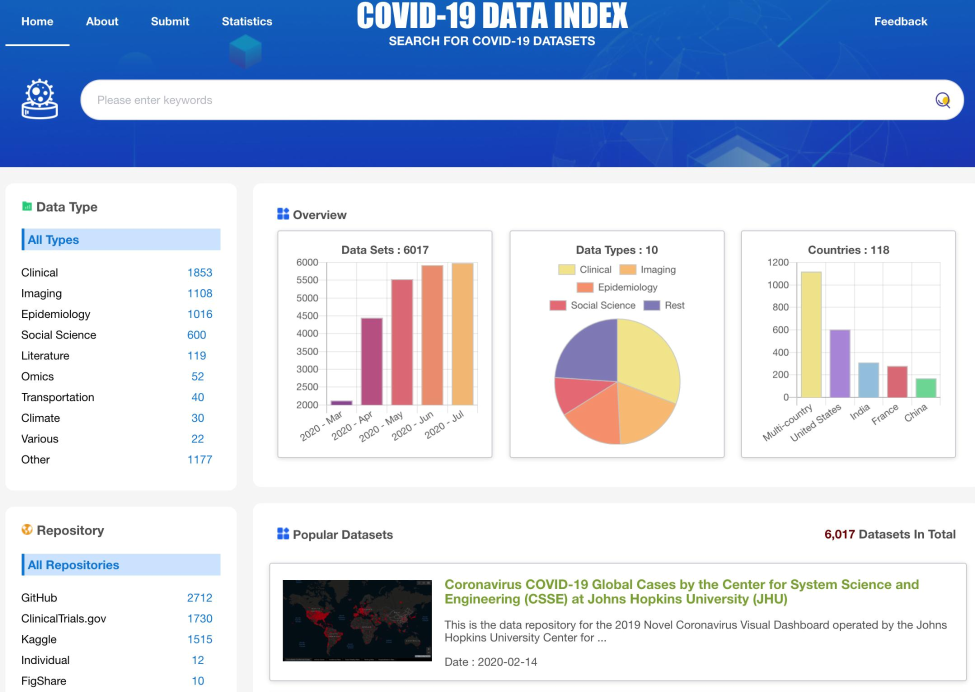 In an effort to advance COVID-19 research across the globe, a team led by Professor Hua Xu, PhD at UTHealth School of Biomedical Informatics (SBMI) has developed a resource called the COVID-19 Data Index. As noted in a recent Nature Correspondence article, the website houses thousands of cross-disciplinary COVID-19 datasets for topics from clinical, sociodemographic, environmental, economic and mobility data to case statistics and genomic sequences. All the datasets are accessible to the public.
"Advances and new discoveries in COVID-19 research are a top-priority right now," says Xu. "I think it is critically important to have a centralized space with organized datasets for researchers, to help them quickly find relevant datasets and efficiently conduct integrative analyses."
Xu collaborated with Lucila Ohno-Machado, MD, PhD, from the University of California at San Diego, in developing the index. Other team members include Firat Tiryaki, BS, Yujia Zhou, MS, Ekin Soysal, BS, Mia Tran, MS, and Xu Zuo MS. As a team effort, the index has pulled over 6,000 datasets from large repositories, research papers and individual online sources and other sources. The website notes that the goal of the index is to have "a one-stop shop for researchers who are looking for COVID-19 datasets, thus enabling timely scientific discoveries across disciplines."
This project is partially supported by the UTHealth Center for Clinical and Translational Sciences (CCTS) Pilot Program and the NSF Convergence Accelerator Program. Xu also received funds from the Graham Family Scholars Program and the UTHealth President's Excellence Fund. The data index includes the ability to filter data by source repository and by type, direct download from data sources, and the ability to submit additional datasets.
"This index is a very valuable research resource in the current pandemic," added Xu. "We simply want to share this tool with our fellow researchers as so many work towards improving our knowledge, and ultimately eradication of COVID-19."
To learn more or to utilize the index.
published on 08/17/2020 at 2:00 p.m.