2021 President's Scholar Awards: Four receive UTHealth Houston's most distinguished award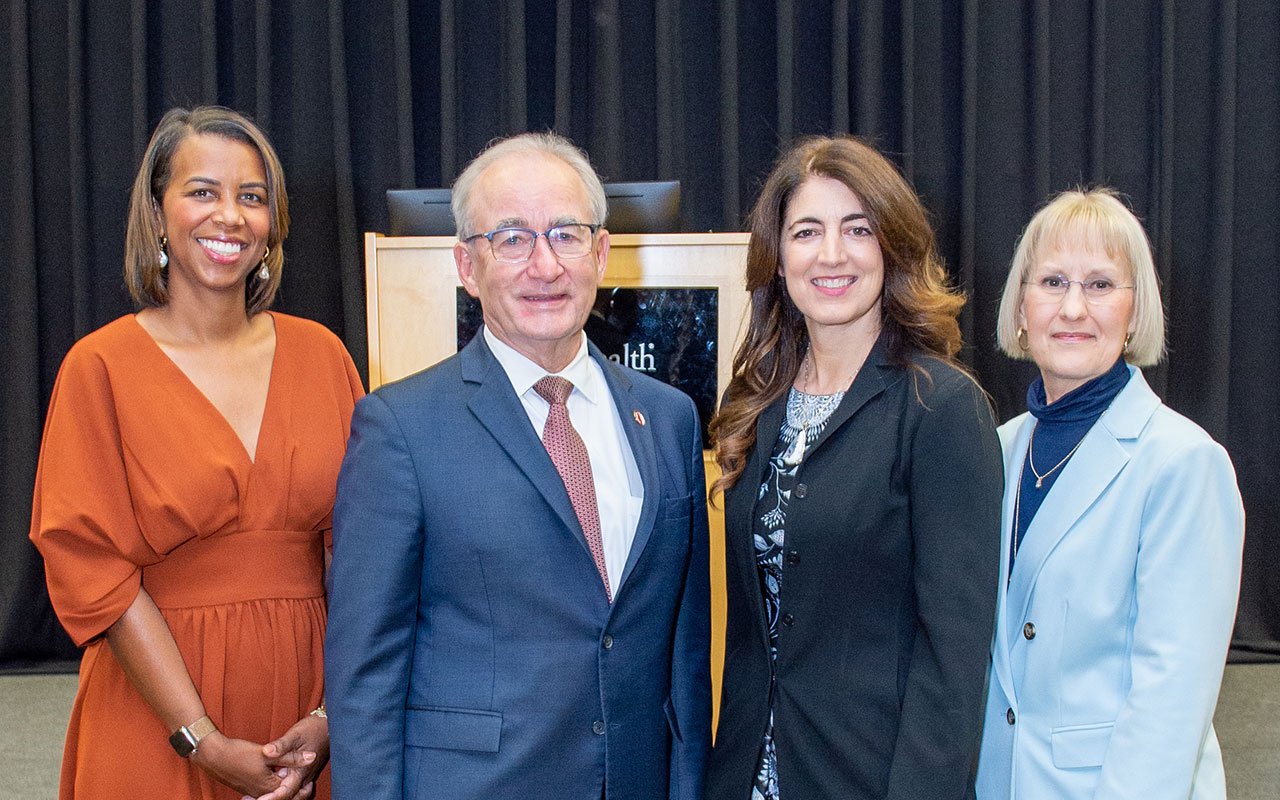 Three faculty members who have demonstrated longstanding excellence in areas of teaching, research, and clinical care, and another recognized for overall exemplary dedication and service, received top honors from UTHealth Houston President Giuseppe N. Colasurdo, MD, Alkek-Williams Distinguished Chair, during a ceremony on Wednesday, Nov. 9.
Each award, given to deserving individuals nominated by their peers, carries with it the honorary title of President's Scholar and a cash prize.
Recipients of the 2021 President's Scholar Awards for Excellence:
Research: Maria E. Fernández, PhD
Teaching: Susan H. Fenton, PhD
Clinical Service: Richard W. Smalling, MD, PhD
President's Recognition of Excellence: LaTanya J. Love, MD
This marked the first time in three years the event was held in person, with the previous two events postponed due to the COVID-19 pandemic.
"Today, we honor individuals passionate about the mission of UTHealth Houston who continuously show dedication to this institution," Colasurdo said.
Kevin A. Morano, PhD, senior vice president and chief academic officer, ad interim, congratulated the recipients.
"The President's Scholar Awards for Excellence acknowledge the contributions of outstanding scholars and emphasize the fundamental importance of research, teaching, and clinical excellence to the mission of UTHealth Houston," said Morano, a Distinguished Teaching Professor of The University of Texas System. "The award is especially meaningful because it not only recognizes outstanding accomplishments, but nominations come from their peers."
2021 President's Scholar Award for Excellence in Research
Maria F. Fernández, PhD
Co-Director, Institute for Implementation Science
UTHealth Houston
Professor, Department of Health Promotion and Behavioral Sciences
Lorne Bain Distinguished Professor in Public Health and Medicine
Director, Center for Health Promotion and Prevention Research
UTHealth Houston School of Public Health
"Dr. Fernández's research exemplifies and enables transdisciplinary, translational, team science," Morano said. "This approach results in meaningful research collaborations with community and health care partners fueled by a shared vision to improve population health."
The Lorne Bain Distinguished Professor in Public Health and Medicine, Fernández has contributed significantly to the field of cancer prevention and control, especially in underserved communities, and is renowned for her scientific leadership and mentorship of junior investigators.
She currently serves as principal investigator on more than $40 million in active research funding from the National Institutes of Health, the Centers for Disease Control and Prevention, the Texas Department of State Health Services, the Cancer Prevention and Research Institute of Texas, the Health Resources and Services Administration, and the World Health Organization.
"There is a concept within health promotion that recognizes that health and behavior are a function of what we do in our environment. I am keenly aware that my success is a function of the environment I've been able and lucky enough to work in at UTHealth Houston," Fernández said. "What leads to success is grit, perseverance, and tenacity – not just once, but every day. I realize that I have grit, but not only me, the people who I work with and this institution have true grit. We've been through hurricanes, floods, and the pandemic. We've not just survived it, we've reinvented ourselves; we've innovated; and we've come out stronger and more committed to serving the communities that are most in need."
2021 President's Scholar Award for Excellence in Teaching
Susan H. Fenton, PhD
Associate Dean, Academic and Curricular Affairs
Associate Professor
Director, Center for Quality Health IT Improvement
UTHealth Houston School of Biomedical Informatics
"Dr. Fenton's commitment to excellence in teaching is fueled by her quest to train as many informatics professionals as possible to meet the tremendous need in health care," Morano said. "She does this with impressive grant funding and leads a workforce-development project to train public health informatics."
Since 2013, when Dr. Fenton joined the faculty at the School of Biomedical Informatics, she has guided and advanced innovative educational programs. Now, as associate professor and associate dean for academic and curricular affairs, Fenton is responsible for the school's graduate certificates, including master's and doctoral degree programs.
With a focus on critical thinking, Fenton wants students to understand how to use information and information systems so that health care providers have the correct information in the right format at the right time. She has received more than $7 million in grant funding and leads the Gaining Equity in Training for Public Health Informatics and Technology workforce-development project.
"I am very fortunate to work at UTHealth Houston, where ideas such as the creation of the first professional doctorate in health informatics (DHI) are supported," Fenton said. "Though it was years in the making, our students from the first DHI cohort are now graduating and we could not be prouder of them.
"I wanted to contribute to the growth of future generations of students, and as such, my teaching career began with the passage of the Health Information Technology for Economic and Clinical Health (HITECH) Act in 2009 when I realized that we did not have a trained workforce for the pending enormous natural experiment our country was going to undertake to implement electronic health record systems. Getting the right data and information in the right format to the right provider at the right time is essential to high-quality patient care. When my loved ones and I need care, I want that data and information to be 100% correct. That will only happen if we have trained information professionals supporting the clinicians and others delivering the care."
2021 President's Scholar Award for Excellence in Clinical Service
Richard W. Smalling, MD, PhD
Professor, Department of Internal Medicine
James D. Woods Distinguished Chair in Cardiovascular Medicine
Jay Brent Sterling Professor in Cardiovascular Medicine
Director, Interventional Cardiovascular Medicine
McGovern Medical School at UTHealth Houston
"Dr. Smalling has spent his entire career advancing the research and education missions of our university," Morano said. "But as an innovator renowned for cardiovascular medicine and interventional cardiology, a creator of unique clinical programs, and a model of compassionate care, Dr. Smalling is perhaps best known for his excellence in clinical service. Simply put, he saves lives – day in and day out."
Renowned for cardiovascular medicine and interventional cardiology, Smalling specializes in the treatment of adult congenital heart disease, percutaneous procedures to repair valvular heart disease, and peripheral vascular disease interventions, including carotid stenting and percutaneous endovascular repair of abdominal aortic aneurysm. He has led basic and clinical research efforts to develop and optimize devices to mechanically support circulation, including the TORVAD, the world's first toroidal left ventricular assist device.
Since 1980, when he joined the faculty of McGovern Medical School, Smalling's passion for academic medicine and science has shone through in his efforts to build the school's reputation as a leader in heart and vascular health.
"We are blessed to have had the opportunity to develop, test, and bring to the clinic many new devices and therapies for patients with heart disease," Smalling said. "We have recruited a world-class group of cardiologists, nurses, and nurse practitioners, as well as a large team of basic and clinical research personnel. This would not have been possible without the support of UTHealth Houston and Memorial Hermann Heart & Vascular Institute leadership, which enabled our team to generate new knowledge and many new techniques for significantly improving the lives of our patients."
President's Recognition of Excellence Award

LaTanya J. Love, MD
Executive Vice President, Student Affairs and Diversity
UTHealth Houston
Dean, Education
Associate Professor, Department of Pediatrics
McGovern Medical School at UTHealth Houston
Love is the fourth recipient of this special award created by Colasurdo to recognize overall exemplary dedication and service to UTHealth Houston, while demonstrating longstanding excellence in a chosen profession.
"I cannot think of anyone more deserving of this award," Morano said. "Dr. Love's dedication to UTHealth Houston has shined through in her service and her leadership since the early 2000s when she was chief resident of internal medicine and pediatrics. As the first dean of education at McGovern Medical School, Dr. Love has the unique skills and qualifications to meet the needs of our students and help them to become successful physicians dedicated to excellence in patient care. She has also been the life force of the university's efforts to create and steward the Diversity, Equity, and Inclusion Council, which represents students, faculty, and staff across UTHealth Houston."
With a passion for academic medicine, Love has been an active member of the faculty and administration at McGovern Medical School at UTHealth Houston since 2005. In her leadership roles, she engages with students during all touchpoints of their education and leads initiatives across the continuum of medical education.
In 2016, Love expanded her focus on excellence – both for students and the workforce at all six of UTHealth Houston's schools - first as vice president for diversity and leadership development and now as executive vice president for student affairs and diversity. She works with other leaders to develop and oversee strategic initiatives, accountability systems, and partnerships that promote a diverse and inclusive climate.
"I'm so extremely grateful that I have been able to work in an environment here at UTHealth Houston where I've been able to excel, and that's mainly because of the people," Love said. "I've always been surrounded by an environment where I can thrive and do my best. I've had the opportunity to have a lot of different roles, and what's been so exciting is that I've been able to build things. I'm grateful I was able to build some of our diversity, inclusion, and equity efforts. If we remember to put people first in everything that we do we will all succeed."